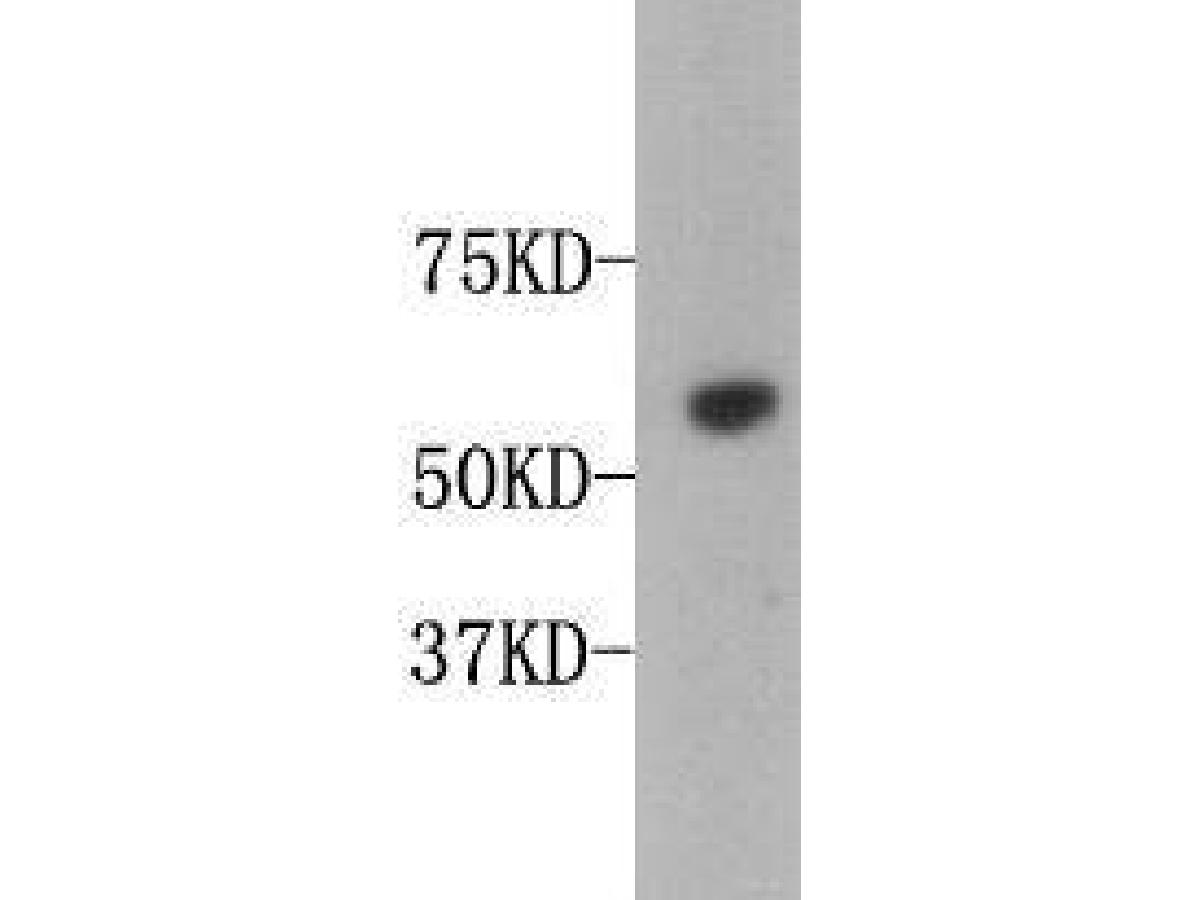 Western blot analysis on human thymus using anti-Osteopontin polyclonal antibody.
SPECIFICATIONS
Product Type
Rabbit polyclonal primary
Product Name
Osteopontin Rabbit Polyclonal Antibody (0806-8)
Immunogen
Synthetic peptide within c-terminal human osteopontin.
Positive Control
Human breast tissue, human colon cancer tissue.
PROPERTIES
Storage Condition
Store at +4C after thawing. Aliquot store at -20C or -80C. Avoid repeated freeze / thaw cycles.
Storage Buffer
1*PBS (pH7.4), 0.2% BSA, 40% Glycerol. Preservative: 0.05% Sodium Azide.
PURIFICATION
Immunogen affinity purified
TARGET
SYNONYMS
BNSP antibody; Bone sialoprotein 1 antibody; BSP I antibody; BSPI antibody; Early T lymphocyte activation 1 antibody; ETA 1 antibody; ETA1 antibody; MGC110940 antibody; Nephropontin antibody; OPN antibody; Osteopontin antibody; osteopontin/immunoglobulin alpha 1 heavy chain constant region fusion protein antibody; OSTP_HUMAN antibody; PSEC0156 antibody; secreted phosphoprotein 1 (osteopontin, bone sialoprotein I, early T-lymphocyte activation 1) antibody; Secreted phosphoprotein 1 antibody; SPP 1 antibody; SPP-1 antibody; SPP1 antibody; SPP1/CALPHA1 fusion antibody; Urinary stone protein antibody; Uropontin antibody
SEQUENCE SIMILARITIES
Belongs to the osteopontin family.
POST-TRANSLATIONAL MODIFICATION
Extensively phosphorylated by FAM20C in the extracellular medium at multiple sites within the S-x-E/pS motif.; O-glycosylated. Isoform 5 is GalNAc O-glycosylated at Thr-59 or Ser-62.
FUNCTION
Osteopontin (OPN), also known as bone sialoprotein I (BSP-1 or BNSP), early T-lymphocyte activation (ETA-1), secreted phosphoprotein 1 (SPP1), 2ar and Rickettsia resistance (Ric),[5] is a protein that in humans is encoded by the SPP1 gene (secreted phosphoprotein 1). The murine ortholog is Spp1. Osteopontin is a SIBLING (glycoprotein) that was first identified in 1986 in osteoblasts. The prefix osteo- indicates that the protein is expressed in bone, although it is also expressed in other tissues. The suffix -pontin is derived from "pons," the Latin word for bridge, and signifies osteopontin's role as a linking protein. Osteopontin is an extracellular structural protein and therefore an organic component of bone. Synonyms for this protein include sialoprotein I and 44K BPP (bone phosphoprotein). The gene has 7 exons, spans 5 kilobases in length and in humans it is located on the long arm of chromosome 4 region 22 (4q1322.1). The protein is composed of ~300 amino acids residues and has ~30 carbohydrate residues attached, including 10 sialic acid residues, which are attached to the protein during post-translational modification in the Golgi apparatus. The protein is rich in acidic residues: 30-36% are either aspartic or glutamic acid.
CITATIONS
Lin, Chujiao et al.

Circulating miR-338 Cluster activities on osteoblast differentiation: Potential Diagnostic and Therapeutic Targets for Postmenopausal Osteoporosis. | Theranostics [2019]