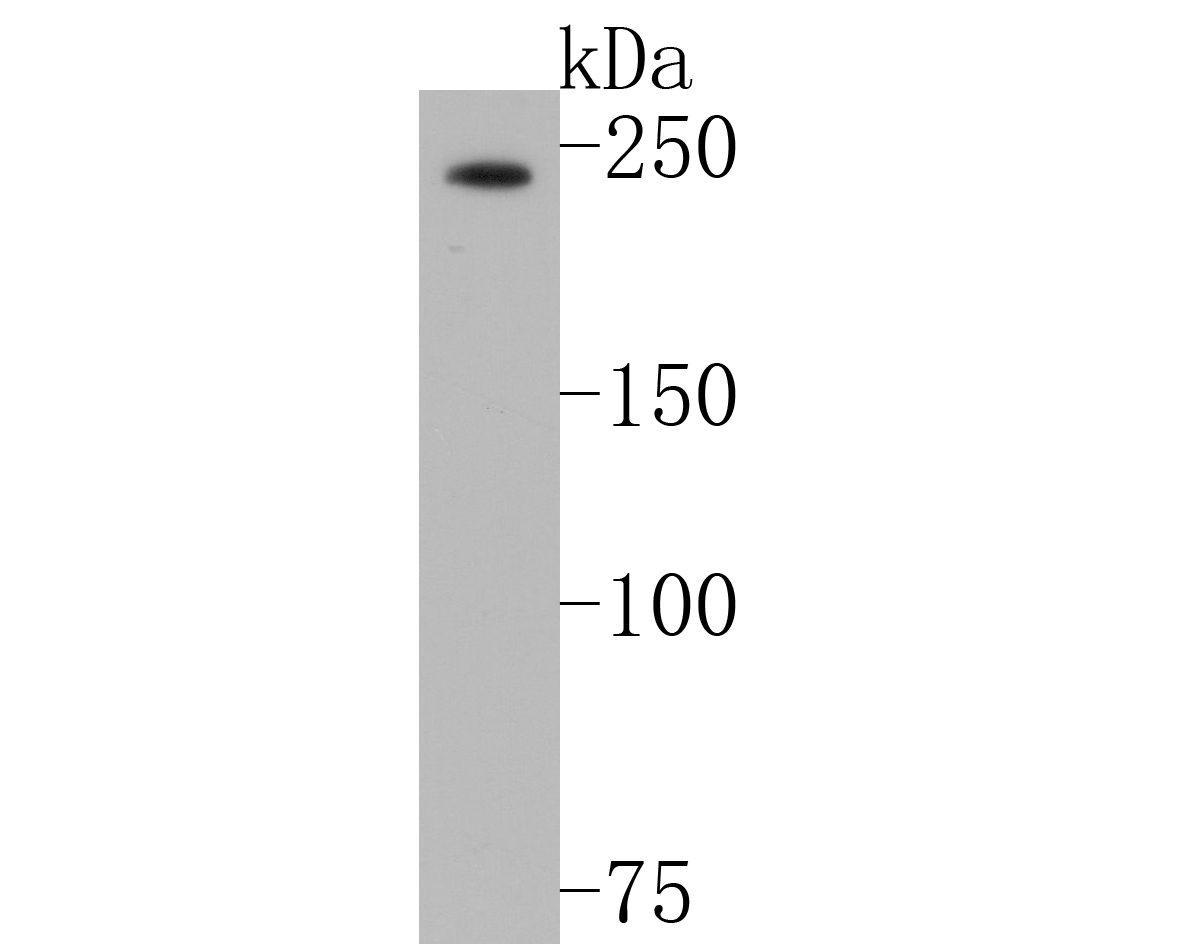 Western blot analysis of NuMA on Raji cell lysates. Proteins were transferred to a PVDF membrane and blocked with 5% BSA in PBS for 1 hour at room temperature. The primary antibody (EM1902-16, 1/500) was used in 5% BSA at room temperature for 2 hours. Goat Anti-Mouse IgG - HRP Secondary Antibody (HA1006) at 1:5,000 dilution was used for 1 hour at room temperature.
SPECIFICATIONS
Product Name
NuMA Mouse Monoclonal Antibody [A3A2] (EM1902-16)
Immunogen
Recombinant protein within human numa aa 1-200 / 2,115.
Positive Control
Raji cell lysates, MCF-7, human tonsil tissue, human lung tissue, human cervix tissue, human thyroid tissue, human colon carcinoma tissue, human skin tissue, human prostate carcinoma tissue, human breast carcinoma tissue, human stomach carcinoma tissue, human small intestine tissue, human pancreas tissue, SH-SY5Y.
PROPERTIES
Storage Condition
Store at +4C after thawing. Aliquot store at -20C. Avoid repeated freeze / thaw cycles.
Storage Buffer
1*PBS (pH7.4), 0.2% BSA, 50% Glycerol. Preservative: 0.05% Sodium Azide.
PURIFICATION
Protein G affinity purified.
TARGET
SYNONYMS
Centrophilin stabilizes mitotic spindle in mitotic cells antibody; NMP 22 antibody; Nuclear matrix protein 22 antibody; Nuclear mitotic apparatus protein 1 antibody; Nuclear mitotic apparatus protein antibody; NUMA 1 antibody; NUMA antibody; NuMA protein antibody; NUMA1 antibody; NUMA1_HUMAN antibody; SP H antigen antibody; SP-H antigen antibody; Structural nuclear protein antibody
POST-TRANSLATIONAL MODIFICATION
Phosphorylation and dephosphorylation on Thr-2055 regulates the extent of cortical NUMA1 and the dynein-dynactin complex localization during mitotic metaphase and anaphase. In metaphase, phosphorylation on Thr-2055 occurs in a kinase CDK1-dependent manner; this phosphorylation maintains low levels of cortical dynein-dynactin complex at metaphase, and hence proper spindle positioning. In anaphase, dephosphorylated on Thr-2055 by phosphatase PPP2CA; this dephosphorylation stimulates its membrane association and with the dynein-dynactin complex its enrichment at the cell cortex, and hence robust spindle elongation. Probably also phosphorylated on Thr-2015 and Ser-2087 by CDK1; these phosphorylations may regulate its cell cortex recruitment during metaphase and anaphase. Phosphorylated on Thr-1047, Ser-1769, Ser-1772, Ser-1789 and Ser-1834 by PLK1; these phosphorylations induce cortical dynein-dynactin complex dissociation from the NUMA1-GPSM2 complex and negatively regulates cortical dynein-dynactin complex localization.; ADP-ribosylated by TNKS at the onset of mitosis; ADP-ribosylation is not required for its localization to spindle poles.; O-glycosylated during cytokinesis at sites identical or close to phosphorylation sites, this interferes with the phosphorylation status.; Ubiquitinated with 'Lys-63'-linked polyubiquitin chains. Deubiquitination by the BRISC complex is important for the incorporation of NUMA1 into mitotic spindle poles and normal spindle pole function, probably by modulating interactions between NUMA1, dynein-dynactin complex and importin-beta.
SUBCELLULAR LOCATION
Nucleus, Cytoskeleton, Plasma membrane.
FUNCTION
Microtubule (MT)-binding protein that plays a role in the formation and maintenance of the spindle poles and the alignement and the segregation of chromosomes during mitotic cell division. Functions to tether the minus ends of MTs at the spindle poles, which is critical for the establishment and maintenance of the spindle poles. Plays a role in the establishment of the mitotic spindle orientation during metaphase and elongation during anaphase in a dynein-dynactin-dependent manner. In metaphase, part of a ternary complex composed of GPSM2 and G(i) alpha proteins, that regulates the recruitment and anchorage of the dynein-dynactin complex in the mitotic cell cortex regions situated above the two spindle poles, and hence regulates the correct oritentation of the mitotic spindle. During anaphase, mediates the recruitment and accumulation of the dynein-dynactin complex at the cell membrane of the polar cortical region through direct association with phosphatidylinositol 4,5-bisphosphate (PI(4,5)P2), and hence participates in the regulation of the spindle elongation and chromosome segregation. Also required for proper orientation of the mitotic spindle during asymmetric cell divisions. Plays a role in mitotic MT aster assembly. Positively regulates TNKS protein localization to spindle poles in mitosis.