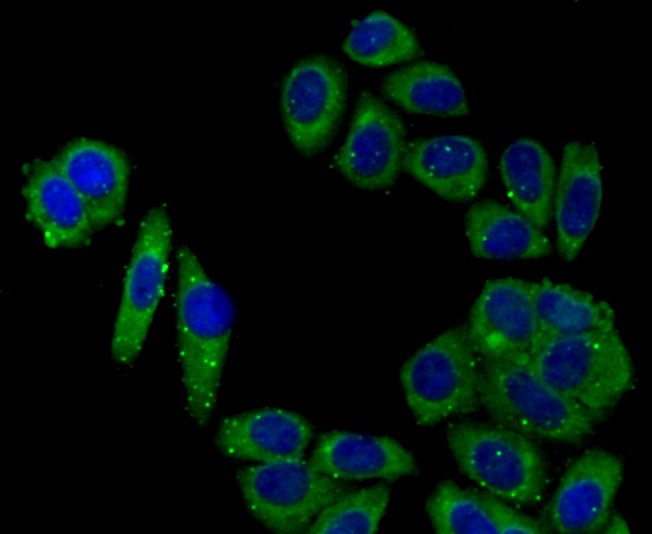 ICC staining NOX2/gp91phox in HepG2 cells (green). The nuclear counter stain is DAPI (blue). Cells were fixed in paraformaldehyde, permeabilised with 0.25% Triton X100/PBS.
SPECIFICATIONS
Product Type
Rabbit polyclonal primary
Product Name
NOX2/gp91phox Rabbit Polyclonal Antibody (ER1511-34)
Immunogen
Synthetic peptide corresponding to c-terminal human nox2/gp91phox.
Positive Control
HepG2, MCF-7, Hela, human liver tissue, human spleen tissue, human tonsil tissue, mouse spleen tissue.
PROPERTIES
Storage Condition
Store at +4C after thawing. Aliquot store at -20C. Avoid repeated freeze / thaw cycles.
Storage Buffer
1*PBS (pH7.4), 0.2% BSA, 50% Glycerol. Preservative: 0.05% Sodium Azide.
PURIFICATION
Peptide affinity purified.
TARGET
SYNONYMS
AMCBX2 antibody; CGD antibody; CGD91-phox antibody; CY24B_HUMAN antibody; CYBB antibody; Cytochrome b 245, beta polypeptide antibody; Cytochrome b(558) beta chain antibody; Cytochrome b(558) subunit beta antibody; Cytochrome b-245 heavy chain antibody; Cytochrome b558 subunit beta antibody; GP91 PHOX antibody; gp91-1 antibody; gp91-phox antibody; GP91PHOX antibody; Heme-binding membrane glycoprotein gp91phox antibody; NADPH oxidase 2 antibody; Neutrophil cytochrome b 91 kDa polypeptide antibody; NOX2 antibody; p22 phagocyte B-cytochrome antibody; P91 PHOX antibody; p91-PHOX antibody; Superoxide-generating NADPH oxidase heavy chain subunit antibody
TISSUE SPECIFICITY
Detected in neutrophils (at protein level).
POST-TRANSLATIONAL MODIFICATION
Glycosylated.; Phosphorylated on Ser and Thr residues.; Undergoes 'Lys-48'-linked polyubiquitination, likely by RNF145, triggering endoplasmic reticulum-associated degradation.
FUNCTION
Mox1 and the glycoprotein gp91-phox are largely related proteins that are essential components of the NADPH oxidase. The superoxide-generating NADPH oxidase is present in phagocytes, neuroepithelial bodies, vascular smooth muscle cells and endothelial cells. It includes a membrane-bound flavocytochrome containing two subunits, gp91-phox and p22-phox, and the cytosolic proteins p47-phox and p67-phox. The p22- and gp91-phox subunits also function as surface O2 sensors that initiate cellular signaling in response to hypoxic conditions. Mox1 and gp91 contain identical C-terminal sequence identity, yet they have distinct expression patterns. gp91-phox is expressed in eosinophils, neutro-phils, monocytes and B-lymphocytes, whereas Mox1 is predominantly detected in the colon, and low expression is also detected in the uterus and prostate. Mox1 is also upregulated in vascular smooth-muscle cells in response to PDGF stimulation, which collectively indicates that Mox1 may function analogously to gp91-phox, yet regulate the NADPH superoxide production in non-phagocytic cells.