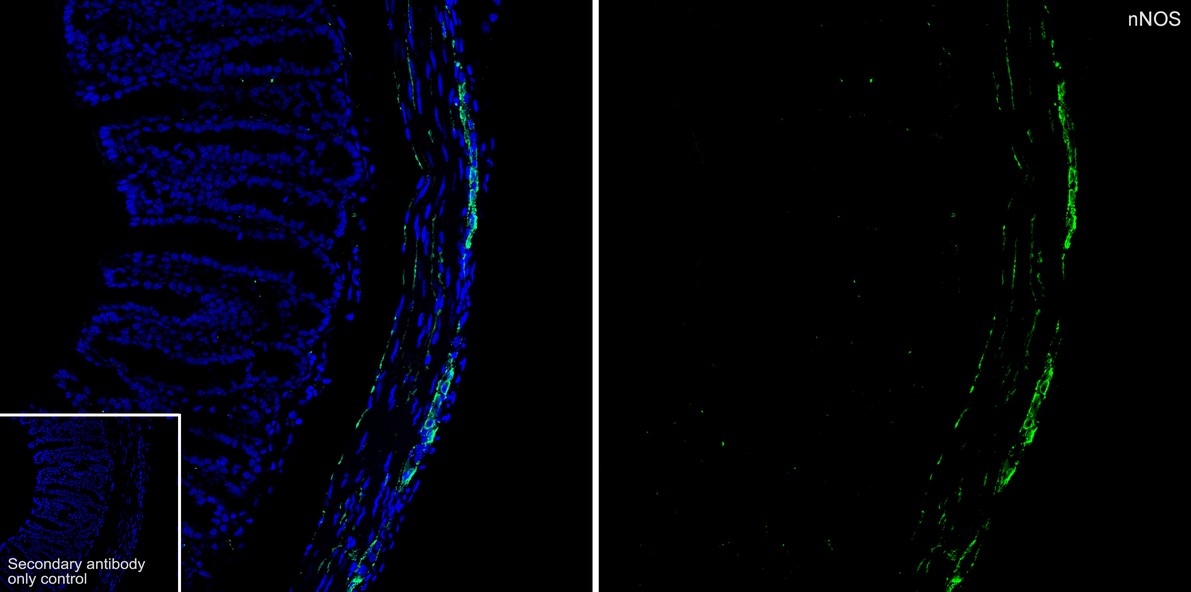 Western blot analysis on SHG-44(1) and mouse brain(2) lysates using anti-nNOS rabbit polyclonal antibody.
SPECIFICATIONS
Product Type
Rabbit polyclonal primary
Product Name
nNOS Rabbit Polyclonal Antibody (R1510-28)
Positive Control
SHG-44, SK-BR-3, HepG2, mouse lung tissue, human lung tissue, mouse testis tissue, human kidney tissue, mouse brain tissue, mouse kidney tissue.
PROPERTIES
Storage Condition
Store at +4C after thawing. Aliquot store at -20C or -80C. Avoid repeated freeze / thaw cycles.
Storage Buffer
1*PBS (pH7.4), 0.2% BSA, 40% Glycerol. Preservative: 0.05% Sodium Azide.
PURIFICATION
Peptide affinity purified
TARGET
SYNONYMS
2310005C01Rik antibody; BNOS antibody; Constitutive NOS antibody; EC 1.14.13.39 antibody; IHPS 1 antibody; IHPS1 antibody; N-NOS antibody; NC-NOS antibody; neuronal Nitric Oxide Synthase antibody; Neuronal NOS antibody; Nitric oxide synthase , neuronal, included antibody; Nitric oxide synthase 1 (neuronal) antibody; Nitric oxide synthase 1 antibody; Nitric oxide synthase, brain antibody; Nitric oxide synthase, penile neuronal, included antibody; NNOS antibody; NO antibody; NOS 1 antibody; NOS antibody; NOS type I antibody; NOS-I antibody; NOS1 antibody; NOS1_HUMAN antibody; Peptidyl-cysteine S-nitrosylase NOS1 antibody
SEQUENCE SIMILARITIES
Belongs to the NOS family.
TISSUE SPECIFICITY
Isoform 1 is ubiquitously expressed: detected in skeletal muscle and brain, also in testis, lung and kidney, and at low levels in heart, adrenal gland and retina. Not detected in the platelets. Isoform 3 is expressed only in testis. Isoform 4 is detected in testis, skeletal muscle, lung, and kidney, at low levels in the brain, but not in the heart and adrenal gland.
POST-TRANSLATIONAL MODIFICATION
Ubiquitinated; mediated by STUB1/CHIP in the presence of Hsp70 and Hsp40 (in vitro).
SUBCELLULAR LOCATION
Cell membrane, Cell projection
FUNCTION
Nitric oxide (NO) has a broad range of biological activities and has been implicated in signaling pathways in phylogenetically diverse species. Nitric oxide synthases (NOSs), the enzymes responsible for synthesis of NO, contain an N-terminal oxygenase domain and a C-terminal reductase domain. NOS activity requires homodimerization as well as three cosubstrates (L-arginine, NADPH and O2) and five cofactors or prosthetic groups (FAD, FMN, calmodulin, tetrahydrobiopterin and heme). Several distinct NOS isoforms have been described and been shown to represent the products of three distinct genes. These include two constitutive Ca2+/CaM-dependent forms of NOS, including NOS1 (also designated ncNOS) whose activity was first identified in neurons, and NOS3 (also designated ecNOS), first identified in endothelial cells. The inducible form of NOS, NOS2 (also designated iNOS), is Ca2+-independent and is expressed in a broad range of cell types.