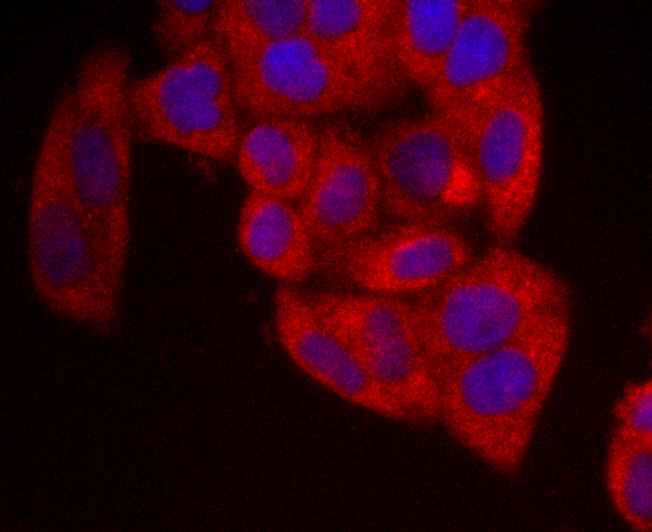 ICC staining NM23 in Hela cells (red). The nuclear counter stain is DAPI (blue). Cells were fixed in paraformaldehyde, permeabilised with 0.25% Triton X100/PBS.
SPECIFICATIONS
Product Type
Rabbit polyclonal primary
Product Name
NM23 Rabbit Polyclonal Antibody (ER1603-4)
Immunogen
Synthetic peptide within human usp36 aa 64-128.
Positive Control
Hela, HepG2, MCF-7, human lung cancer tissue, human breast cancer tissue, mouse brain tissue.
PROPERTIES
Storage Condition
Store at +4C after thawing. Aliquot store at -20C or -80C. Avoid repeated freeze / thaw cycles.
Storage Buffer
1*PBS (pH7.4), 0.2% BSA, 50% Glycerol. Preservative: 0.05% Sodium Azide.
PURIFICATION
Peptide affinity purified
TARGET
SYNONYMS
AWD antibody; AWD, drosophila, homolog of antibody; GAAD antibody; Granzyme A activated DNase antibody; Granzyme A-activated DNase antibody; GZMA activated DNase antibody; Metastasis inhibition factor NM23 antibody; NB antibody; NBS antibody; NDK A antibody; NDKA antibody; NDKA_HUMAN antibody; NDP kinase A antibody; NDPK-A antibody; NDPKA antibody; NM23 antibody; NM23 long variant, included antibody; nm23-H1 antibody; NM23-M1 antibody; NM23H1B, included antibody; NME/NM23 nucleoside diphosphate kinase 1 antibody; Nme1 antibody; NME1-NME2 spliced read-through transcript, included antibody; Non-metastatic cells 1, protein (NM23A) expressed in antibody; Nonmetastatic cells 1, protein expressed in antibody; Nonmetastatic protein 23 antibody; Nonmetastatic protein 23, homolog 1 antibody; Nucleoside diphosphate kinase A antibody; Tumor metastatic process-associated protein antibody
SEQUENCE SIMILARITIES
Belongs to the NDK family.
TISSUE SPECIFICITY
Isoform 1 is expressed in heart, brain, placenta, lung, liver, skeletal muscle, pancreas, spleen and thymus. Expressed in lung carcinoma cell lines but not in normal lung tissues. Isoform 2 is ubiquitously expressed and its expression is also related to tumor differentiation.
FUNCTION
Major role in the synthesis of nucleoside triphosphates other than ATP. The ATP gamma phosphate is transferred to the NDP beta phosphate via a ping-pong mechanism, using a phosphorylated active-site intermediate. Possesses nucleoside-diphosphate kinase, serine/threonine-specific protein kinase, geranyl and farnesyl pyrophosphate kinase, histidine protein kinase and 3'-5' exonuclease activities. Involved in cell proliferation, differentiation and development, signal transduction, G protein-coupled receptor endocytosis, and gene expression. Required for neural development including neural patterning and cell fate determination. During GZMA-mediated cell death, works in concert with TREX1. NME1 nicks one strand of DNA and TREX1 removes bases from the free 3' end to enhance DNA damage and prevent DNA end reannealing and rapid repair.