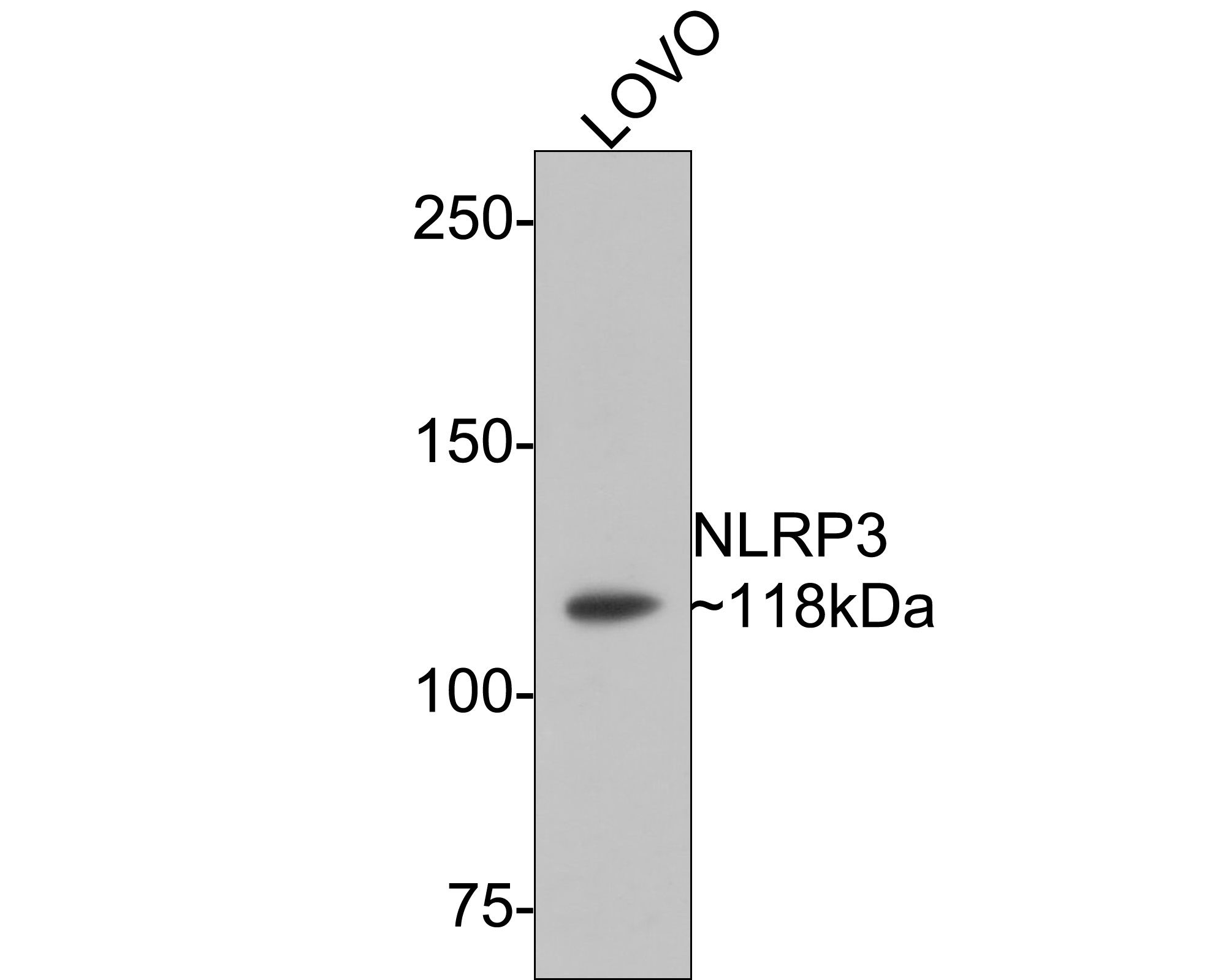 Western blot analysis of NLRP3 on different lysates using anti-NLRP3 antibody at 1/1,000 dilution.
Positive control:
Lane 1: Human lung
Lane 2: Mouse thymus
Lane 3: THP-1
SPECIFICATIONS
Product Type
Rabbit polyclonal primary
Product Name
NLRP3 Rabbit Polyclonal Antibody (ER1706-72)
Immunogen
Synthetic peptide within human nlrp3 aa 987-1,036 / 1,036.
Positive Control
Human lung tissue lysate, mouse thymus tissue lysate, THP-1, A431, HepG2, LOVO, human liver cancer tissue, human colon cancer tissue, human placenta tissue, mouse brain tissue, mouse kidney tissue, Jurkat.
PROPERTIES
Storage Condition
Store at +4C after thawing. Aliquot store at -20C or -80C. Avoid repeated freeze / thaw cycles.
Storage Buffer
1*PBS (pH7.4), 0.2% BSA, 50% Glycerol. Preservative: 0.05% Sodium Azide.
PURIFICATION
Peptide affinity purified
TARGET
SYNONYMS
AGTAVPRL antibody; AII/AVP antibody; Angiotensin/vasopressin receptor AII/AVP like antibody; Angiotensin/vasopressin receptor AII/AVP-like antibody; C1orf7 antibody; Caterpiller protein 1.1 antibody; CIAS 1 antibody; CIAS1 antibody; CLR1.1 antibody; Cold autoinflammatory syndrome 1 antibody; Cold autoinflammatory syndrome 1 protein antibody; Cryopyrin antibody; Familial cold autoinflammatory syndrome antibody; FCAS antibody; FCU antibody; LRR and PYD domains-containing protein 3 antibody; Muckle-Wells syndrome antibody; MWS antibody; NACHT antibody; NACHT LRR and PYD containing protein 3 antibody; NALP 3 antibody; NALP3 antibody; NALP3_HUMAN antibody; NLR family pyrin domain containing 3 antibody; NLRP3 antibody; PYPAF 1 antibody; PYPAF1 antibody; PYRIN containing APAF1 like protein 1 antibody; PYRIN-containing APAF1-like protein 1 antibody
SEQUENCE SIMILARITIES
Belongs to the NLRP family.
TISSUE SPECIFICITY
Predominantly expressed in macrophages. Also expressed in dendritic cells, B- and T-cells (at protein level). Expressed in LPS-treated granulocytes, but not in resting cells (at protein level). Expression in monocytes is very weak (at protein level). Expressed in stratified non-keratinizing squamous epithelium, including oral, esophageal and ectocervical mucosa and in the Hassall's corpuscles in the thymus. Also, detected in the stratified epithelium covering the bladder and ureter (transitional mucosa) (at protein level). Expressed in lung epithelial cells (at protein level). Expressed in chondrocytes. Expressed at low levels in resting osteoblasts.
POST-TRANSLATIONAL MODIFICATION
The disulfide bond in the pyrin domain might play a role in reactive oxygen species-mediated activation.; Ubiquitinated; undergoes both 'Lys-48'- and 'Lys-63'-linked polyubiquitination. Ubiquitination does not lead to degradation, but inhibits inflammasome activation (By similarity). Deubiquitination is catalyzed by BRCC3 and associated with NLRP3 activation and inflammasome assembly. This process can be induced by the activation of Toll-like receptors (by LPS), through a non-transcriptional pathway dependent on the mitochondrial production of reactive oxygen species, and by ATP.
SUBCELLULAR LOCATION
Nucleus. Cytoplasm. Secreted.
FUNCTION
Cryopyrin interacts selectively with apoptosis associated specklike protein containing a CARD domain (ASC). This complex may function as an upstream activator of NFkB signaling and caspase-1 activation. The complex also inhibits TNFa induced activation and nuclear translocation of RelA/NFkB p65. Mutations in Cryopyrin and Pyrin proteins are responsible for several autoinflammatory disorders in humans, including familial cold autoinflammatory syndrome (FCAS), Muckle-Wells syndrome (MWS) and chronic infantile neurologic cutaneous and articular syndrome (CINCA).
CITATIONS
Lei, B., Liu, J., Yao, Z., ...

NF-κB-Induced Upregulation of miR-146a-5p Promoted Hippocampal Neuronal Oxidative Stress and Pyroptosis via TIGAR in a Model of Alzheimer's Disease. Frontiers in cellular neuroscience, 15, 653881.

Wan, T., Pan, Q., & Ping, Y.

Microneedle-assisted genome editing: A transdermal strategy of targeting NLRP3 by CRISPR-Cas9 for synergistic therapy of inflammatory skin disorders. Science advances, 7(11), eabe2888.