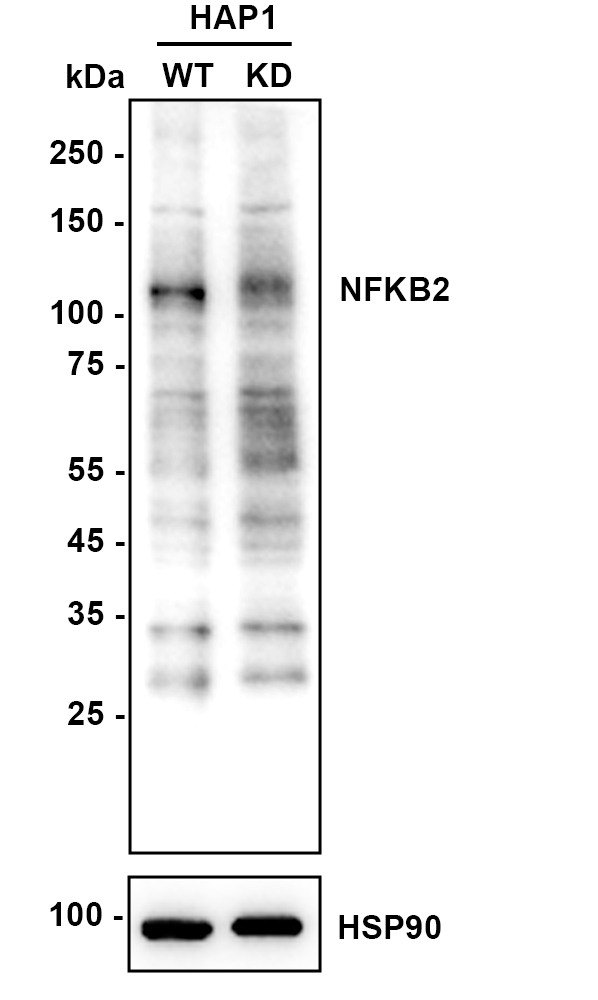 Western blot analysis of NFKB2 on A431 cell lysate. Proteins were transferred to a PVDF membrane and blocked with 5% BSA in PBS for 1 hour at room temperature. The primary antibody (EM1901-79, 1/500) was used in 5% BSA at room temperature for 2 hours. Goat Anti-Mouse IgG - HRP Secondary Antibody (HA1006) at 1:5,000 dilution was used for 1 hour at room temperature.
Predicted band size: 97 kDa
Observed band size: 100 kDa
SPECIFICATIONS
Product Name
NFKB2 Mouse Monoclonal Antibody [16B3] (EM1901-79)
Immunogen
Synthetic peptide within human nfkb2 aa 1-50 / 900.
Positive Control
Rat testis tissue, human placenta tissue, A431.
PROPERTIES
Storage Condition
Store at +4C after thawing. Aliquot store at -20C. Avoid repeated freeze / thaw cycles.
Storage Buffer
1*PBS (pH7.4), 0.2% BSA, 50% Glycerol. Preservative: 0.05% Sodium Azide.
TARGET
SYNONYMS
CVID10 antibody; DNA binding factor KBF2 antibody; H2TF1 antibody; Lymphocyte translocation chromosome 10 protein antibody; LYT 10 antibody; NF kB2 antibody; NFKB p52/p100 subunit antibody; Nuclear factor Kappa B subunit 2 antibody; Nuclear factor of kappa light polypeptide gene enhancer in B cells 2 (p49/p100) antibody; Nuclear factor of kappa light polypeptide gene enhancer in B cells 2 antibody; Oncogene Lyt 10 antibody; p100 antibody; Transcription factor NFKB2 antibody
POST-TRANSLATIONAL MODIFICATION
While translation occurs, the particular unfolded structure after the GRR repeat promotes the generation of p52 making it an acceptable substrate for the proteasome. This process is known as cotranslational processing. The processed form is active and the unprocessed form acts as an inhibitor (I kappa B-like), being able to form cytosolic complexes with NF-kappa B, trapping it in the cytoplasm. Complete folding of the region downstream of the GRR repeat precludes processing.; Subsequent to MAP3K14-dependent serine phosphorylation, p100 polyubiquitination occurs then triggering its proteasome-dependent processing.; Constitutive processing is tightly suppressed by its C-terminal processing inhibitory domain, named PID, which contains the death domain.
FUNCTION
NF-kappa-B is a pleiotropic transcription factor present in almost all cell types and is the endpoint of a series of signal transduction events that are initiated by a vast array of stimuli related to many biological processes such as inflammation, immunity, differentiation, cell growth, tumorigenesis and apoptosis. NF-kappa-B is a homo- or heterodimeric complex formed by the Rel-like domain-containing proteins RELA/p65, RELB, NFKB1/p105, NFKB1/p50, REL and NFKB2/p52. The dimers bind at kappa-B sites in the DNA of their target genes and the individual dimers have distinct preferences for different kappa-B sites that they can bind with distinguishable affinity and specificity. Different dimer combinations act as transcriptional activators or repressors, respectively. NF-kappa-B is controlled by various mechanisms of post-translational modification and subcellular compartmentalization as well as by interactions with other cofactors or corepressors. NF-kappa-B complexes are held in the cytoplasm in an inactive state complexed with members of the NF-kappa-B inhibitor (I-kappa-B) family. The NF-kappa-B heterodimeric RelB-p52 complex is a transcriptional activator. The NF-kappa-B p52-p52 homodimer is a transcriptional repressor. The proteasome-mediated process ensures the production of both p52 and p100 and preserves their independent function. p52 and p100 are respectively the minor and major form; the processing of p100 being relatively poor. Isoform p49 is a subunit of the NF-kappa-B protein complex, which stimulates the HIV enhancer in synergy with p65.