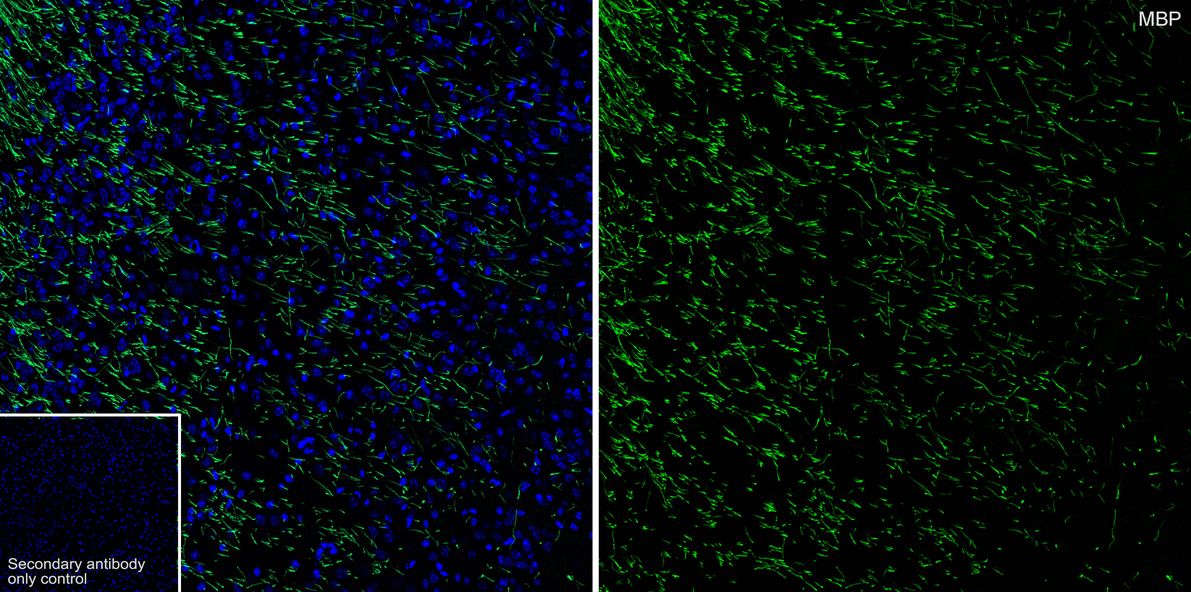 Immunohistochemical analysis of paraffin-embedded rat brain tissue using anti-Myelin Basic Protein antibody. Counter stained with hematoxylin.
SPECIFICATIONS
Product Type
Recombinant Rabbit monoclonal primary
Product Name
Myelin Basic Protein Recombinant Rabbit Monoclonal Antibody [JF0943] (ET1702-15)
Positive Control
Rat brain tissue tissue, mouse brain tissue.
PROPERTIES
Storage Condition
Store at +4C after thawing. Aliquot store at -20C or -80C. Avoid repeated freeze / thaw cycles.
Storage Buffer
1*TBS (pH7.4), 0.05% BSA, 40% Glycerol. Preservative: 0.05% Sodium Azide.
TARGET
SYNONYMS
GDB antibody; Golli MBP antibody; Golli MBP; myelin basic protein antibody; Hemopoietic MBP antibody; HMBPR antibody; HUGO antibody; MBP antibody; MBP_CAVPO antibody; MBP_HUMAN antibody; MGC99675 antibody; MLD antibody; Myelin A1 protein antibody; Myelin A1 Protein, basic antibody; Myelin basic protein antibody; Myelin Deficient antibody; Myelin membrane encephalitogenic protein antibody; OTTHUMP00000163776 antibody; OTTHUMP00000174387 antibody; OTTHUMP00000174388 antibody; SHI antibody; Shiverer antibody; SP antibody
SEQUENCE SIMILARITIES
Belongs to the myelin basic protein family.
TISSUE SPECIFICITY
MBP isoforms are found in both the central and the peripheral nervous system, whereas Golli-MBP isoforms are expressed in fetal thymus, spleen and spinal cord, as well as in cell lines derived from the immune system.
DEVELOPMENTAL STAGE
Expression begins abruptly in 14-16 week old fetuses. Even smaller isoforms seem to be produced during embryogenesis; some of these persisting in the adult. Isoform 4 expression is more evident at 16 weeks and its relative proportion declines thereafter.
POST-TRANSLATIONAL MODIFICATION
Several charge isomers of MBP; C1 (the most cationic, least modified, and most abundant form), C2, C3, C4, C5, C6, C7, C8-A and C8-B (the least cationic form); are produced as a result of optional PTM, such as phosphorylation, deamidation of glutamine or asparagine, arginine citrullination and methylation. C8-A and C8-B contain each two mass isoforms termed C8-A(H), C8-A(L), C8-B(H) and C8-B(L), (H) standing for higher and (L) for lower molecular weight. C3, C4 and C5 are phosphorylated. The ratio of methylated arginine residues decreases during aging, making the protein more cationic.; The N-terminal alanine is acetylated (isoform 3, isoform 4, isoform 5 and isoform 6).; Arg-241 was found to be 6% monomethylated and 60% symmetrically dimethylated.; Phosphorylated by TAOK2, VRK2, MAPK11, MAPK12, MAPK14 and MINK1.
SUBCELLULAR LOCATION
Myelin membrane, Nucleus.
FUNCTION
Myelin basic protein (MBP) is the major extrinsic membrane protein of central nervous system myelin. MBP phosphorylation at Threonine 125 is a complex regulatory process that modulates the contribution of MBP to the stability of the myelin sheath. Mitogen-activated protein kinases modulate MBP phosphorylation during myelinogenesis and in the demyelinating disease multiple sclerosis. MBP phosphorylation is regulated by high-frequency stimulation but not low-frequency stimulation of the alveus, the myelinated output fibers of the hippocampus. It is proposed that during periods of increased neuronal activity, calcium activates axonal nitric oxide synthase, which generates the intercellular messengers nitric oxide and superoxide and regulates the phosphorylation state of MBP by MAPK.