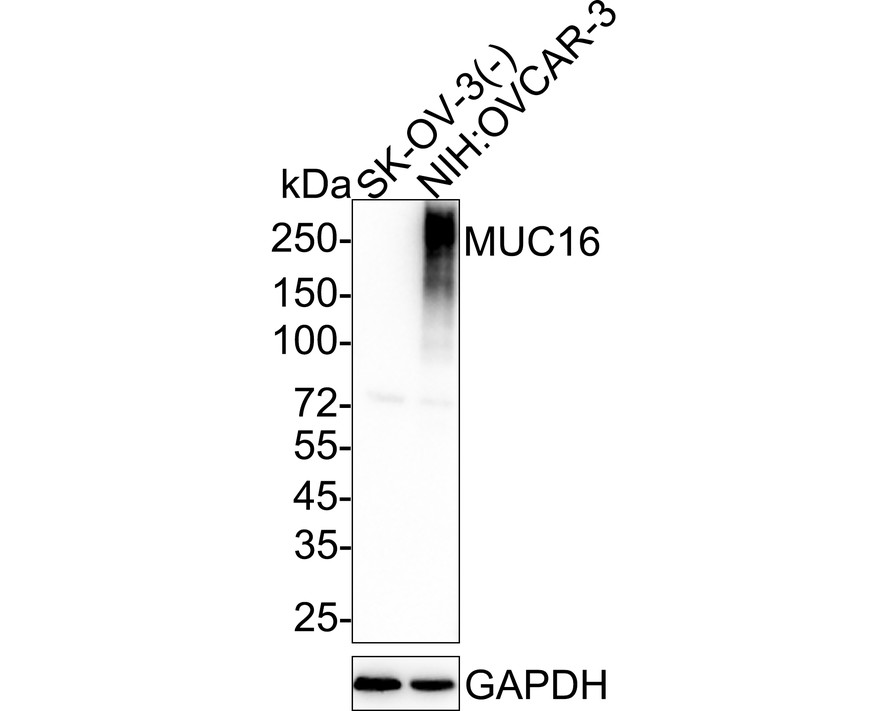 ICC staining of MUC16 in HepG2 cells (green). Formalin fixed cells were permeabilized with 0.1% Triton X-100 in TBS for 10 minutes at room temperature and blocked with 1% Blocker BSA for 15 minutes at room temperature. Cells were probed with the primary antibody (ET1611-73, 1/50) for 1 hour at room temperature, washed with PBS. Alexa Fluor®488 Goat anti-Rabbit IgG was used as the secondary antibody at 1/1,000 dilution. The nuclear counter stain is DAPI (blue).
SPECIFICATIONS
Product Type
Recombinant Rabbit monoclonal primary
Product Name
MUC16 Recombinant Rabbit Monoclonal Antibody [SN0715] (ET1611-73)
PROPERTIES
Storage Condition
Store at +4C after thawing. Aliquot store at -20C or -80C. Avoid repeated freeze / thaw cycles.
Storage Buffer
1*TBS (pH7.4), 0.05% BSA, 40% Glycerol. Preservative: 0.05% Sodium Azide.
PURIFICATION
Protein A affinity purified.
TARGET
SYNONYMS
CA 125 antibody; CA-125 antibody; CA125 antibody; CA125 ovarian cancer antigen antibody; Cancer antigen 125 antibody; FLJ14303 antibody; MUC 16 antibody; MUC-16 antibody; MUC16 antibody; MUC16_HUMAN antibody; Mucin 16 antibody; Mucin 16 cell surface associated antibody; Mucin-16 antibody; Mucin16 antibody; Ovarian cancer related tumor marker CA125 antibody; Ovarian cancer-related tumor marker CA125 antibody; Ovarian carcinoma antigen CA125 antibody
TISSUE SPECIFICITY
Expressed in corneal and conjunctival epithelia (at protein level). Overexpressed in ovarian carcinomas and ovarian low malignant potential (LMP) tumors as compared to the expression in normal ovarian tissue and ovarian adenomas.
POST-TRANSLATIONAL MODIFICATION
Heavily O-glycosylated; expresses both type 1 and type 2 core glycans.; Heavily N-glycosylated; expresses primarily high mannose and complex bisecting type N-linked glycans.; May be phosphorylated. Phosphorylation of the intracellular C-terminal domain may induce proteolytic cleavage and the liberation of the extracellular domain into the extracellular space.; May contain numerous disulfide bridges. Association of several molecules of the secreted form may occur through interchain disulfide bridges providing an extraordinarily large gel-like matrix in the extracellular space or in the lumen of secretory ducts.
SUBCELLULAR LOCATION
Cell membrane, extracellular space.
FUNCTION
The mucins are a family of highly glycosylated, secreted proteins with a basic structure consisting of a variable number of tandem repeats (VNTRs). Membrane-associated and secretory Mucins are high molecular weight glycoproteins of the glycocalyx (polysaccharide biofilm) that protects mucosal epithelium from particulate matter and microorganisms. Epithelial Mucins are large, secreted and cell surface glycoproteins crucial for adhesion modulation, signaling and epithelial cell protection. The number of repeats is highly polymorphic and varies among different alleles. The Mucin family consists of Mucins 1-4, Mucin 5 (AC and B), Mucins 6-8, Mucins 11-13 and Mucins 15-17. The Mucin 16 protein (also commonly referred to as CA125), encoded for by the gene MUC16, is a very high molecular weight tumor antigen consisting of three domains: a carboxy terminal domain, an extracellular domain and an amino terminal domain. Mucin 16, an ovarian cancer-associated antigen, is used as a marker to monitor the progress of epithelial ovarian cancer. It is a hydrophilic membrane-associated protein that may be involved in vitamin A functions.