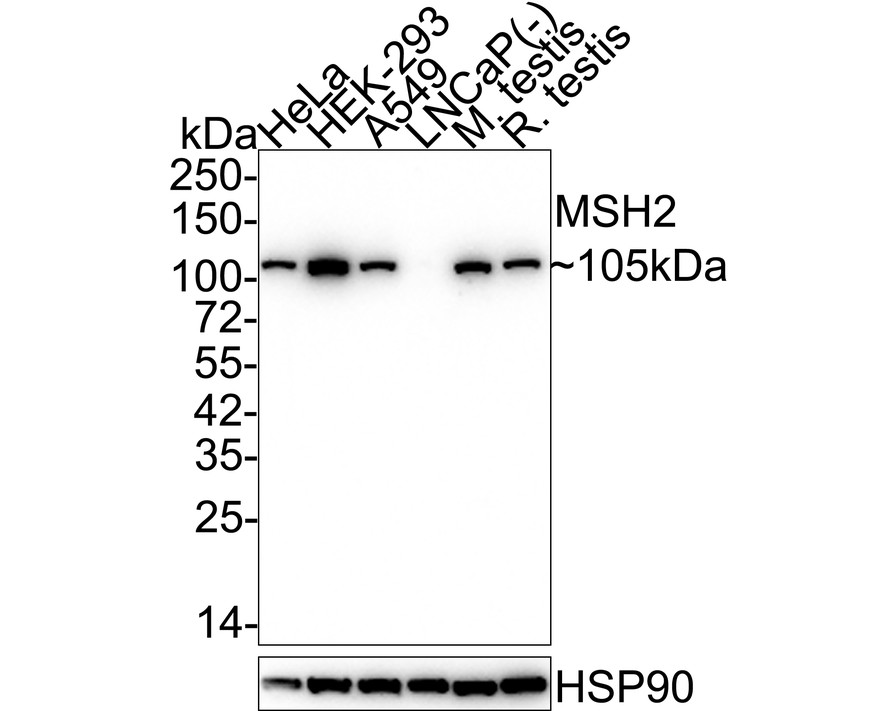 All lanes: Western blot analysis of MSH2 with anti-MSH2 antibody (EM1801-04) at 1:1,000 dilution.
Lane 1: Wild-type SCC7 whole cell lysate.
Lane 2: MSH2 knockout SCC7 whole cell lysate.

EM1801-04 was shown to specifically react with MSH2 in Wild-type SCC7 cells. No band was observed when MSH2 knockout samples were tested. Wild-type and MSH2 knockout samples were subjected to SDS-PAGE. Proteins were transferred to a PVDF membrane and blocked with 5% NFDM in TBST for 1 hour at room temperature. The primary Anti-MSH2 antibody (EM1801-04, 1/1,000) and Anti-HSP90 antibody (ET1605-56, 1/10,000) were used in 5% BSA at room temperature for 2 hours. Goat Anti-Mouse IgG HRP Secondary Antibody (HA1006) at 1:20,000 dilution was used for 1 hour at room temperature.
SPECIFICATIONS
Product Name
MSH2 Mouse Monoclonal Antibody [10G1] (EM1801-04)
Immunogen
Synthetic peptide within n-terminal human msh2.
Positive Control
K562 cell lysates, Wild-type SCC7 whole cell lysates, human breast carcinoma tissue, human placenta tissue, rat brain tissue, human kidney tissue.
PROPERTIES
Storage Condition
Store at +4C after thawing. Aliquot store at -20C. Avoid repeated freeze / thaw cycles.
Storage Buffer
1*PBS (pH7.4), 0.2% BSA, 50% Glycerol. Preservative: 0.05% Sodium Azide.
TARGET
SYNONYMS
BAT26 antibody; COCA 1 antibody; COCA1 antibody; DNA mismatch repair protein Msh2 antibody; FCC 1 antibody; FCC1 antibody; hMSH2 antibody; HNPCC 1 antibody; HNPCC antibody; HNPCC1 antibody; LCFS2 antibody; MSH 2 antibody; Msh2 antibody; MSH2_HUMAN antibody; MutS homolog 2 antibody; MutS homolog 2 colon cancer nonpolyposis type 1 antibody; MutS protein homolog 2 antibody
SEQUENCE SIMILARITIES
Belongs to the DNA mismatch repair MutS family.
POST-TRANSLATIONAL MODIFICATION
Phosphorylated by PRKCZ, which may prevent MutS alpha degradation by the ubiquitin-proteasome pathway.
FUNCTION
Component of the post-replicative DNA mismatch repair system (MMR). Forms two different heterodimers: MutS alpha (MSH2-MSH6 heterodimer) and MutS beta (MSH2-MSH3 heterodimer) which binds to DNA mismatches thereby initiating DNA repair. When bound, heterodimers bend the DNA helix and shields approximately 20 base pairs. MutS alpha recognizes single base mismatches and dinucleotide insertion-deletion loops (IDL) in the DNA. MutS beta recognizes larger insertion-deletion loops up to 13 nucleotides long. After mismatch binding, MutS alpha or beta forms a ternary complex with the MutL alpha heterodimer, which is thought to be responsible for directing the downstream MMR events, including strand discrimination, excision, and resynthesis. Recruits DNA helicase MCM9 to chromatin which unwinds the mismatch containg DNA strand. ATP binding and hydrolysis play a pivotal role in mismatch repair functions. The ATPase activity associated with MutS alpha regulates binding similar to a molecular switch: mismatched DNA provokes ADP-->ATP exchange, resulting in a discernible conformational transition that converts MutS alpha into a sliding clamp capable of hydrolysis-independent diffusion along the DNA backbone. This transition is crucial for mismatch repair. MutS alpha may also play a role in DNA homologous recombination repair. In melanocytes may modulate both UV-B-induced cell cycle regulation and apoptosis.