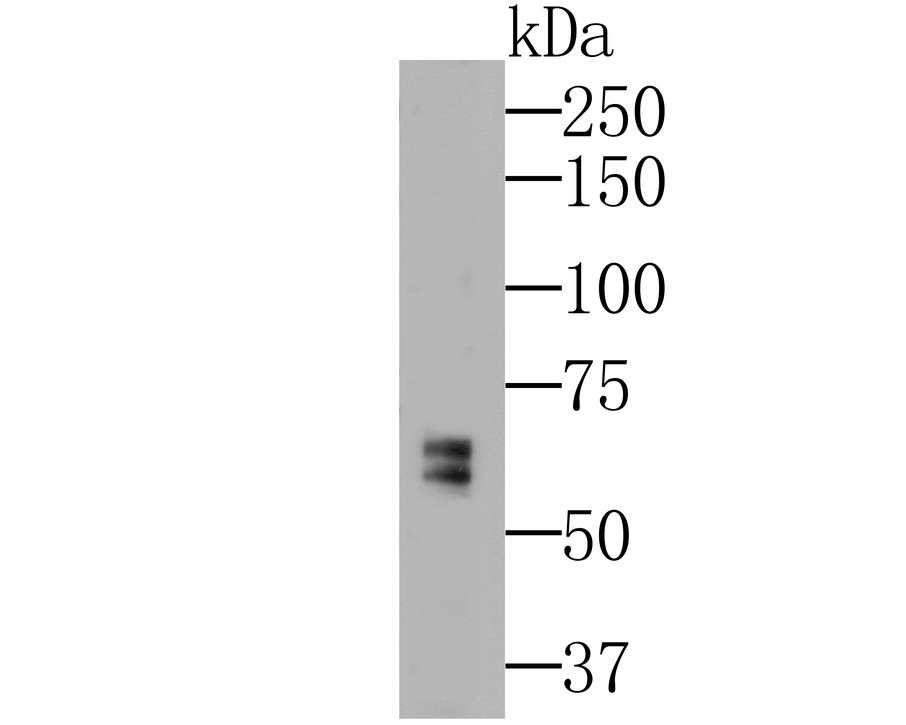 Western blot analysis of MMP-9 on MCF-7 cell lysate. Proteins were transferred to a PVDF membrane and blocked with 5% BSA in PBS for 1 hour at room temperature. The primary antibody was used at a 1:500 dilution in 5% BSA at room temperature for 2 hours. Goat Anti-Mouse IgG - HRP Secondary Antibody (HA1006) at 1:5,000 dilution was used for 1 hour at room temperature.
SPECIFICATIONS
Product Name
MMP9 Mouse Monoclonal Antibody [10A1] (EM1801-22)
Immunogen
Recombinant protein with human mmp-9 aa 270-400.
Positive Control
MCF-7, PANC-1, SH-SY5Y, human tonsil tissue, human lung cancer tissue, human spleen tissue, MG-63.
PROPERTIES
Storage Condition
Store at +4C after thawing. Aliquot store at -20C. Avoid repeated freeze / thaw cycles.
Storage Buffer
1*PBS (pH7.4), 0.2% BSA, 50% Glycerol. Preservative: 0.05% Sodium Azide.
TARGET
SYNONYMS
82 kDa matrix metalloproteinase-9 antibody; 92 kDa gelatinase antibody; 92 kDa type IV collagenase antibody; CLG 4B antibody; CLG4B antibody; Collagenase Type 4 beta antibody; Collagenase type IV 92 KD antibody; EC 3.4.24.35 antibody; Gelatinase 92 KD antibody; Gelatinase B antibody; Gelatinase beta antibody; GelatinaseB antibody; GELB antibody; Macrophage gelatinase antibody; MANDP2 antibody; Matrix metallopeptidase 9 (gelatinase B, 92kDa gelatinase, 92kDa type IV collagenase) antibody; Matrix Metalloproteinase 9 antibody; MMP 9 antibody; MMP-9 antibody; MMP9 antibody; MMP9_HUMAN antibody; Type V collagenase antibody
SEQUENCE SIMILARITIES
Belongs to the peptidase M10A family.
TISSUE SPECIFICITY
Detected in neutrophils (at protein level). Produced by normal alveolar macrophages and granulocytes.
POST-TRANSLATIONAL MODIFICATION
Processing of the precursor yields different active forms of 64, 67 and 82 kDa. Sequentially processing by MMP3 yields the 82 kDa matrix metalloproteinase-9.; N- and O-glycosylated.
SUBCELLULAR LOCATION
Extracellular matrix. Secreted.
FUNCTION
The matrix metalloproteinases (MMP) are a family of peptidase enzymes responsible for the degradation of extracellular matrix components, including collagen, gelatin, fibronectin, laminin and proteoglycan. Transcription of MMP genes is differentially activated by phorbol ester, lipopolysaccharide (LPS) or staphylococcal enterotoxin B (SEB). MMP catalysis requires both calcium and zinc. MMP-9 (also designated 92 kDa type IV collagenase or gelatinase B) has been shown to degrade bone collagens in concert with MMP-1 (also designated interstitial collagenase, fibroblast collagenase or collagenase-1), and cysteine proteases and may play a role in bone osteoclastic resorption. MMP-1 is downregulated by p53, and abnormality of p53 expression may contribute to joint degradation in rheumatoid arthritis by regulating MMP-1 expression.
CITATIONS
Xu, Xiaodong et al.

Upregulation of miRNA-301a-3p promotes tumor progression in gastric cancer by suppressing NKRF and activating NF-κB signaling. | International Journal of Oncology [2020]