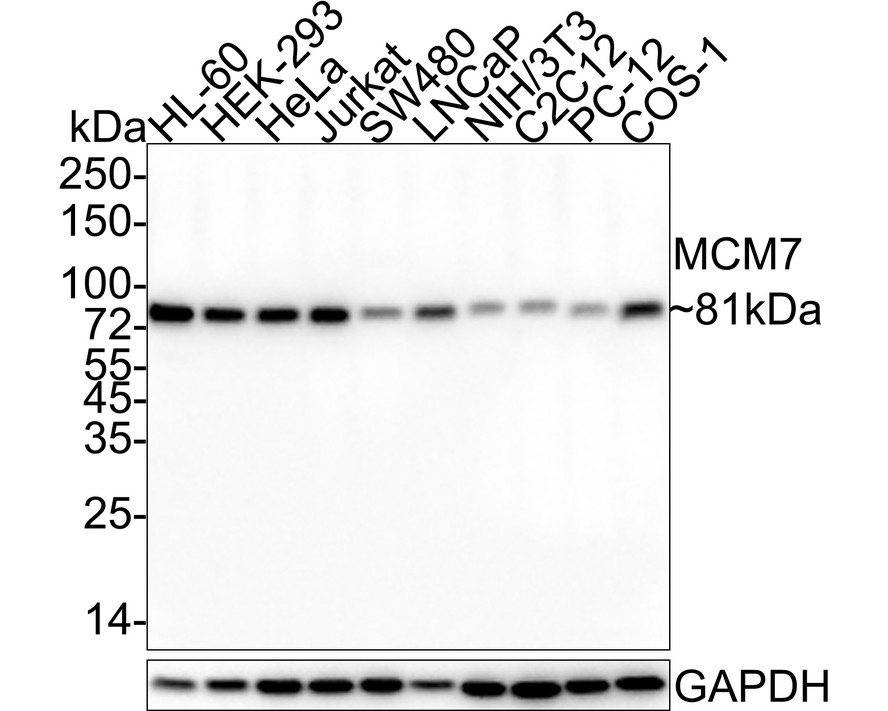 Western blot analysis of MCM7 on different lysates. Proteins were transferred to a PVDF membrane and blocked with 5% BSA in PBS for 1 hour at room temperature. The primary antibody (EM1901-12, 1/500) was used in 5% BSA at room temperature for 2 hours. Goat Anti-Mouse IgG - HRP Secondary Antibody (HA1006) at 1:5,000 dilution was used for 1 hour at room temperature.
Positive control:
Lane 1: HL-60 cell lysate
Lane 2: 293 cell lysate
Lane 3: PC-12 cell lysate
Lane 4: K562 cell lysate
SPECIFICATIONS
Product Name
MCM7 Mouse Monoclonal Antibody [15E1] (EM1901-12)
Immunogen
Recombinant protein within human mcm7 aa 516-719 / 719.
Positive Control
HL-60 cell, 293 cell, PC-12 cell, K562 cell, human tonsil tissue, human esophagus tissue, SH-SY5Y cell.
PROPERTIES
Storage Condition
Store at +4C after thawing. Aliquot store at -20C. Avoid repeated freeze / thaw cycles.
Storage Buffer
1*PBS (pH7.4), 0.2% BSA, 50% Glycerol. Preservative: 0.05% Sodium Azide.
TARGET
SYNONYMS
CDABP0042 antibody; CDC 47 antibody; CDC47 antibody; CDC47 homolog antibody; Cdc47, S. cerevisiae, homolog of antibody; DNA replication licensing factor MCM7 antibody; Homolog of S. cerevisiae Cdc47 antibody; MCM 2 antibody; MCM 7 antibody; MCM2 antibody; MCM2, formerly antibody; Mcm7 antibody; MCM7 minichromosome maintenance deficient 7 antibody; MCM7_HUMAN antibody; Minichromosome Maintainence 7 antibody; Minichromosome maintainence, S. cerevisiae, homolog of antibody; Minichromosome maintenance complex component 7 antibody; Minichromosome maintenance deficient 7 antibody; Minichromosome maintenance protein 7 antibody; P1.1 MCM3 antibody; P1.1-MCM3 antibody; P1CDC47 antibody; P85MCM antibody; PNAS 146 antibody; PNAS146 antibody; PPP1R104 antibody; Protein phosphatase 1, regulatory subunit 104 antibody
SEQUENCE SIMILARITIES
Belongs to the MCM family.
POST-TRANSLATIONAL MODIFICATION
O-glycosylated (O-GlcNAcylated), in a cell cycle-dependent manner.
FUNCTION
Acts as component of the MCM2-7 complex (MCM complex) which is the putative replicative helicase essential for 'once per cell cycle' DNA replication initiation and elongation in eukaryotic cells. The active ATPase sites in the MCM2-7 ring are formed through the interaction surfaces of two neighboring subunits such that a critical structure of a conserved arginine finger motif is provided in trans relative to the ATP-binding site of the Walker A box of the adjacent subunit. The six ATPase active sites, however, are likely to contribute differentially to the complex helicase activity. Required for S-phase checkpoint activation upon UV-induced damage. Early fractionation of eukaryotic MCM proteins yielded a variety of dimeric, trimeric and tetrameric complexes with unclear biological significance. Specifically a MCM467 subcomplex is shown to have in vitro helicase activity which is inhibited by the MCM2 subunit. The MCM2-7 hexamer is the proposed physiological active complex.