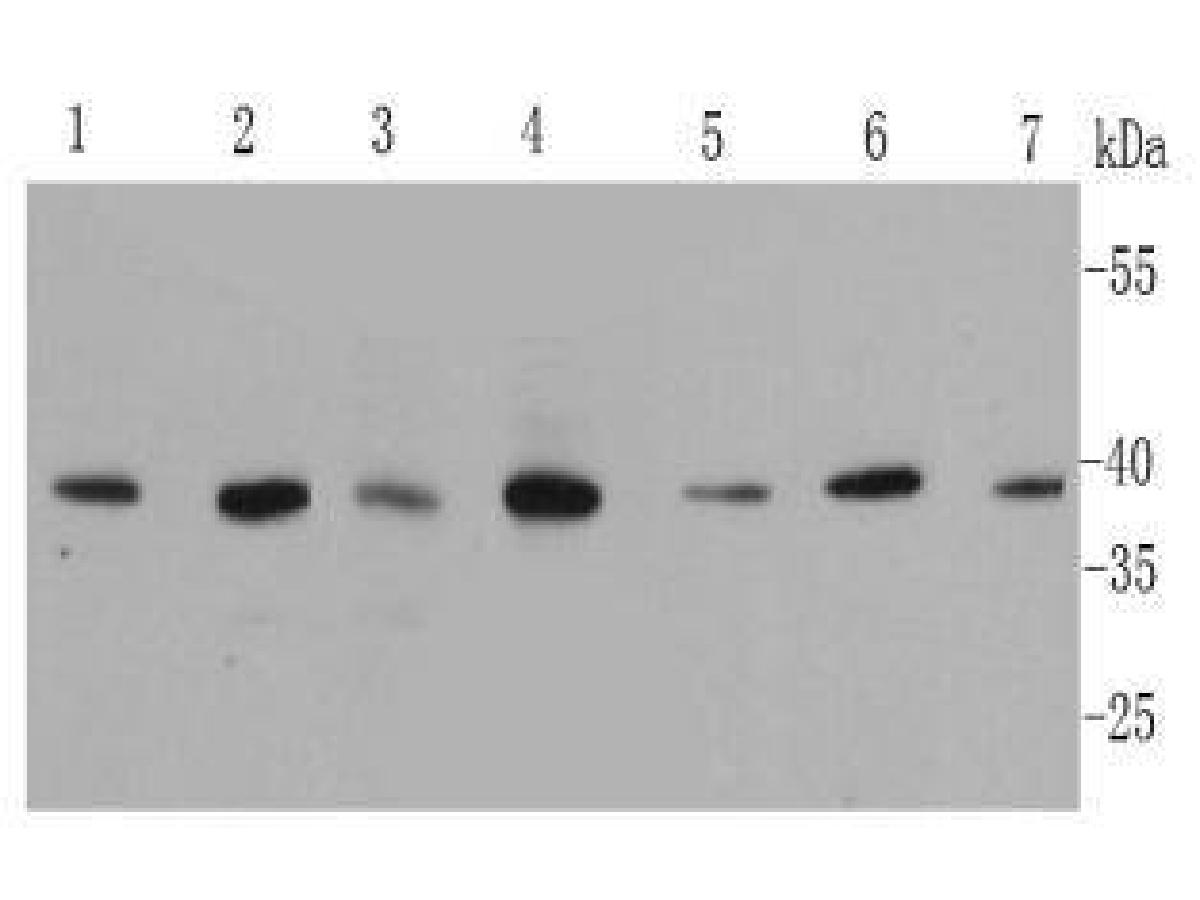 Western blot analysis of MAPK14 on different cell lysates using anti-MAPK14 antibody at 1/500 dilution.
Positive control:
Lane 1: A431
Lane 2: HepG2
Lane 3: Hela
Lane 4: NIH/3T3
Lane 5: Jurkat
Lane 6: 293T
Lane 7: mouse placenta
SPECIFICATIONS
Product Name
MAPK14 Mouse Monoclonal Antibody [9-B9] (EM40307)
Positive Control
HepG2, A431, NIH/3T3, Hela, Jurkat, 293T, mouse placenta tissue,human colon carcinoma tissue,human stomach carcinoma tissue,mouse stomach tissue.
PROPERTIES
Storage Condition
Store at +4C after thawing. Aliquot store at -20C or -80C. Avoid repeated freeze / thaw cycles.
Storage Buffer
1*PBS (pH7.4), 0.2% BSA, 40% Glycerol. Preservative: 0.05% Sodium Azide.
TARGET
SYNONYMS
CSAID Binding Protein 1 antibody; CSAID binding protein antibody; CSAID-binding protein antibody; Csaids binding protein antibody; CSBP 1 antibody; CSBP 2 antibody; CSBP antibody; CSBP1 antibody; CSBP2 antibody; CSPB1 antibody; Cytokine suppressive anti-inflammatory drug-binding protein antibody; EXIP antibody; MAP kinase 14 antibody; MAP kinase MXI2 antibody; MAP kinase p38 alpha antibody; MAPK 14 antibody; MAPK14 antibody; MAX interacting protein 2 antibody; MAX-interacting protein 2 antibody; Mitogen Activated Protein Kinase 14 antibody; Mitogen activated protein kinase p38 alpha antibody; Mitogen-activated protein kinase 14 antibody; Mitogen-activated protein kinase p38 alpha antibody; MK14_HUMAN antibody; Mxi 2 antibody; MXI2 antibody; p38 ALPHA antibody; p38 antibody; p38 MAP kinase antibody; p38 MAPK antibody; p38 mitogen activated protein kinase antibody; p38ALPHA antibody; p38alpha Exip antibody; PRKM14 antibody; PRKM15 antibody; RK antibody; SAPK2A antibody
SEQUENCE SIMILARITIES
Belongs to the protein kinase superfamily. CMGC Ser/Thr protein kinase family. MAP kinase subfamily.
TISSUE SPECIFICITY
Brain, heart, placenta, pancreas and skeletal muscle. Expressed to a lesser extent in lung, liver and kidney.
POST-TRANSLATIONAL MODIFICATION
Dually phosphorylated on Thr-180 and Tyr-182 by the MAP2Ks MAP2K3/MKK3, MAP2K4/MKK4 and MAP2K6/MKK6 in response to inflammatory citokines, environmental stress or growth factors, which activates the enzyme. Dual phosphorylation can also be mediated by TAB1-mediated autophosphorylation. TCR engagement in T-cells also leads to Tyr-323 phosphorylation by ZAP70. Dephosphorylated and inactivated by DUPS1, DUSP10 and DUSP16. PPM1D also mediates dephosphorylation and inactivation of MAPK14.; Acetylated at Lys-53 and Lys-152 by KAT2B and EP300. Acetylation at Lys-53 increases the affinity for ATP and enhances kinase activity. Lys-53 and Lys-152 are deacetylated by HDAC3.; Ubiquitinated. Ubiquitination leads to degradation by the proteasome pathway.
FUNCTION
Mitogen-activated protein kinase 14, also called p38-α, is an enzyme that in humans is encoded by the MAPK14 gene. The protein encoded by this gene is a member of the MAP kinase family. MAP kinases act as an integration point for multiple biochemical signals, and are involved in a wide variety of cellular processes such as proliferation, differentiation, transcription regulation and development. This kinase is activated by various environmental stresses and proinflammatory cytokines. The activation requires its phosphorylation by MAP kinase kinases (MKKs), or its autophosphorylation triggered by the interaction of MAP3K7IP1/TAB1 protein with this kinase. The substrates of this kinase include transcription regulator ATF2, MEF2C, and MAX, cell cycle regulator CDC25B, and tumor suppressor p53, which suggest the roles of this kinase in stress-related transcription and cell cycle regulation, as well as in genotoxic stress response.