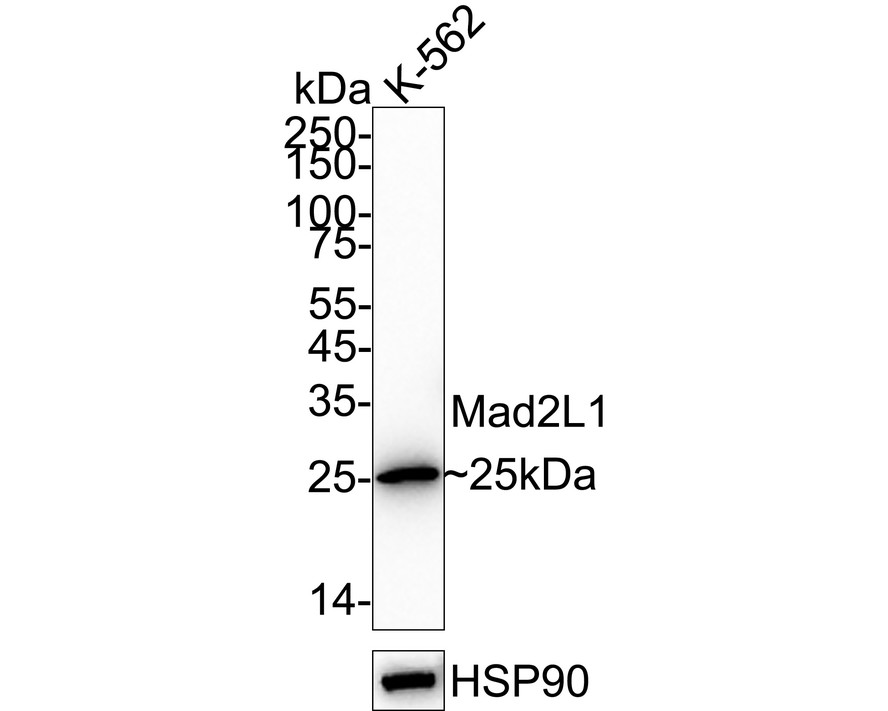 Western blot analysis of Mad2L1 on different cell lysates using anti-Mad2L1 antibody at 1/500 dilution.
Positive control:
Lane 1: K562
Lane 2: 293T
Lane 3: SH-SY5Y
SPECIFICATIONS
Product Type
Recombinant Rabbit monoclonal primary
Product Name
Mad2L1 Recombinant Rabbit Monoclonal Antibody [JU46-13] (ET7106-69)
PROPERTIES
Storage Condition
Store at +4C after thawing. Aliquot store at -20C or -80C. Avoid repeated freeze / thaw cycles.
Storage Buffer
1*TBS (pH7.4), 0.05% BSA, 40% Glycerol. Preservative: 0.05% Sodium Azide.
TARGET
SYNONYMS
Caught by MAD2 protein antibody; CMT2 antibody; dJ261G23.1 antibody; KIAA0110 antibody; MAD2L1 binding protein antibody; MAD2L1 binding protein isoform 2 antibody; MAD2L1-binding protein antibody; Mad2l1bp antibody; MD2BP_HUMAN antibody; MGC11282 antibody; OTTHUMP00000016496 antibody; RP1 261G23.6 antibody
SEQUENCE SIMILARITIES
Belongs to the MAD2 family.
POST-TRANSLATIONAL MODIFICATION
Phosphorylated on multiple serine residues. The level of phosphorylation varies during the cell cycle and is highest during mitosis. Phosphorylation abolishes interaction with MAD1L1 and reduces interaction with CDC20. Phosphorylated by NEK2.
FUNCTION
Cell cycle progression is subject to arrest at the mitotic spindle assembly checkpoint in response to incorrect spindle fiber assembly. MAD2 (for mitotic arrest-deficient) is a component of the mitotic spindle checkpoint. Cells with mutated MAD2 do not undergo mitotic arrest in response to incorrect spindle fiber assembly, which results in missegregation and eventual cell death. A breast carcinoma cell line with reduced MAD2 expression, T47D, was shown to complete mitosis in the presence of nocodazole, an inhibitor of mitotic spindle assembly. MAD2 is localized to unattached kinetochores during prometaphase and disassociates upon spindle fiber attachment, indicating that MAD2 regulates kinetochore binding to the spindle fibers. Human MAD2 has also been shown to associate with insulin receptor (IR), but not IGFIR, implicating MAD2 as a mediator for IR-specific signaling. MAD2B, a MAD2 homolog, is required for the execution of the mitotic checkpoint monitoring the kinetochore-spindle attachment process and if the process is not complete, MAD2B delays the onset of anaphase.