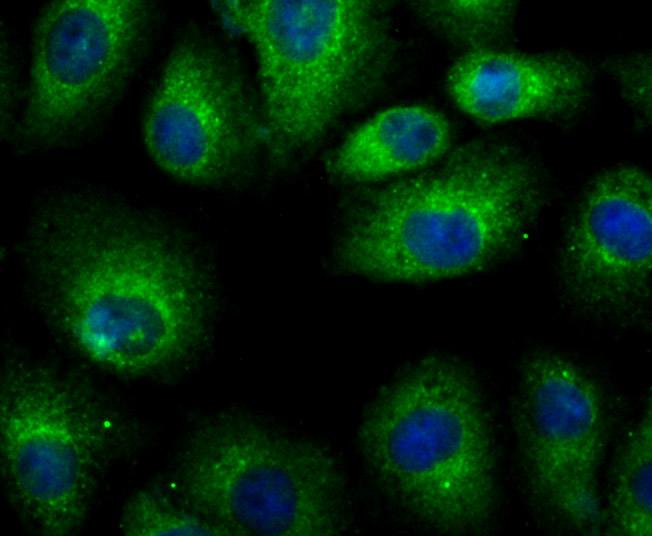 ICC staining of LRRK2 in A549 cells (green). Formalin fixed cells were permeabilized with 0.1% Triton X-100 in TBS for 10 minutes at room temperature and blocked with 1% Blocker BSA for 15 minutes at room temperature. Cells were probed with the primary antibody (ER1706-54, 1/100) for 1 hour at room temperature, washed with PBS. Alexa Fluor®488 Goat anti-Rabbit IgG was used as the secondary antibody at 1/1,000 dilution. The nuclear counter stain is DAPI (blue).
SPECIFICATIONS
Product Type
Rabbit polyclonal primary
Product Name
LRRK2 Rabbit Polyclonal Antibody (ER1706-54)
Immunogen
Synthetic peptide within c-terminal human lrrk2.
Positive Control
A549, N2A, SHSY5Y, human liver tissue, human kidney tissue, mouse brain tissue, mouse cerebellum tissue.
PROPERTIES
Storage Condition
Store at +4C after thawing. Aliquot store at -20C or -80C. Avoid repeated freeze / thaw cycles.
Storage Buffer
1*PBS (pH7.4), 0.2% BSA, 50% Glycerol. Preservative: 0.05% Sodium Azide.
PURIFICATION
Peptide affinity purified.
TARGET
SYNONYMS
augmented in rheumatoid arthritis 17 antibody; AURA17 antibody; Dardarin antibody; Leucine rich repeat kinase 2 antibody; leucine rich repeat serine threonine protein kinase 2 antibody; Leucine-rich repeat serine/threonine-protein kinase 2 antibody; LRRK 2 antibody; LRRK2 antibody; LRRK2_HUMAN antibody; PARK 8 antibody; PARK8 antibody; RIPK7 antibody; ROCO 2 antibody; ROCO2 antibody
SEQUENCE SIMILARITIES
Belongs to the protein kinase superfamily. TKL Ser/Thr protein kinase family.
TISSUE SPECIFICITY
Expressed in pyramidal neurons in all cortical laminae of the visual cortex, in neurons of the substantia nigra pars compacta and caudate putamen (at protein level). Expressed in neutrophils (at protein level). Expressed in the brain. Expressed throughout the adult brain, but at a lower level than in heart and liver. Also expressed in placenta, lung, skeletal muscle, kidney and pancreas. In the brain, expressed in the cerebellum, cerebral cortex, medulla, spinal cord occipital pole, frontal lobe, temporal lobe and putamen. Expression is particularly high in brain dopaminoceptive areas.
POST-TRANSLATIONAL MODIFICATION
Autophosphorylated. Phosphorylation of Ser-910 and either Ser-935 or Ser-1444 facilitates interaction with YWHAG. Phosphorylation of Ser-910 and/or Ser-935 facilitates interaction with SFN.
SUBCELLULAR LOCATION
Mitochondrion. Lysosome. Golgi apparatus.
FUNCTION
Parkinson's disease is a disorder of movement, cognition and emotion. It is characterized pathologically by neuronal degeneration with Lewy bodies, which are cytoplasmic inclusion bodies containing deposits of aggregated proteins. Mutations in the leucine-rich repeat kinase 2 gene (LRRK2) cause autosomal-dominant parkinsonism, with clinical features of Parkinson's disease and with pleomorphic pathology including deposits of aggregated protein. The LRRK2 protein consists of multiple domains and belongs to the Roco family, a novel group of the Ras/GTPase superfamily. Besides the GTPase (Roc) domain, it contains a predicted kinase domain, with homology to MAP kinase kinase kinases. LRRK2 is localized in the cytoplasm and is associated with cellular membrane structures. The purified LRRK2 protein demonstrates autokinase activity.