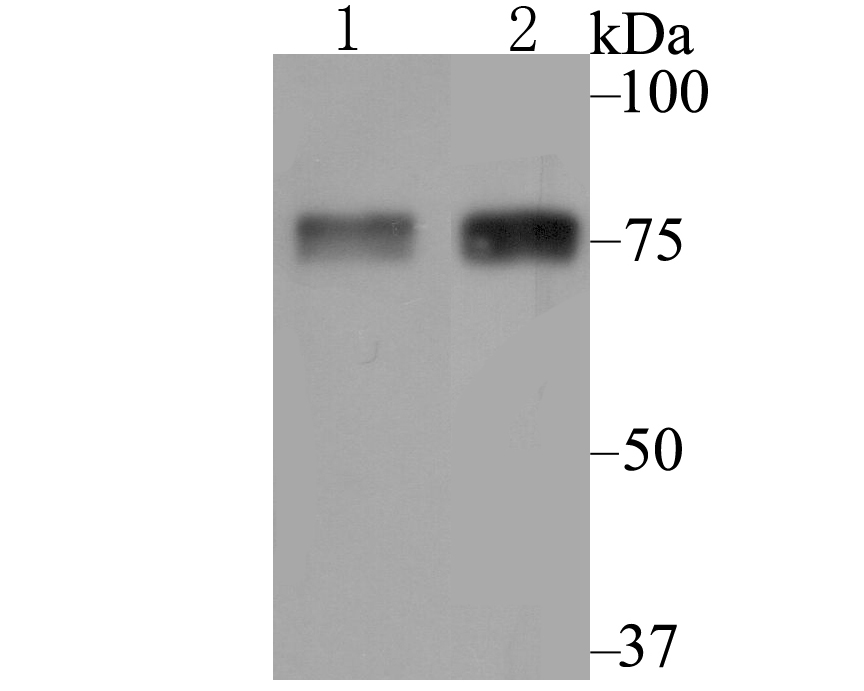 Western blot analysis of LOXL2 on A549 and A431 cell lysate using anti-LOXL2 antibody at 1/500 dilution.
SPECIFICATIONS
Product Type
Rabbit polyclonal primary
Product Name
LOXL2 Rabbit Polyclonal Antibody (ER1803-41)
Immunogen
Recombinant protein within human loxl2 aa 300-480.
Positive Control
A431, A549, SiHa, rat testis tissue, human placenta tissue, human uterus tissue, mouse testis tissue.
PROPERTIES
Storage Condition
Store at +4C after thawing. Aliquot store at -20C. Avoid repeated freeze / thaw cycles.
Storage Buffer
1*PBS (pH7.4), 0.2% BSA, 50% Glycerol. Preservative: 0.05% Sodium Azide.
PURIFICATION
Protein affinity purified.
TARGET
SYNONYMS
LOR 2 antibody; LOR2 antibody; LOX L2 antibody; LOXL 2 antibody; LOXL2 antibody; LOXL2_HUMAN antibody; Lysyl oxidase homolog 2 antibody; Lysyl oxidase like 2 antibody; Lysyl oxidase like protein 2 antibody; Lysyl oxidase related 2 antibody; Lysyl oxidase related protein 2 antibody; Lysyl oxidase related protein WS9 14 antibody; Lysyl oxidase-like protein 2 antibody; Lysyl oxidase-related protein 2 antibody; Lysyl oxidase-related protein WS9-14 antibody; WS9 14 antibody
SEQUENCE SIMILARITIES
Belongs to the lysyl oxidase family.
TISSUE SPECIFICITY
Expressed in many tissues. Highest expression in reproductive tissues, placenta, uterus and prostate. In esophageal epithelium, expressed in the basal, prickle and granular cell layers. Up-regulated in a number of cancers cells and tissues.
POST-TRANSLATIONAL MODIFICATION
The lysine tyrosylquinone cross-link (LTQ) is generated by condensation of the epsilon-amino group of a lysine with a topaquinone produced by oxidation of tyrosine.; N-glycosylated. N-glycosylation on Asn-455 and Asn-644 may be essential for proper folding and secretion; may be composed of a fucosylated carbohydrates attached to a trimannose N-linked glycan core.
SUBCELLULAR LOCATION
Endoplasmic reticulum. Nucleus. Secreted.
FUNCTION
Mediates the post-translational oxidative deamination of lysine residues on target proteins leading to the formation of deaminated lysine (allysine). When secreted in extracellular matrix, promotes cross-linking of extracellular matrix proteins by mediating oxidative deamination of peptidyl lysine residues in precursors to fibrous collagen and elastin. Acts as a regulator of sprouting angiogenesis, probably via collagen IV scaffolding. When nuclear, acts as a transcription corepressor and specifically mediates deamination of trimethylated 'Lys-4' of histone H3 (H3K4me3), a specific tag for epigenetic transcriptional activation. Involved in epithelial to mesenchymal transition (EMT) via interaction with SNAI1 and participates in repression of E-cadherin, probably by mediating deamination of histone H3. Also involved in E-cadherin repression following hypoxia, a hallmark of epithelial to mesenchymal transition believed to amplify tumor aggressiveness, suggesting that it may play a role in tumor progression. Acts as a regulator of chondrocyte differentiation, probably by regulating expression of factors that control chondrocyte differentiation.