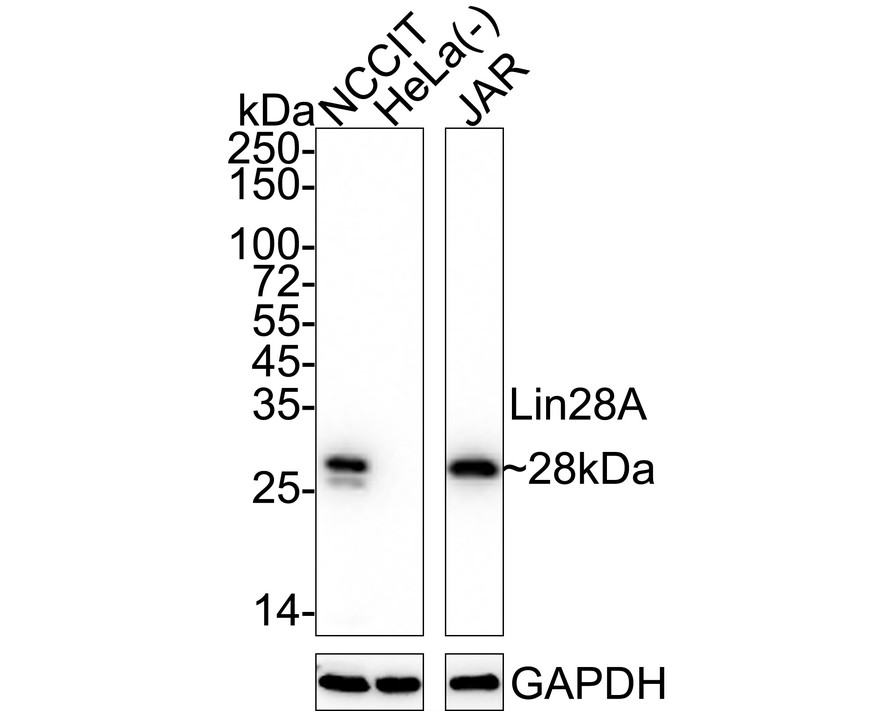 Western blot analysis on NCCIT cell lysates using anti-LIN28A Mouse mAb (Cat. #M1301-1).
SPECIFICATIONS
Product Name
LIN28A Mouse Monoclonal Antibody [A4-A6] (M1301-1)
PROPERTIES
Storage Condition
Store at +4C after thawing. Aliquot store at -20C or -80C. Avoid repeated freeze / thaw cycles.
Storage Buffer
1*PBS (pH7.4), 0.2% BSA, 40% Glycerol. Preservative: 0.05% Sodium Azide.
TARGET
SYNONYMS
CSDD1 antibody; FLJ12457 antibody; LIN 28 antibody; Lin 28 homolog A (C. elegans) antibody; Lin-28A antibody; LIN28 antibody; LIN28A antibody; LN28A_HUMAN antibody; Protein lin-28 homolog A antibody; ZCCHC1 antibody; zinc finger CCHC domain containing 1 antibody; Zinc finger CCHC domain-containing protein 1 antibody
SEQUENCE SIMILARITIES
Belongs to the lin-28 family.
TISSUE SPECIFICITY
Expressed in embryonic stem cells, placenta and testis. Tends to be up-regulated in HER2-overexpressing breast tumors.
DEVELOPMENTAL STAGE
Expressed in fetal liver. Expression decreases during differentiation of ES cells or upon induction of neuronal differentiation by retinoic acid.
FUNCTION
LIN28A is conserved, developmentally regulated RNA binding proteins that inhibit the processing and maturation of the let-7 family of miRNAs. LIN28A is localized to the periendoplasmic reticulum (ER) area and inhibits translation of mRNAs that are destined for the ER, reducing the synthesis of transmembrane proteins, ER or Golgi lumen proteins, and secretory proteins. Overexpression of LIN28A, in conjunction with Oct-4, Sox2, and Nanog, can reprogram human fibroblasts to pluripotent, ES-like cells.