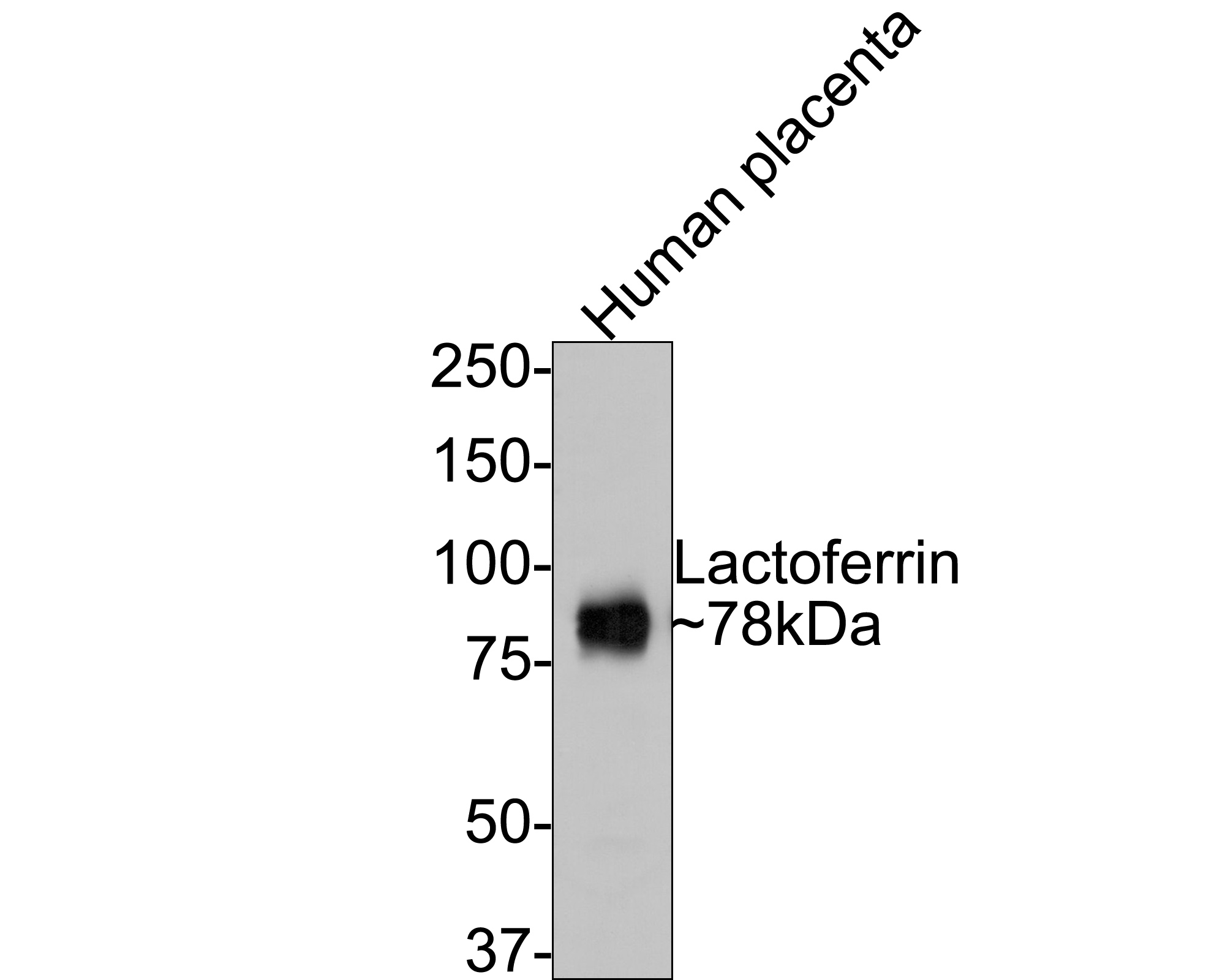 Western blot analysis of Lactoferrin on human kidney tissue lysate. Proteins were transferred to a PVDF membrane and blocked with 5% BSA in PBS for 1 hour at room temperature. The primary antibody was used at a 1:500 dilution in 5% BSA at room temperature for 2 hours. Goat Anti-Rabbit IgG - HRP Secondary Antibody (HA1001) at 1:5,000 dilution was used for 1 hour at room temperature.
SPECIFICATIONS
Product Type
Recombinant Rabbit monoclonal primary
Product Name
Lactoferrin Recombinant Rabbit Monoclonal Antibody [JE49-60] (ET7109-95)
Immunogen
Synthetic peptide within n terminal human lactoferrin.
Positive Control
Human spleen tissue, human prostate cancer tissue.
PROPERTIES
Storage Condition
Store at +4C after thawing. Aliquot store at -20C. Avoid repeated freeze / thaw cycles.
Storage Buffer
1*TBS (pH7.4), 0.05% BSA, 40% Glycerol. Preservative: 0.05% Sodium Azide.
PURIFICATION
Protein affinity purified.
TARGET
SYNONYMS
GIG12 antibody; Growth inhibiting protein 12 antibody; HLF2 antibody; Kaliocin 1 antibody; Lactoferrin antibody; Lactoferroxin-C antibody; Lactotransferrin antibody; LF antibody; LTF antibody; Neutrophil lactoferrin antibody; Talalactoferrin antibody; TRFL_HUMAN antibody
SEQUENCE SIMILARITIES
Belongs to the transferrin family.
TISSUE SPECIFICITY
High levels are found in saliva and tears, intermediate levels in serum and plasma, and low levels in urine. In kidney, detected in the distal collecting tubules in the medulla but not in the cortical region or in blood vessels. Detected in peripheral blood neutrophils (at protein level). Isoform 1 and isoform DeltaLf are expressed in breast, prostate, spleen, pancreas, kidney, small intestine, lung, skeletal muscle, uterus, thymus and fetal liver. Isoform 1 is expressed in brain, testis and peripheral blood leukocytes; isoform DeltaLf is barely detectable in these tissues. Isoform DeltaLf is expressed in placenta, liver and ovary; isoform 1 is barely detectable in these tissues. In kidney, isoform 1 is expressed at high levels in the collecting tubules of the medulla but at very low levels in the cortex.
POST-TRANSLATIONAL MODIFICATION
[Isoform DeltaLf]: Phosphorylation at Ser-10 activates the transcriptional activity. Phosphorylation at Ser-10 also promotes proteasomal degradation. Alternatively can undergo O-GlcNAcylation at Ser-10.; [Isoform DeltaLf]: O-GlcNAcylation at Ser-10 inhibits DNA binding and negatively regulates the transcriptional activity. Alternatively can undergo phosphorylation at Ser-10.; Poly-N-acetyllactosaminic carbohydrate moiety seems to be needed for TLR4 activation.
SUBCELLULAR LOCATION
Cytoplasm. Nucleus. Secreted.
FUNCTION
Lactotransferrin is a major iron-binding and multifunctional protein found in exocrine fluids such as breast milk and mucosal secretions. Has antimicrobial activity, which depends on the extracellular cation concentration. Antimicrobial properties include bacteriostasis, which is related to its ability to sequester free iron and thus inhibit microbial growth, as well as direct bactericidal properties leading to the release of lipopolysaccharides from the bacterial outer membrane. Can also prevent bacterial biofilm development in P.aeruginosa infection. Has weak antifungal activity against C.albicans. Has anabolic, differentiating and anti-apoptotic effects on osteoblasts and can also inhibit osteoclastogenesis, possibly playing a role in the regulation of bone growth. Promotes binding of species C adenoviruses to epithelial cells, promoting adenovirus infection. Can inhibit papillomavirus infections. Stimulates the TLR4 signaling pathway leading to NF-kappa-B activation and subsequent pro-inflammatory cytokine production while also interfering with the lipopolysaccharide (LPS)-stimulated TLR4 signaling. Inhibits neutrophil granulocyte migration to sites of apoptosis, when secreted by apoptotic cells. Stimulates VEGFA-mediated endothelial cell migration and proliferation. Binds heparin, chondroitin sulfate and possibly other glycosaminoglycans (GAGs). Also binds specifically to pneumococcal surface protein A (pspA), the lipid A portion of bacterial lipopolysaccharide (LPS), lysozyme and DNA.