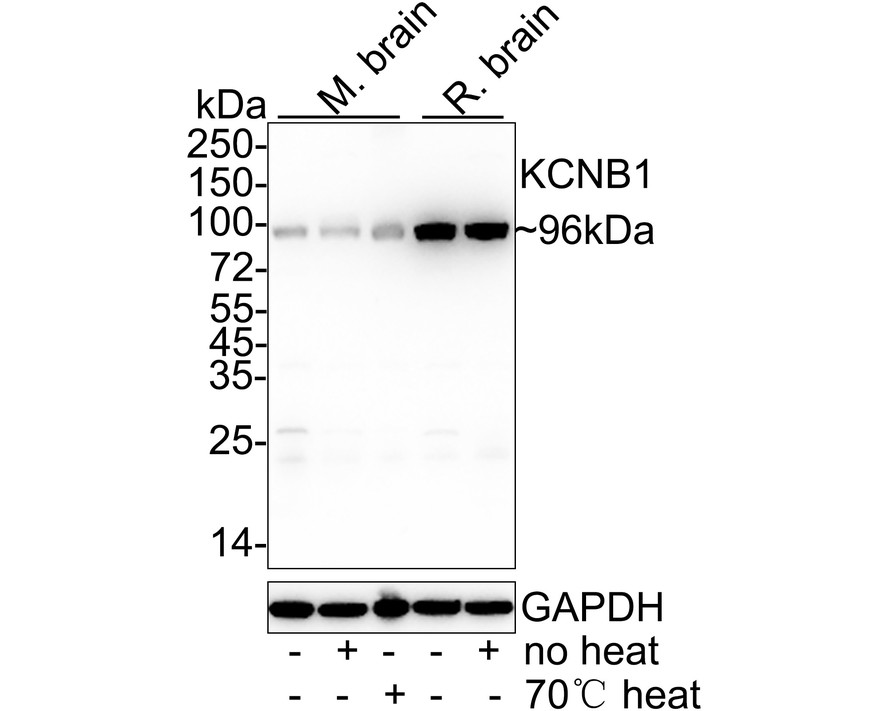 Western blot analysis of KCNB1 on rat cerebellum tissue lysates. Proteins were transferred to a PVDF membrane and blocked with 5% BSA in PBS for 1 hour at room temperature. The primary antibody (ER1901-41, 1/500) was used in 5% BSA at room temperature for 2 hours. Goat Anti-Rabbit IgG - HRP Secondary Antibody (HA1001) at 1:5,000 dilution was used for 1 hour at room temperature.
SPECIFICATIONS
Product Type
Rabbit polyclonal primary
Product Name
KCNB1 Rabbit Polyclonal Antibody (ER1901-41)
Immunogen
Synthetic peptide within rat kcnb1 aa 808-857 / 857.
Positive Control
Rat cerebellum tissue lysates, rat brain tissue, mouse brain tissue, SH-SY5Y.
PROPERTIES
Storage Condition
Store at +4C after thawing. Aliquot store at -20C. Avoid repeated freeze / thaw cycles.
Storage Buffer
1*PBS (pH7.4), 0.2% BSA, 50% Glycerol. Preservative: 0.05% Sodium Azide.
PURIFICATION
Peptide affinity purified.
TARGET
SYNONYMS
Delayed rectifier potassium channel 1 antibody; Delayed rectifier potassium channel Kv2.1 antibody; DRK 1 antibody; DRK1 antibody; h DRK1 K(+) channel antibody; h-DRK1 antibody; hDRK 1 antibody; hDRK1 antibody; KCB 1 antibody; KCB1 antibody; KCNB1 antibody; KCNB1_HUMAN antibody; KV2.1 antibody; Potassium channel protein DRK1 antibody; Potassium voltage gated channel shab related subfamily member 1 antibody; Potassium voltage-gated channel subfamily B member 1 antibody; Voltage-gated potassium channel subunit Kv2.1 antibody
SEQUENCE SIMILARITIES
Belongs to the potassium channel family. B (Shab) (TC 1.A.1.2) subfamily. Kv2.1/KCNB1 sub-subfamily.
TISSUE SPECIFICITY
Expressed in neocortical pyramidal cells. Expressed in pancreatic beta cells (at protein level). Expressed in brain, heart, lung, liver, colon, kidney and adrenal gland. Expressed in the cortex, amygdala, cerebellum, pons, thalamus, hypothalamus, hippocampus and substantia nigra.
POST-TRANSLATIONAL MODIFICATION
Phosphorylated. Differential C-terminal phosphorylation on a subset of serines allows graded activity-dependent regulation of channel gating in hippocampal neurons. Ser-607 and Tyr-128 are significant sites of voltage-gated regulation through phosphorylation/dephosphorylation activities. Tyr-128 can be phosphorylated by Src and dephosphorylated by cytoplasmic form of the phosphatase PTPRE. CDK5-induced Ser-607 phosphorylation increases in response to acute blockade of neuronal activity. Phosphorylated on Tyr-128 by Src and on Ser-805 by MAPK14/P38MAPK; phosphorylations are necessary and sufficient for an increase in plasma membrane insertion, apoptotic potassium current surge and completion of the neuronal cell death program. Phosphorylated on Ser-520, Ser-607, Ser-656 and Ser-805 by CDK5; phosphorylation is necessary for KCNB1 channel clustering formation. The Ser-607 phosphorylation state differs between KCNB1-containing clusters on the proximal and distal portions of the axon initial segment (AIS). Highly phosphorylated on serine residues in the C-terminal cytoplasmic tail in resting neurons. Phosphorylated in pancreatic beta cells in response to incretin hormones stimulation in a PKA- and RPS6KA5/MSK1-dependent signaling pathway, promoting beta cell survival. Phosphorylation on Ser-567 is reduced during postnatal development with low levels at P2 and P5; levels then increase to reach adult levels by P14. Phosphorylation on Ser-457, Ser-541, Ser-567, Ser-607, Ser-656 and Ser-720 as well as the N-terminal Ser-15 are sensitive to calcineurin-mediated dephosphorylation contributing to the modulation of the voltage-dependent gating properties. Dephosphorylation by phosphatase PTPRE confers neuroprotection by its inhibitory influence on the neuronal apoptotic potassium current surge in a Zn(2+)-dependent manner. Dephosphorylated at Ser-607 by protein phosphatase PPP1CA. Hypoxia-, seizure- or glutamate-induced neuronal activity promote calcium/calcineurin-dependent dephosphorylation resulting in a loss of KCNB1-containing clustering and enhanced channel activity. In response to brain ischemia, Ser-567 and Ser-607 are strongly dephosphorylated while Ser-457 and Ser-720 are less dephosphorylated. In response to brain seizures, phosphorylation levels on Ser-567 and Ser-607 are greatly reduced. Phosphorylated/dephosphorylated by Src or FYN tyrosine-protein kinases and tyrosine phosphatase PTPRE in primary Schwann cells and sciatic nerve tissue (By similarity).; Acetylated. Acetylation occurs in pancreatic beta cells in response to stimulation by incretin hormones in a histone acetyltransferase (HAT)/histone deacetylase (HDAC)-dependent signaling pathway, promoting beta cell survival.; Sumoylated on Lys-474, preferentially with SUMO1; sumoylation induces a positive shift in the voltage-dependence of activation and inhibits channel activity. Sumoylation increases the frequency of repetitive action potential firing at the cell surface of hippocampal neurons and decreases its frequency in pancreatic beta cells. Desumoylated by SENP1.
SUBCELLULAR LOCATION
Cell membrane, postsynaptic cell membrane, lateral cell membrane, sarcolemma.
FUNCTION
Potassium voltage-gated channel, Shab-related subfamily, member 1, also known as KCNB1 or Kv2.1, is a protein that, in humans, is encoded by the KCNB1 gene. Potassium voltage-gated channel subfamily B member one, or simply known as KCNB1, is a delayed rectifier and voltage-gated potassium channel found throughout the body. The channel has a diverse number of functions. However, its main function, as a delayed rectifier, is to propagate current in its respective location. It is commonly expressed in the central nervous system, but may also be found in pulmonary arteries, auditory outer hair cells, stem cells, the retina, and organs such as the heart and pancreas. Modulation of K+ channel activity and expression has been found to be at the crux of many profound pathophysiological disorders in several cell types. Potassium channels are among the most diverse of all ion channels in eukaryotes. With over 100 genes coding numerous functions, many isoforms of potassium channels are present in the body, but most are divided up into two main groups: inactivating transient channels and non-inactivating delayed rectifiers. Due to the multiple varied forms, potassium delayed rectifier channels open or close in response to a myriad of signals. These include: cell depolarization or hyperpolarization, increases in intracellular calcium concentrations, neurotransmitter binding, or second messenger activity such as G-proteins or kinases.