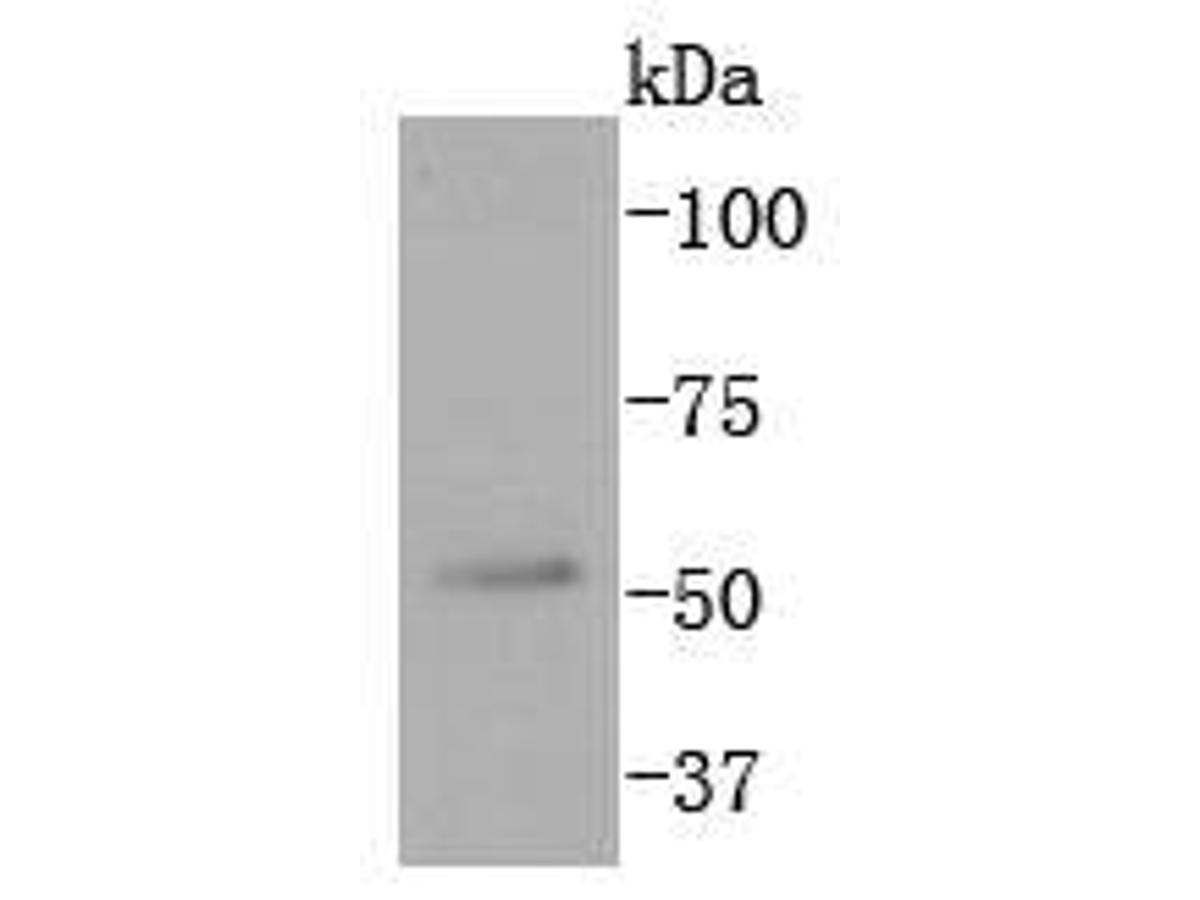 Western blot analysis of JNK3 on 293T cells lysates using anti-JNK3 antibody at 1/1,000 dilution.
SPECIFICATIONS
Product Type
Recombinant Rabbit monoclonal primary
Product Name
JNK3 Recombinant Rabbit Monoclonal Antibody [SD082-09] (ET1612-68)
Positive Control
293T, NIH/3T3, Hela, SH-SY-5Y.
PROPERTIES
Storage Condition
Store at +4C after thawing. Aliquot store at -20C or -80C. Avoid repeated freeze / thaw cycles.
Storage Buffer
1*TBS (pH7.4), 0.05% BSA, 40% Glycerol. Preservative: 0.05% Sodium Azide.
TARGET
SYNONYMS
c Jun kinase 3 antibody; c-Jun N-terminal kinase 3 antibody; cJun N terminal kinase 3 antibody; FLJ12099 antibody; FLJ33785 antibody; JNK3 alpha protein kinase antibody; JNK3 antibody; JNK3A antibody; MAP kinase 10 antibody; MAP kinase antibody; MAP kinase p49 3F12 antibody; MAPK 10 antibody; Mapk10 antibody; MGC50974 antibody; mitogen activated protein kinase 10 antibody; Mitogen-activated protein kinase 10 antibody; MK10_HUMAN antibody; p493F12 antibody; p54bSAPK antibody; PRKM10 antibody; protein kinase mitogen activated 10 antibody; SAPK1b antibody; Stress activated protein kinase 1b antibody; stress activated protein kinase beta antibody; Stress activated protein kinase JNK3 antibody; Stress-activated protein kinase JNK3 antibody
SEQUENCE SIMILARITIES
Belongs to the protein kinase superfamily. CMGC Ser/Thr protein kinase family. MAP kinase subfamily.
TISSUE SPECIFICITY
Specific to a subset of neurons in the nervous system. Present in the hippocampus and areas, cerebellum, striatum, brain stem, and weakly in the spinal cord. Very weak expression in testis and kidney.
POST-TRANSLATIONAL MODIFICATION
Dually phosphorylated on Thr-221 and Tyr-223 by MAP2K4 and MAP2K7, which activates the enzyme. MAP2K7 shows a strong preference for Thr-221 while MAP2K4 phosphorylates Tyr-223 preferentially. Weakly autophosphorylated on threonine and tyrosine residues in vitro.; Palmitoylation regulates subcellular location and axonal development.
SUBCELLULAR LOCATION
Cytoplasm, Membrane, Nucleus, Mitochondrion.
FUNCTION
c-Jun N-terminal kinases (JNKs) phosphorylate and augment transcriptional activity of c-Jun. JNKs originate from three genes that yield 10 isoforms through alternative mRNA splicing, including JNK1a1,JNK1b1, JNK2a1, JNK2b1, and JNK3a1, which represent the p46 isoforms, and JNK1a2, JNK1b2, JNK2a2, JNK2b2, and JNK3b2, which represent the p54 isoforms.JNKs coordinate cell responses to stress and influence regulation of cell growth and transformation. The human JNK1 (PRKM8, SAPK1, MAPK8) gene maps to chromosome 10q11.22 and shares 83% amino acid identity with JNK2. JNK1 is necessary for normal activation and differentiation of CD4 helper T (TH) cells into TH1 and TH2 effector cells. JNK3 (MK10, MAPK10, PRKM10) is activated by pro-inflammatory cytokines and environmental stresss by phosphorylating transcription factors such as c-Jun and ATF2. This is important for AP-1 transcriptional activity regulation. JNK3 is crucial for neuronal apoptosis (stress-induced).