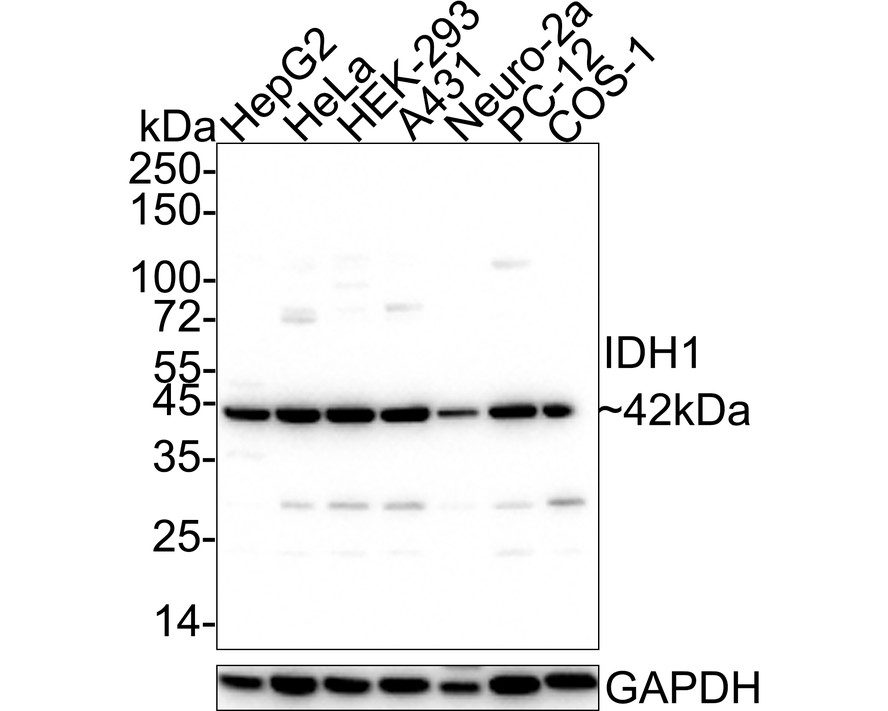 Western blot analysis of IDH1 on different cell lysates using anti-IDH1 antibody at 1/1000 dilution.
Positive control:
Lane 1: Hela
Lane 2: HepG2
Lane 3: A431
Lane 4: MCF-7
Lane 5: A549
Lane 6: Jurkat
Lane 7: Human kidney
Lane 8: Human brain
Lane 9: Human liver
SPECIFICATIONS
Product Name
Isocitrate dehydrogenase/IDH1 Mouse Monoclonal Antibody [A11-B4] (EM40705)
Positive Control
MCF-7, HepG2, Hela, A549, A431, Jurkat, human brain tissue, human liver tissue , human kidney tissue,human colon carcinoma tissue,human breast tissue.
PROPERTIES
Storage Condition
Store at +4C after thawing. Aliquot store at -20C or -80C. Avoid repeated freeze / thaw cycles.
Storage Buffer
1*PBS (pH7.4), 0.2% BSA, 40% Glycerol. Preservative: 0.05% Sodium Azide.
TARGET
PROTEIN NAME
Isocitrate dehydrogenase/IDH1
SYNONYMS
Cytosolic NADP isocitrate dehydrogenase antibody; Cytosolic NADP-isocitrate dehydrogenase antibody; Epididymis luminal protein 216 antibody; Epididymis secretory protein Li 26 antibody; HEL-216 antibody; HEL-S-26 antibody; ICDH antibody; IDCD antibody; IDH antibody; IDH1 antibody; IDHC_HUMAN antibody; IDP antibody; IDPC antibody; Isocitrate dehydrogenase [NADP] cytoplasmic antibody; Isocitrate dehydrogenase 1 (NADP+) soluble antibody; NADP dependent isocitrate dehydrogenase cytosolic antibody; NADP dependent isocitrate dehydrogenase peroxisomal antibody; NADP(+)-specific ICDH antibody; Oxalosuccinate decarboxylase antibody; PICD antibody
SEQUENCE SIMILARITIES
Belongs to the isocitrate and isopropylmalate dehydrogenases family.
POST-TRANSLATIONAL MODIFICATION
Acetylation at Lys-374 dramatically reduces catalytic activity.
FUNCTION
Isocitrate dehydrogenase (IDH) is an enzyme that catalyzes the oxidative decarboxylation of isocitrate, producing alpha-ketoglutarate (α-ketoglutarate) and CO2. In humans, IDH exists in three isoforms: IDH3 catalyzes the third step of the citric acid cycle while converting NAD+ to NADH in the mitochondria. The isoforms IDH1 and IDH2 catalyze the same reaction outside the context of the citric acid cycle and use NADP+ as a cofactor instead of NAD+. They localize to the cytosol as well as the mitochondrion and peroxisome. Mutations in IDH1 are also implicated in cancer. Originally mutations in IDH1 were detected in an integrated genomic analysis of human glioblastoma multiforme. In addition to being mutated in diffuse gliomas, IDH1 has also been shown to harbor mutations in human acute myeloid leukemia (AML).
CITATIONS
Wild-type IDH1 affects c......

Wild-type IDH1 affects cell migration by modulating the PI3K/AKT/mTOR pathway in primary glioblastoma cells