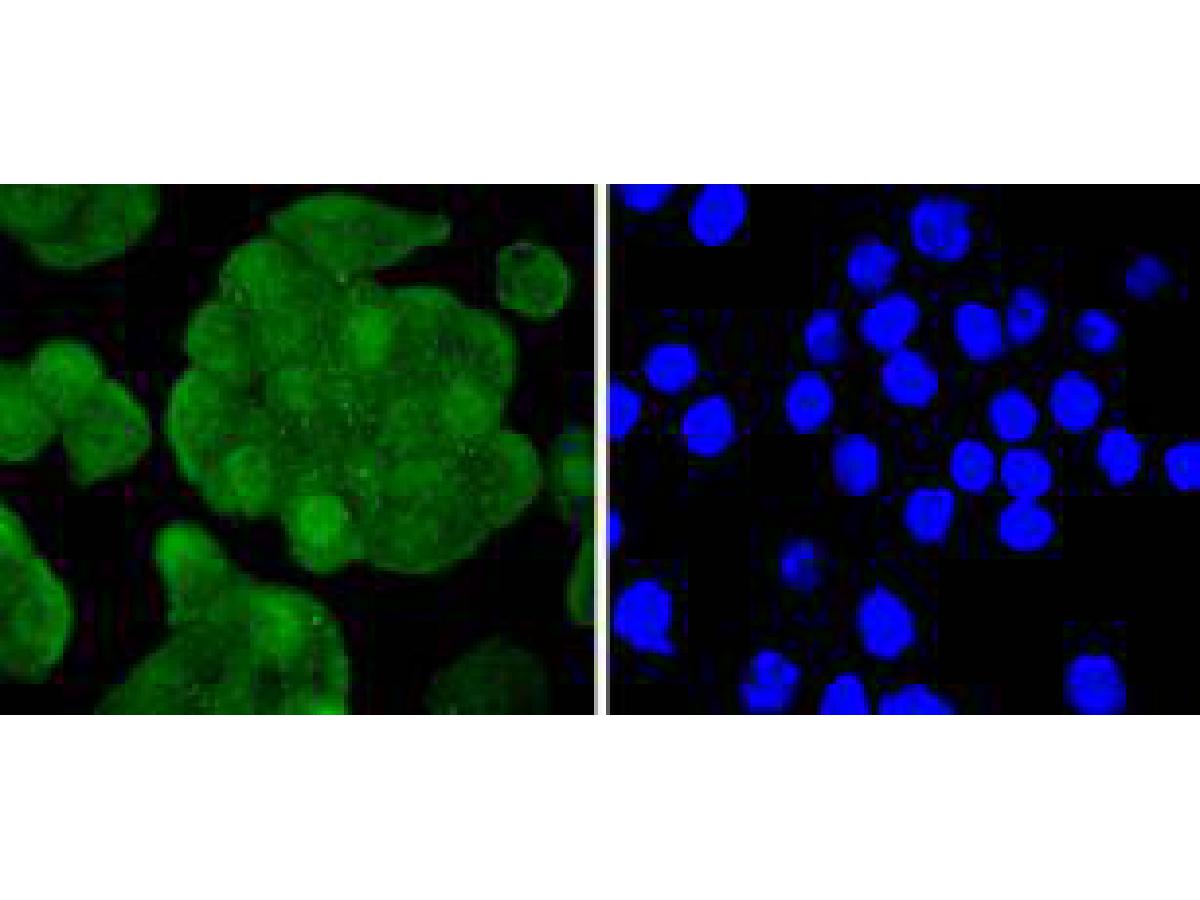 ICC staining of IRS1 in SW480 cells (green). Formalin fixed cells were permeabilized with 0.1% Triton X-100 in TBS for 10 minutes at room temperature and blocked with 1% Blocker BSA for 15 minutes at room temperature. Cells were probed with the primary antibody (ET1612-45, 1/50) for 1 hour at room temperature, washed with PBS. Alexa Fluor®488 Goat anti-Rabbit IgG was used as the secondary antibody at 1/1,000 dilution. The nuclear counter stain is DAPI (blue).
SPECIFICATIONS
Product Type
Recombinant Rabbit monoclonal primary
Product Name
IRS1 Recombinant Rabbit Monoclonal Antibody [SD2046] (ET1612-45)
Immunogen
Synthetic peptide within human irs1 aa 1160-2000.
Positive Control
SW480, Hela, MCF-7, human breast carcinoma tissue.
PROPERTIES
Storage Condition
Store at +4C after thawing. Aliquot store at -20C or -80C. Avoid repeated freeze / thaw cycles.
Storage Buffer
1*TBS (pH7.4), 0.05% BSA, 40% Glycerol. Preservative: 0.05% Sodium Azide.
PURIFICATION
Protein A affinity purified.
TARGET
SYNONYMS
HIRS 1 antibody; HIRS1 antibody; Insulin receptor substrate 1 antibody; IRS 1 antibody; IRS-1 antibody; IRS1 antibody; IRS1_HUMAN antibody; OTTHUMP00000164234 antibody
POST-TRANSLATIONAL MODIFICATION
Serine phosphorylation of IRS1 is a mechanism for insulin resistance. Ser-312 phosphorylation inhibits insulin action through disruption of IRS1 interaction with the insulin receptor (By similarity). Phosphorylation of Tyr-896 is required for GRB2-binding (By similarity). Phosphorylated by ALK. Phosphorylated at Ser-270, Ser-307, Ser-636 and Ser-1101 by RPS6KB1; phosphorylation induces accelerated degradation of IRS1. Phosphorylated on tyrosine residues in response to insulin. In skeletal muscles, dephosphorylated on Tyr-612 by TNS2 under anabolic conditions; dephosphorylation results in the proteasomal degradation of IRS1.; Ubiquitinated by the Cul7-RING(FBXW8) complex in a mTOR-dependent manner, leading to its degradation: the Cul7-RING(FBXW8) complex recognizes and binds IRS1 previously phosphorylated by S6 kinase (RPS6KB1 or RPS6KB2).
FUNCTION
The insulin receptor substrate-1 (IRS-1), a protein major substrate of the insulin receptor, is phosphorylated in response to stimulation of cells by insulin, insulin-like growth factor 1 (IGF-1) and interleukin 4 (IL-4). IRS-1 is phosphorylated on serine, threonine and tyrosine residues in a variety of tissues. An insulin-sensitive serine/threonine kinase casein kinase II mediates a portion of the insulin-stimulated serine/threonine phosphorylation of overexpressed IRS-1 in vivo. Thr 502 is identified as the major casein kinase II-catalyzed phosphorylation site in rat IRS-1, and Ser 99 is an additional phosphorylation site catalyzed by casein kinase II. Thus, casein kinase II-catalyzed phosphorylation of IRS-1 may be a component of the intracellular insulin signaling cascade. IRS-1 contains three putative binding sites for 14-3-3 (Ser 270, Ser 374 and Ser 641) and the motif around Ser 270 is located in the phosphotyrosine binding domain of IRS-1, which is responsible for the interaction with the insulin receptor. The association of 14-3-3 with IRS-1 increases significantly upon treatment with okadaic acid, a potent serine/ threonine phosphatase inhibitor. Therefore, the association of 14-3-3 protein may play a role in the regulation of insulin sensitivity by interrupting the association between the insulin receptor and IRS-1.