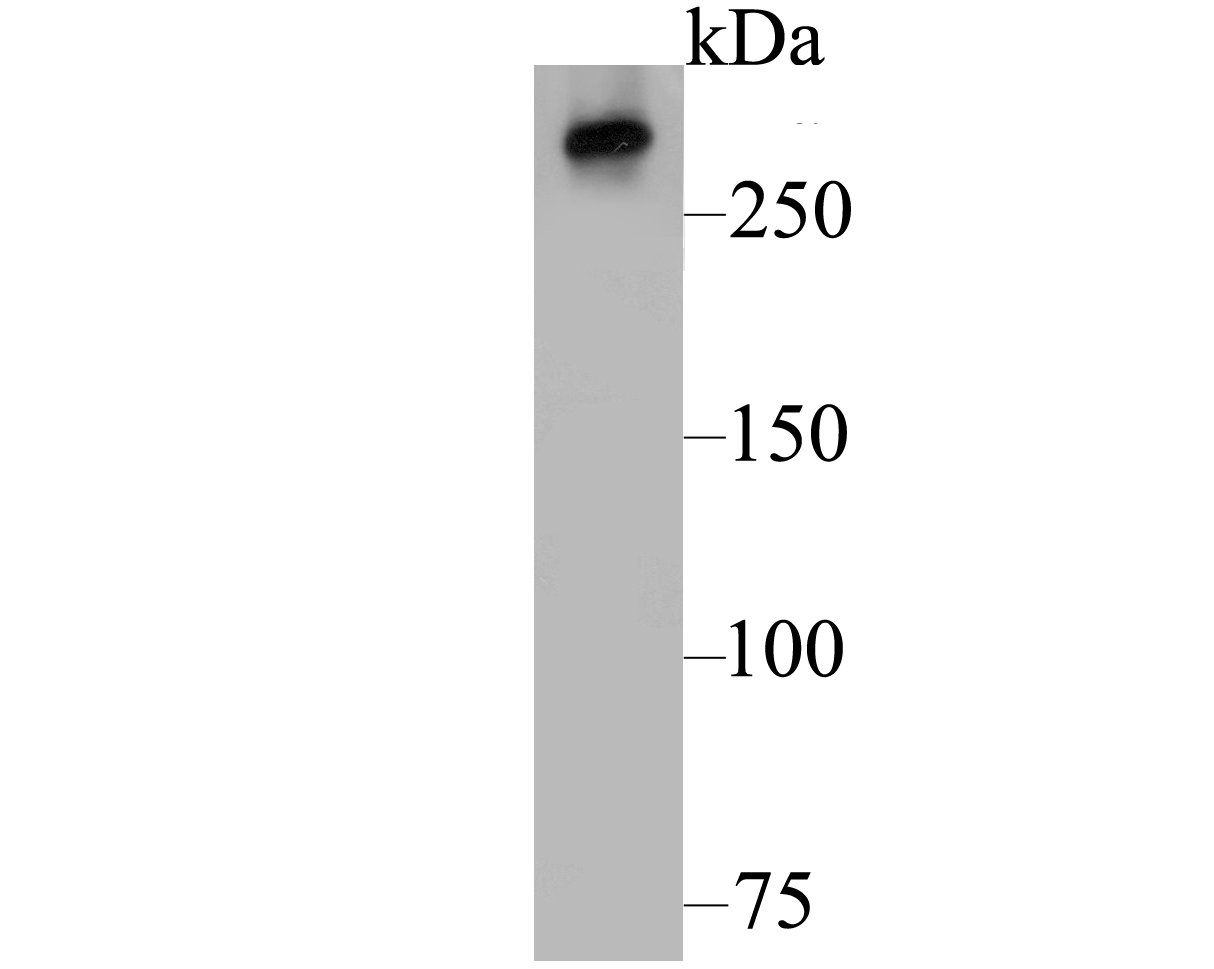 Western blot analysis of IP3 Receptor on Hela cell lysate using anti-IP3 Receptor antibody at 1/500 dilution.
SPECIFICATIONS
Product Type
Rabbit polyclonal primary
Product Name
IP3 Receptor Rabbit Polyclonal Antibody (ER1803-17)
Immunogen
Synthetic peptide within c-terminal human ip3 receptor.
Positive Control
Hela, rat brain tissue, mouse brain tissue, SH-SY-5Y.
PROPERTIES
Storage Condition
Store at +4C after thawing. Aliquot store at -20C. Avoid repeated freeze / thaw cycles.
Storage Buffer
1*PBS (pH7.4), 0.2% BSA, 50% Glycerol. Preservative: 0.05% Sodium Azide.
PURIFICATION
Peptide affinity purified.
TARGET
SYNONYMS
4 antibody; 5-trisphosphate receptor antibody; 5-trisphosphate receptor type 1 antibody; DKFZp313E1334 antibody; DKFZp313N1434 antibody; inositol 1 4 5 triphosphate receptor type 1 antibody; Inositol 1 4 5 trisphosphate Receptor Type 1 antibody; Inositol 1 antibody; InsP3R1 antibody; IP3 antibody; IP3 receptor antibody; IP3 receptor isoform 1 antibody; IP3R 1 antibody; IP3R antibody; IP3R1 antibody; ITPR 1 antibody; Itpr1 antibody; ITPR1_HUMAN antibody; SCA15 antibody; SCA16 antibody; SCA29 antibody; Type 1 inositol 1 4 5 trisphosphate receptor antibody; Type 1 inositol 1 antibody; Type 1 InsP3 receptor antibody
SEQUENCE SIMILARITIES
Belongs to the InsP3 receptor family.
POST-TRANSLATIONAL MODIFICATION
Phosphorylated on tyrosine residues.; Ubiquitination at multiple lysines targets ITPR1 for proteasomal degradation. Approximately 40% of the ITPR1-associated ubiquitin is monoubiquitin, and polyubiquitins are both 'Lys-48'- and 'Lys-63'-linked (By similarity).; Phosphorylated by cAMP kinase (PKA). Phosphorylation prevents the ligand-induced opening of the calcium channels. Phosphorylation by PKA increases the interaction with inositol 1,4,5-trisphosphate and decreases the interaction with AHCYL1.; Palmitoylated by ZDHHC6 in immune cells, leading to regulate ITPR1 stability and function.
SUBCELLULAR LOCATION
Cytoplasm. Cytoplasmic vesicle. Endoplasmic reticulum. Membrane.
FUNCTION
Intracellular channel that mediates calcium release from the endoplasmic reticulum following stimulation by inositol 1,4,5-trisphosphate. Involved in the regulation of epithelial secretion of electrolytes and fluid through the interaction with AHCYL1. Plays a role in ER stress-induced apoptosis. Cytoplasmic calcium released from the ER triggers apoptosis by the activation of CaM kinase II, eventually leading to the activation of downstream apoptosis pathways.