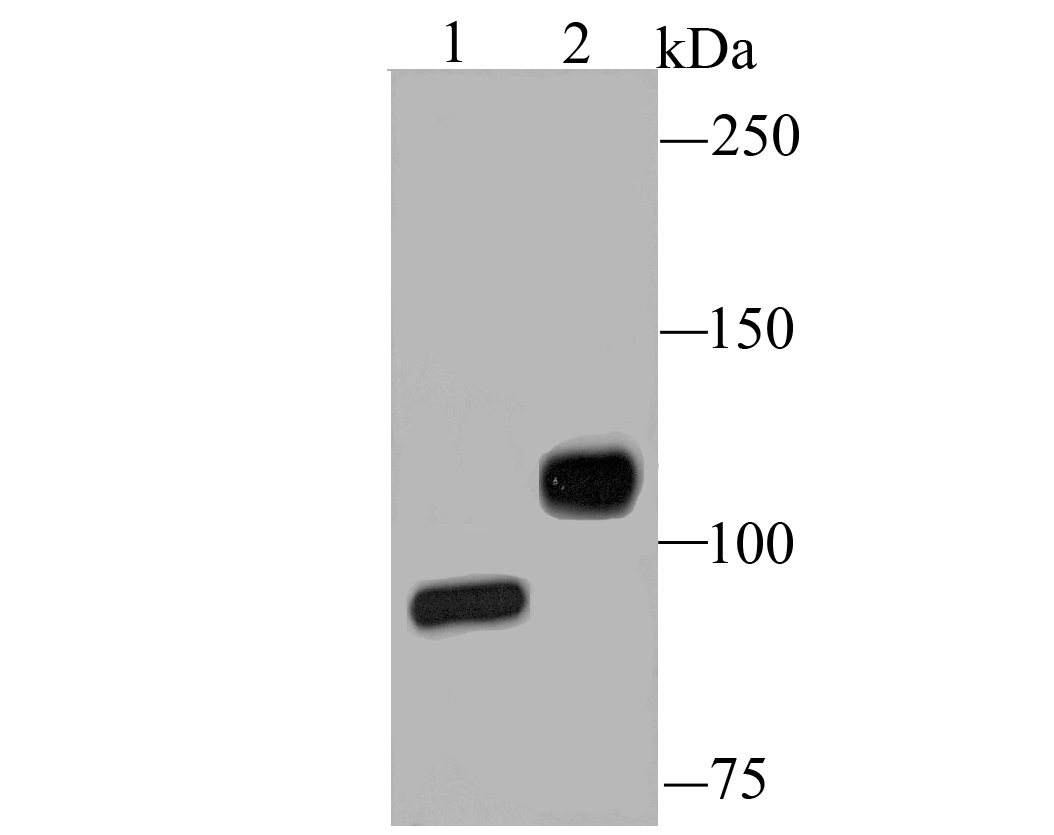 Western blot analysis of Integrin beta-3 on A431 (1) and rat spleen tissue (2) lysate using anti-Integrin beta-3 antibody at 1/1,000 dilution.
SPECIFICATIONS
Product Type
Rabbit polyclonal primary
Product Name
Integrin beta-3 (CD61 antigen) Rabbit Polyclonal Antibody (ER1601-4)
Immunogen
Synthetic peptide within human integrin beta-3 aa 481-530 / 788.
Positive Control
A431, rat spleen tissue lysate, rat ossature tissue, human tonsil tissue, human kidney tissue, human placenta tissue, mouse kidney tissue, HUVEC.
PROPERTIES
Storage Condition
Store at +4C after thawing. Aliquot store at -20C or -80C. Avoid repeated freeze / thaw cycles.
Storage Buffer
1*PBS (pH7.4), 0.2% BSA, 50% Glycerol. Preservative: 0.05% Sodium Azide.
PURIFICATION
Peptide affinity purified
TARGET
PROTEIN NAME
Integrin beta-3 (CD61 antigen)
SYNONYMS
Antigen identified by monoclonal antibody L230 antibody; CD 51 antibody; CD 61 antibody; CD51 antibody; CD51 antigen antibody; CD61 antibody; CD61 antigen antibody; DKFZp686A08142 antibody; GP3A antibody; GPIIIa antibody; Integrin alpha V antibody; Integrin alpha V vitronectin receptor alpha polypeptide antibody; Integrin alpha V vitronectin receptor alpha polypeptide antigen CD51 antibody; integrin alpha-V antibody; Integrin alpha-V light chain antibody; Integrin beta 3 antibody; Integrin beta 3 platelet glycoprotein IIIa antigen CD61 antibody; Integrin beta chain beta 3 antibody; integrinVbeta3 antibody; ITAV_HUMAN antibody; ITGAV antibody; ITGB 3 antibody; ITGB3 antibody; MSK 8 antibody; MSK8 antibody; Platelet glycoprotein IIIa antibody; Platelet glycoprotein IIIa precursor antibody; Platelet membrane glycoprotein IIIa antibody; Vitronectin receptor alpha polypeptide antibody; vitronectin receptor antibody; Vitronectin receptor subunit alpha antibody; VNR 1 antibody; VNR1 antibody; VNRA antibody
SEQUENCE SIMILARITIES
Belongs to the integrin beta chain family.
TISSUE SPECIFICITY
Isoform beta-3A and isoform beta-3C are widely expressed. Isoform beta-3A is specifically expressed in osteoblast cells; isoform beta-3C is specifically expressed in prostate and testis.
POST-TRANSLATIONAL MODIFICATION
Phosphorylated on tyrosine residues in response to thrombin-induced platelet aggregation. Probably involved in outside-in signaling. A peptide (AA 740-762) is capable of binding GRB2 only when both Tyr-773 and Tyr-785 are phosphorylated. Phosphorylation of Thr-779 inhibits SHC binding.
FUNCTION
Integrins are heterodimers composed of noncovalently associated transmembrane a and b subunits. The 16 a and 8 b subunits heterodimerize to produce more than 20 different receptors. Most integrin receptors bind ligands that are components of the extracellular matrix, including Fibronectin, Collagen and Vitronectin. Certain integrins can also bind to soluble ligands such as Fibrinogen, or to counterreceptors on adjacent cells such as the intracellular adhesion molecules (ICAMs), leading to aggregation of cells. Ligands serve to cross-link or cluster integrins by binding to adjacent integrin receptors; both receptor clustering and ligand occupancy are necessary for the activation of integrin-mediated responses. In addition to mediating cell adhesion and cytoskeletal organization, integrins function as signaling receptors. Signals transduced by integrins play a role in many biological processes, including cell growth, differentiation, migration and apoptosis.