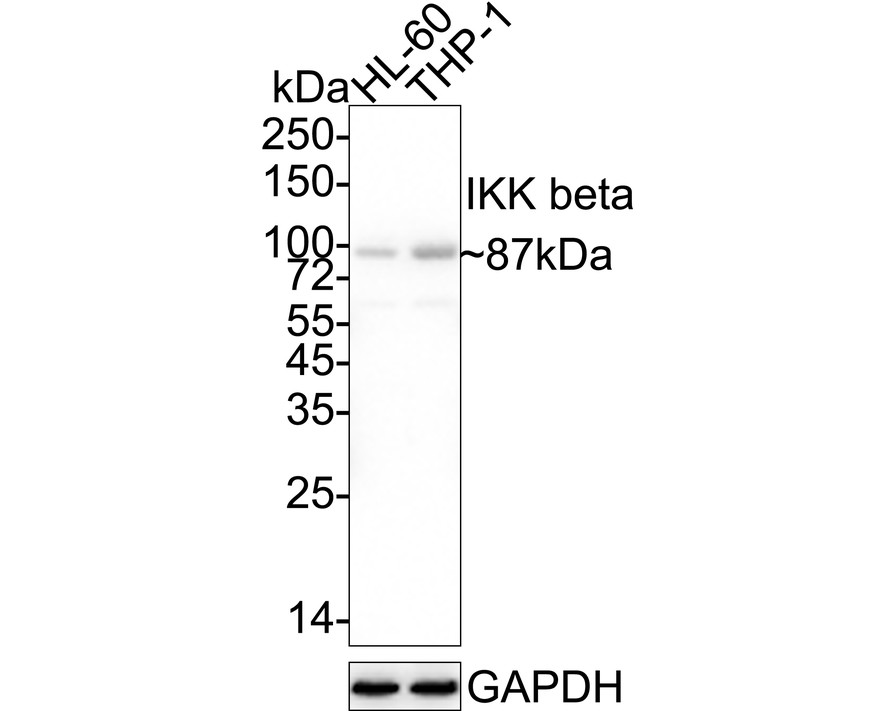 Western blot analysis of IKK beta on different lysates using anti-IKK beta antibody at 1/1,000 dilution.
Positive control:
Lane 1: Hela
Lane 2: 293T Lane 3: Mouse spleen tissue
SPECIFICATIONS
Product Type
Rabbit polyclonal primary
Product Name
IKK beta Rabbit Polyclonal Antibody (R1706-13)
Positive Control
Hela, 293T, mouse spleen tissue lysate, HUVEC, rat testis tissue, human tonsil tissue, human breast tissue, human placenta tissue, mouse testis tissue.
PROPERTIES
Storage Condition
Store at +4Cafter thawing. Aliquot store at -20Cor -80C. Avoid repeated freeze / thaw cycles.
Storage Buffer
1*PBS (pH7.4), 0.2% BSA, 50% Glycerol. Preservative: 0.05% Sodium Azide.
TARGET
SYNONYMS
I kappa B kinase 2 antibody; I kappa B kinase beta antibody; I-kappa-B kinase 2 antibody; I-kappa-B-kinase beta antibody; IkBKB antibody; IKK beta antibody; IKK-B antibody; IKK-beta antibody; IKK2 antibody; IKKB antibody; IKKB_HUMAN antibody; IMD15 antibody; Inhibitor of kappa light polypeptide gene enhancer in B cells, kinase beta antibody; Inhibitor of nuclear factor kappa-B kinase subunit beta antibody; NFKBIKB antibody; Nuclear factor NF-kappa-B inhibitor kinase beta antibody
SEQUENCE SIMILARITIES
Belongs to the protein kinase superfamily. Ser/Thr protein kinase family. I-kappa-B kinase subfamily.
TISSUE SPECIFICITY
Highly expressed in heart, placenta, skeletal muscle, kidney, pancreas, spleen, thymus, prostate, testis and peripheral blood.
POST-TRANSLATIONAL MODIFICATION
Upon cytokine stimulation, phosphorylated on Ser-177 and Ser-181 by MEKK1 and/or MAP3K14/NIK as well as TBK1 and PRKCZ; which enhances activity. Once activated, autophosphorylates on the C-terminal serine cluster; which decreases activity and prevents prolonged activation of the inflammatory response. Phosphorylated by the IKK-related kinases TBK1 and IKBKE, which is associated with reduced CHUK/IKKA and IKBKB activity and NF-kappa-B-dependent gene transcription. Dephosphorylated at Ser-177 and Ser-181 by PPM1A and PPM1B.; (Microbial infection) Acetylation of Thr-180 by Yersinia yopJ prevents phosphorylation and activation, thus blocking the I-kappa-B pathway.; Ubiquitinated. Monoubiquitination involves TRIM21 that leads to inhibition of Tax-induced NF-kappa-B signaling. According to PubMed:19675099, 'Ser-163' does not serve as a monoubiquitination site. According to PubMed:16267042, ubiquitination on 'Ser-163' modulates phosphorylation on C-terminal serine residues.; (Microbial infection) Monoubiquitination by TRIM21 is disrupted by Yersinia yopJ.; Hydroxylated by PHD1/EGLN2, loss of hydroxylation under hypoxic conditions results in activation of NF-kappa-B.
FUNCTION
The transcription factor NFkB is retained in the cytoplasm in an inactive form by the inhibitory protein IkB. Activation of NFkB requires that IkB be phosphorylated on specific serine residues, which results in targeted degradation of IkB. IkB kinase α (IKKα), previously designated CHUK, interacts with IkB-α and specifically phosphorylates Iκβ-α on Serine 32 and 36, the sites that trigger its degradation. IKKα appears to be critical for NFkB activation in response to proinflammatory cytokines. Phosphorylation of IkB by IKKα is stimulated by the NFkB inducing kinase (NIK), which itself is a central regulator for NFkB activation in response to TNF and IL-1. The functional IKK complex contains three subunits, IKKα, IKKβ and IKKγ (also designated NEMO), and each appear to make essential contributions to IkB phosphorylation.