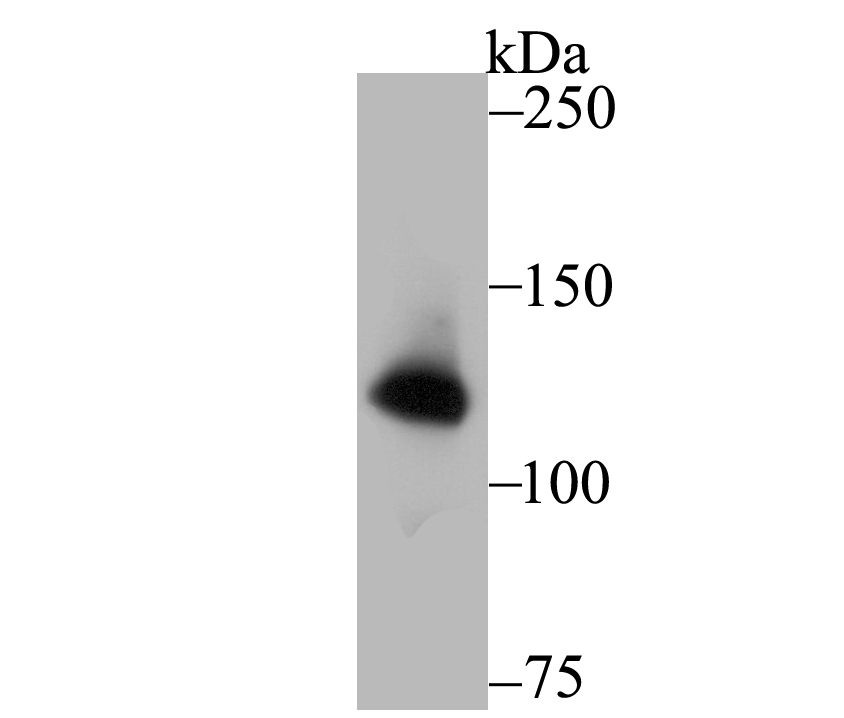 Western blot analysis of hUPF1 on PC-3M cell lysate using anti-hUPF1 antibody at 1/1,000 dilution.
SPECIFICATIONS
Product Type
Recombinant Rabbit monoclonal primary
Product Name
hUPF1 Recombinant Rabbit Monoclonal Antibody [JG38-44] (ET7108-70)
Immunogen
Recombinant protein within human hupf1 aa 1-200.
Positive Control
PC-3M, A431, LOVO, human colon tissue, human prostate cancer tissue, human kidney tissue, mouse brain tissue.
PROPERTIES
Storage Condition
Store at +4C after thawing. Aliquot store at -20C. Avoid repeated freeze / thaw cycles.
Storage Buffer
1*TBS (pH7.4), 0.05% BSA, 40% Glycerol. Preservative: 0.05% Sodium Azide.
TARGET
SYNONYMS
ATP dependent helicase RENT1 antibody; ATP-dependent helicase RENT1 antibody; Delta helicase antibody; FLJ43809 antibody; FLJ46894 antibody; HUPF 1 antibody; hUpf1 antibody; KIAA0221 antibody; Nonsense mRNA reducing factor 1 antibody; NORF 1 antibody; NORF1 antibody; pNORF 1 antibody; pNORF1 antibody; Regulator of nonsense transcripts 1 antibody; RENT 1 antibody; RENT1 antibody; RENT1_HUMAN antibody; Smg 2 antibody; Smg 2 homolog nonsense mediated mRNA decay factor antibody; UP Frameshift 1 antibody; Up frameshift mutation 1 homolog (S. cerevisiae) antibody; Up frameshift mutation 1 homolog antibody; Up frameshift suppressor 1 homolog antibody; Up-frameshift suppressor 1 homolog antibody; UPF 1 antibody; UPF 1 regulator of nonsense transcripts homolog antibody; upf1 antibody; UPF1 regulator of nonsense transcripts homolog antibody; UPF1 RNA helicase and ATPase antibody; Yeast Upf1p homolog antibody
SEQUENCE SIMILARITIES
Belongs to the DNA2/NAM7 helicase family.
POST-TRANSLATIONAL MODIFICATION
Phosphorylated by SMG1; required for formation of mRNA surveillance complexes.
FUNCTION
In eukaryotes, it is essential to have the ability to detect and degrade transcripts that lack full coding potential. Nonsense-mediated RNA decay (NMD) protects the organism by avoiding the translation of truncated peptides with dominant negative or deleterious gain-of-function potential. Rent1, a mammalian ortholog of Upflp, is essential for embryonic viability. Rent1 (also designated regulator of nonsense transcripts and HUpf1) contains an N-terminal zinc finger-like domain, NTPase domains and a region comprised of domains that define Rent1 as a superfamily group I helicase. Rent1 protein has nucleic-acid-dependent ATPase activity and 5' to 3' helicase activity. In addition, Rent1 is an RNA-binding protein whose activity is modulated by ATP and directly interacts with Rent2, which is a mammalian homolog of Upf2p. Two mammalian orthologs to Upf3p, Rent3a and Rent3b, are encoded by two separate genes. Rent3b (also known as Rent3X) is encoded by a X-linked gene and localizes primarily to the nucleus, while Rent 1 and Rent 2 localize primarily in the cytoplasm. Specific Rent3 protein interactions with Y14 and spliced mRNA suggest Rent3a and Rent3b serve as a link between splicing and NMD in the cytoplasm.