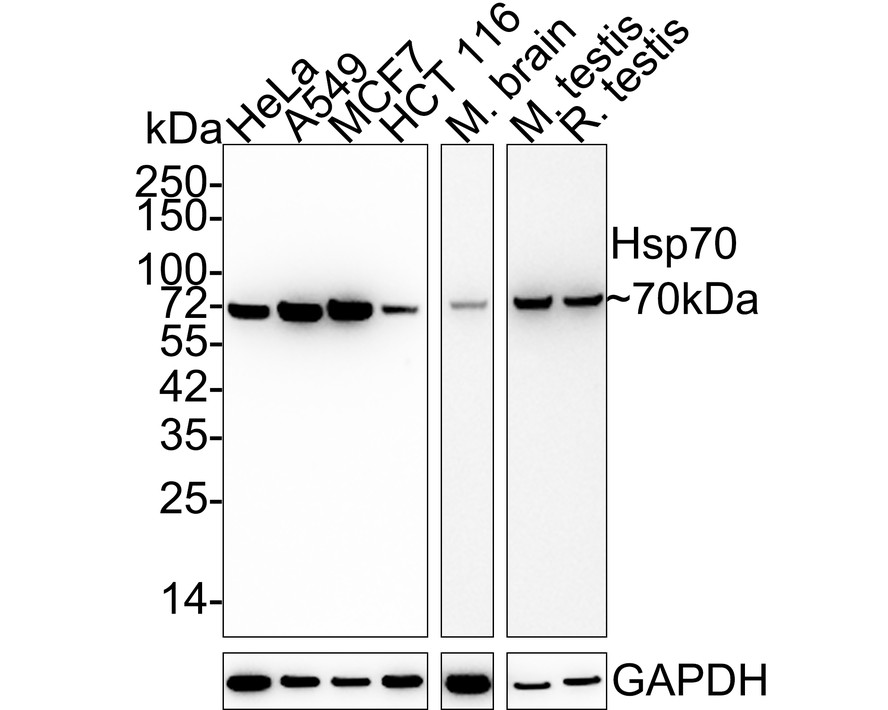 Western blot analysis of Hsp70 on different lysates. Proteins were transferred to a PVDF membrane and blocked with 5% BSA in PBS for 1 hour at room temperature. The primary antibody (ET1601-11, 1/500) was used in 5% BSA at room temperature for 2 hours. Goat Anti-Rabbit IgG - HRP Secondary Antibody (HA1001) at 1:5,000 dilution was used for 1 hour at room temperature.
Positive control:
Lane 1: A549 cell lysate
Lane 2: MCF-7 cell lysate
Lane 3: HCT116 cell lysate
SPECIFICATIONS
Product Type
Recombinant Rabbit monoclonal primary
Product Name
Hsp70 Recombinant Rabbit Monoclonal Antibody [SA0379] (ET1601-11)
Immunogen
Recombinant protein within human hsp70 aa 403-641 / 641.
Positive Control
A549 cell lysate, MCF-7 cell lysate, HCT116 cell lysate, Hela, MCF-7, human breast carcinoma tissue, human colon carcinoma tissue, human breast tissue, human kidney tissue, human small intestine tissue, mouse testis tissue, mouse brain tissue, mouse prostate tissue.
PROPERTIES
Storage Condition
Store at +4C after thawing. Aliquot store at -20C or -80C. Avoid repeated freeze / thaw cycles.
Storage Buffer
1*TBS (pH7.4), 0.05% BSA, 40% Glycerol. Preservative: 0.05% Sodium Azide.
PURIFICATION
Protein A affinity purified.
TARGET
SYNONYMS
DnaK type molecular chaperone HSP70 1 antibody; Epididymis secretory protein Li 103 antibody; FLJ54303 antibody; FLJ54370 antibody; FLJ54392 antibody; FLJ54408 antibody; FLJ75127 antibody; Heat shock 70 kDa protein 1 antibody; Heat shock 70 kDa protein 1/2 antibody; Heat shock 70 kDa protein 1A/1B antibody; Heat shock 70kDa protein 1A antibody; Heat shock 70kDa protein 1B antibody; Heat shock induced protein antibody; HEL S 103 antibody; HSP70 1 antibody; HSP70 1B antibody; HSP70 2 antibody; HSP70-1/HSP70-2 antibody; HSP70-1A antibody; HSP70.1 antibody; HSP70.1/HSP70.2 antibody; HSP70I antibody; HSP71_HUMAN antibody; HSP72 antibody; HSPA1 antibody; HSPA1A antibody; HSPA1B antibody
SEQUENCE SIMILARITIES
Belongs to the heat shock protein 70 family.
TISSUE SPECIFICITY
HSPA1B is testis-specific.
POST-TRANSLATIONAL MODIFICATION
In response to cellular stress, acetylated at Lys-77 by NA110 and then gradually deacetylated by HDAC4 at later stages. Acetylation enhances its chaperone activity and also determines whether it will function as a chaperone for protein refolding or degradation by controlling its binding to co-chaperones HOPX and STUB1. The acetylated form and the non-acetylated form bind to HOPX and STUB1 respectively. Acetylation also protects cells against various types of cellular stress.
FUNCTION
The 70 kilodalton heat shock proteins (Hsp70s) are a family of conserved ubiquitously expressedheat shock proteins. Proteins with similar structure exist in virtually all living organisms. The Hsp70s are an important part of the cell's machinery for protein folding, and help to protect cells from stress. When not interacting with a substrate peptide, Hsp70 is usually in an ATP bound state. Hsp70 by itself is characterized by a very weak ATPase activity, such that spontaneous hydrolysis will not occur for many minutes. As newly synthesized proteins emerge from the ribosomes, the substrate binding domain of Hsp70 recognizes sequences of hydrophobic amino acid residues, and interacts with them. This spontaneous interaction is reversible, and in the ATP bound state Hsp70 may relatively freely bind and release peptides. However, the presence of a peptide in the binding domain stimulates the ATPase activity of Hsp70, increasing its normally slow rate of ATP hydrolysis.
CITATIONS
Zhu, Xudong et al.

Cellular Evidence and Source of Exosomes in the Biliary System of the Chinese Soft-Shelled Turtle, Pelodiscus sinensis. | Frontiers in Physiology [2019]

WB

IHC

Pelodiscus sinensis

Yin, Kaiyu et al.

Critical role for a promoter discriminator in RpoS control of virulence in Edwardsiella piscicida. | PloS Pathogens [2018]

WB

Edwardsiella piscicida