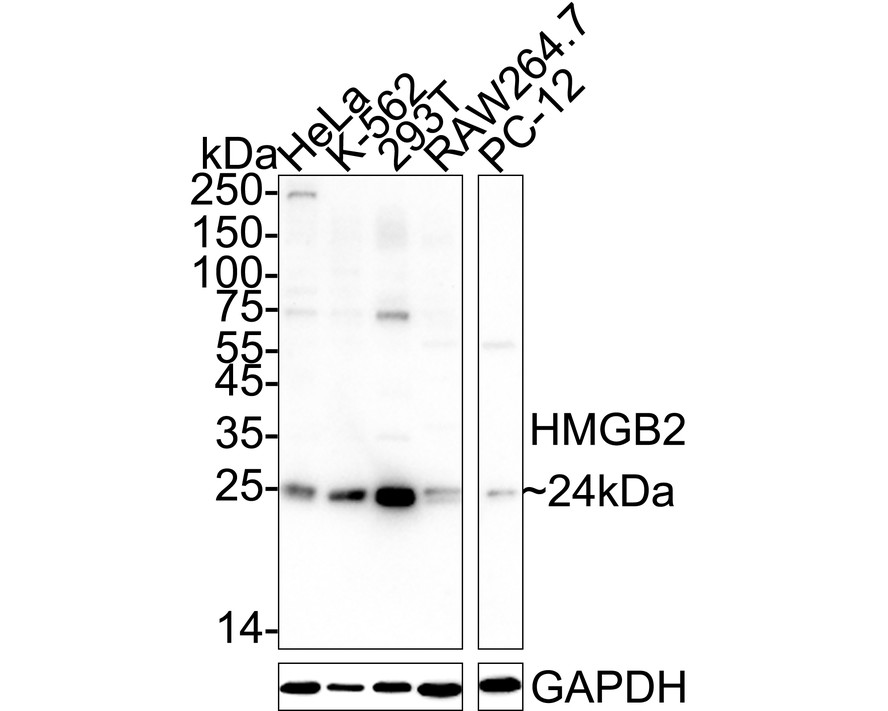 Western blot analysis of HMGB2 on Daudi cell lysates. Proteins were transferred to a PVDF membrane and blocked with 5% BSA in PBS for 1 hour at room temperature. The primary antibody (EM1902-06, 1/500) was used in 5% BSA at room temperature for 2 hours. Goat Anti-Mouse IgG - HRP Secondary Antibody (HA1006) at 1:5,000 dilution was used for 1 hour at room temperature.
SPECIFICATIONS
Product Name
HMGB2 Mouse Monoclonal Antibody [10D1] (EM1902-06)
Immunogen
Recombinant protein within human hmgb2 aa 1-209 / 209.
Positive Control
Daudi cell lysates, A431, human tonsil tissue, human cervical tissue, human thyroid tissue, human colon carcinoma tissue, human spleen tissue, human prostate carcinoma tissue, human breast carcinoma tissue, mouse liver tissue, mouse testis tissue, mouse fallopian tube tissue, mouse small intestine tissue, SW620.
PROPERTIES
Storage Condition
Store at +4C after thawing. Aliquot store at -20C. Avoid repeated freeze / thaw cycles.
Storage Buffer
1*PBS (pH7.4), 0.2% BSA, 50% Glycerol. Preservative: 0.05% Sodium Azide.
TARGET
SYNONYMS
C80539 antibody; High mobility group (nonhistone chromosomal) protein 2 antibody; High mobility group box 2 antibody; High mobility group protein 2 antibody; High mobility group protein B2 antibody; HMG 2 antibody; HMG B2 antibody; HMG-2 antibody; HMG2 antibody; HMGB2 antibody; HMGB2_HUMAN antibody
SEQUENCE SIMILARITIES
Belongs to the HMGB family.
TISSUE SPECIFICITY
Expressed in gastric and intestinal tissues (at protein level).
POST-TRANSLATIONAL MODIFICATION
Reduction/oxidation of cysteine residues Cys-23, Cys-45 and Cys-106 and a possible intramolecular disulfide bond involving Cys-23 and Cys-45 give rise to different redox forms with specific functional activities in various cellular compartments: 1- fully reduced HMGB2 (HMGB2C23hC45hC106h), 2- disulfide HMGB2 (HMGB2C23-C45C106h) and 3- sulfonyl HMGB2 (HMGB2C23soC45soC106so).; Acetylation enhances nucleosome binding and chromation remodeling activity.
SUBCELLULAR LOCATION
Nucleus, secreted, chromosome, cytoplasm.
FUNCTION
Multifunctional protein with various roles in different cellular compartments. May act in a redox sensitive manner. In the nucleus is an abundant chromatin-associated non-histone protein involved in transcription, chromatin remodeling and V(D)J recombination and probably other processes. Binds DNA with a preference to non-canonical DNA structures such as single-stranded DNA. Can bent DNA and enhance DNA flexibility by looping thus providing a mechanism to promote activities on various gene promoters by enhancing transcription factor binding and/or bringing distant regulatory sequences into close proximity. Involved in V(D)J recombination by acting as a cofactor of the RAG complex: acts by stimulating cleavage and RAG protein binding at the 23 bp spacer of conserved recombination signal sequences (RSS). Proposed to be involved in the innate immune response to nucleic acids by acting as a promiscuous immunogenic DNA/RNA sensor which cooperates with subsequent discriminative sensing by specific pattern recognition receptors. In the extracellular compartment acts as a chemokine. Promotes proliferation and migration of endothelial cells implicating AGER/RAGE. Has antimicrobial activity in gastrointestinal epithelial tissues. Involved in inflammatory response to antigenic stimulus coupled with proinflammatory activity. Involved in modulation of neurogenesis probably by regulation of neural stem proliferation. Involved in articular cartilage surface maintenance implicating LEF1 and the Wnt/beta-catenin pathway.