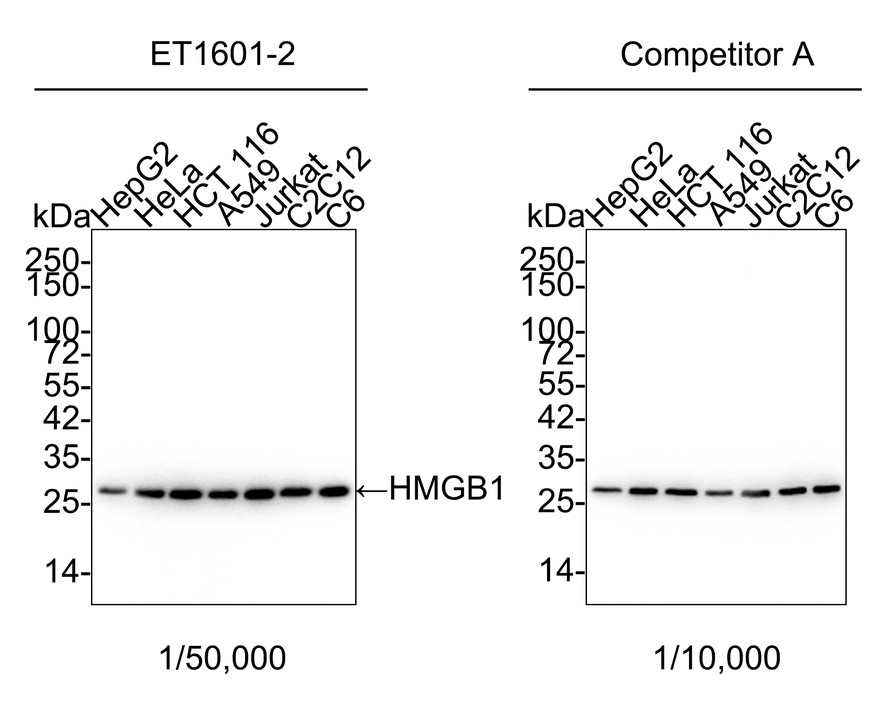 Western blot analysis of HMGB1 on different lysates. Proteins were transferred to a PVDF membrane and blocked with 5% BSA in PBS for 1 hour at room temperature. The primary antibody (ET1601-2, 1/500) was used in 5% BSA at room temperature for 2 hours. Goat Anti-Rabbit IgG - HRP Secondary Antibody (HA1001) at 1:5,000 dilution was used for 1 hour at room temperature.
Positive control:
Lane 1: MCF-7 cell lysate
Lane 2: PC-12 cell lysate
Lane 3: F9 cell lysate
SPECIFICATIONS
Product Type
Recombinant Rabbit monoclonal primary
Product Name
HMGB1 Recombinant Rabbit Monoclonal Antibody [SA39-03] (ET1601-2)
Immunogen
Synthetic peptide within human hmgb1 aa 160-190.
Positive Control
MCF-7 cell lysate, PC-12 cell lysate, F9 cell lysate, NIH/3T3, MCF-7, human tonsil tissue, human kidney tissue, mouse brain tissue, mouse kidney tissue, PC-12.
PROPERTIES
Storage Condition
Store at +4C after thawing. Aliquot store at -20C or -80C. Avoid repeated freeze / thaw cycles.
Storage Buffer
1*TBS (pH7.4), 0.05% BSA, 40% Glycerol. Preservative: 0.05% Sodium Azide.
PURIFICATION
Protein A affinity purified.
TARGET
SYNONYMS
Amphoterin antibody; Chromosomal protein, nonhistone, HMG1 antibody; DKFZp686A04236 antibody; High mobility group 1 antibody; High mobility group box 1 antibody; High mobility group protein 1 antibody; High mobility group protein B1 antibody; high-mobility group (nonhistone chromosomal) protein 1 antibody; HMG-1 antibody; HMG1 antibody; HMG3 antibody; HMGB 1 antibody; HMGB1 antibody; HMGB1_HUMAN antibody; NONHISTONE CHROMOSOMAL PROTEIN HMG1 antibody; SBP 1 antibody; Sulfoglucuronyl carbohydrate binding protein antibody
SEQUENCE SIMILARITIES
Belongs to the HMGB family.
TISSUE SPECIFICITY
Ubiquituous. Expressed in platelets.
POST-TRANSLATIONAL MODIFICATION
Phosphorylated at serine residues. Phosphorylation in both NLS regions is required for cytoplasmic translocation followed by secretion.; Acetylated on multiple sites upon stimulation with LPS. Acetylation on lysine residues in the nuclear localization signals (NLS 1 and NLS 2) leads to cytoplasmic localization and subsequent secretion (By similarity). Acetylation on Lys-3 results in preferential binding to DNA ends and impairs DNA bending activity (By similarity).; Reduction/oxidation of cysteine residues Cys-23, Cys-45 and Cys-106 and a possible intramolecular disulfide bond involving Cys-23 and Cys-45 give rise to different redox forms with specific functional activities in various cellular compartments: 1- fully reduced HMGB1 (HMGB1C23hC45hC106h), 2- disulfide HMGB1 (HMGB1C23-C45C106h) and 3- sulfonyl HMGB1 (HMGB1C23soC45soC106so).; Poly-ADP-ribosylated by PARP1 when secreted following stimulation with LPS (By similarity).; In vitro cleavage by CASP1 is liberating a HMG box 1-containing peptide which may mediate immunogenic activity; the peptide antagonizes apoptosis-induced immune tolerance. Can be proteolytically cleaved by a thrombin:thrombomodulin complex; reduces binding to heparin and proinflammatory activities (By similarity).
SUBCELLULAR LOCATION
Cytoplasm, Nucleus, Cell membrane, Secreted, Chromosome
FUNCTION
Like the histones, HMGB1, also known as high-mobility group protein 1 (HMG-1) is among the most important chromatin proteins. In the nucleus HMGB1 interacts with nucleosomes, transcription factors, and histones. This nuclear protein organizes the DNA and regulates transcription. After binding, HMGB1 bends DNA, which facilitates the binding of other proteins. HMGB1 is secreted by immune cells (like macrophages, monocytes and dendritic cells) through leaderless secretory pathway. Activated macrophages and monocytes secrete HMGB1 as a cytokine mediator of Inflammation. In recent research, HMGB1 has been reported as a novel biomarker for human ovarian cancer