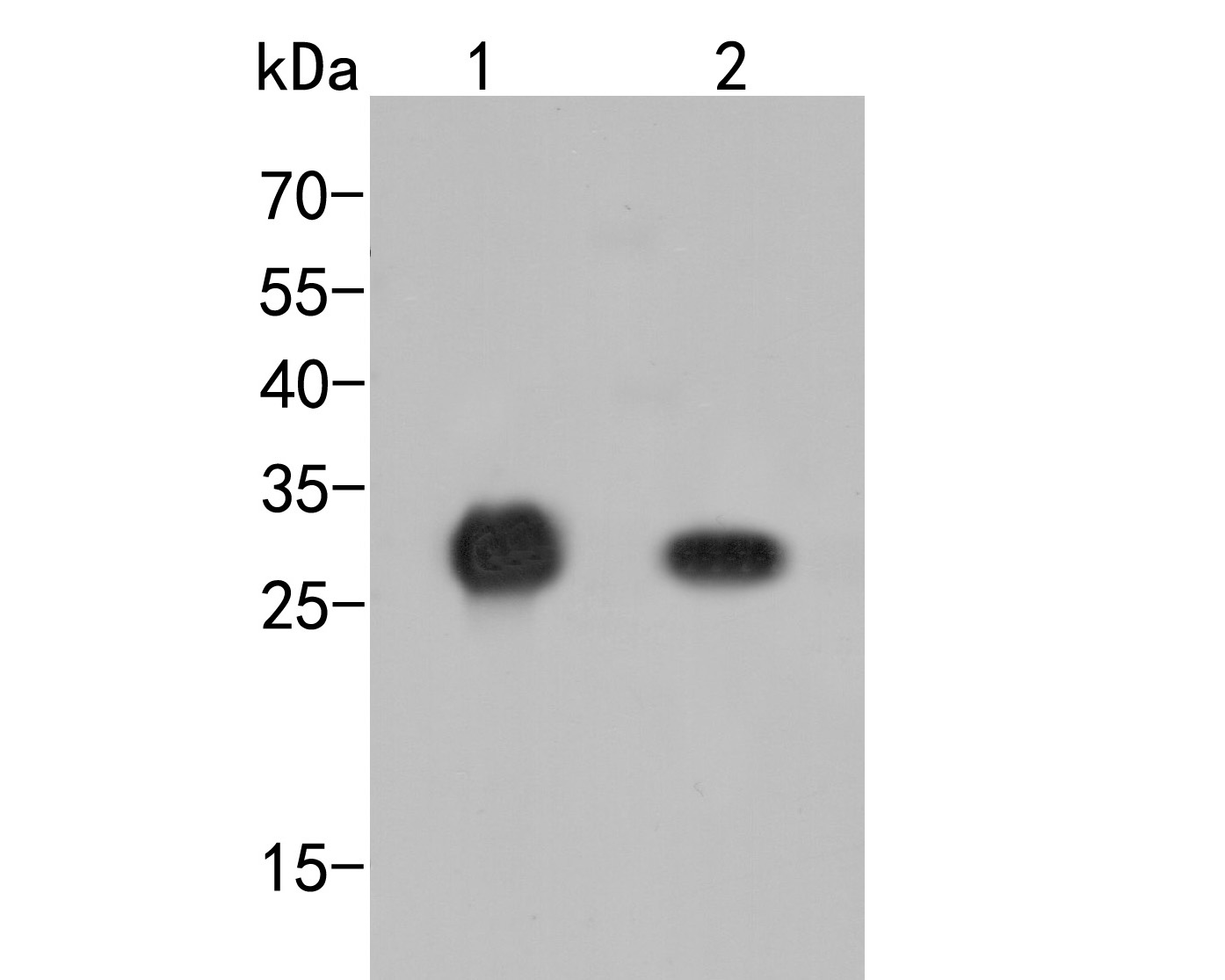 Western blot analysis of HA Tag on different lysates. Proteins were transferred to a PVDF membrane and blocked with 5% BSA in PBS for 1 hour at room temperature. The primary antibody (0906-1, 1/2,000) was used in 5% BSA at room temperature for 2 hours. Goat Anti-Rabbit IgG - HRP Secondary Antibody (HA1001) at 1:5,000 dilution was used for 1 hour at room temperature.
Positive control:
Lane 1: C-terminal HA-tagged recombinant protein
Lane 2: N-terminal HA-tagged recombinant protein
SPECIFICATIONS
Product Type
Rabbit polyclonal primary
Product Name
HA Tag Rabbit Polyclonal Antibody (0906-1)
Immunogen
Synthetic peptide immune sequence is ypydvpdyac.
Positive Control
C-terminal HA-tagged recombinant protein, N-terminal HA-tagged recombinant protein.
PROPERTIES
Storage Condition
Store at +4C after thawing. Aliquot store at -20C or -80C. Avoid repeated freeze / thaw cycles.
Storage Buffer
1*PBS (pH7.4), 0.2% BSA, 40% Glycerol. Preservative: 0.05% Sodium Azide.
PURIFICATION
Immunogen affinity purified
TARGET
FUNCTION
Human influenza hemagglutinin (HA) is a surface glycoprotein required for the infectivity of the human virus. The HA tag is derived from the HA molecule corresponding to amino acids 98-106. This antibody is used to detect proteins that are tagged with HA epitope (YPYDVPDYA) and are expressed in prokaryotic and eukaryotic cells.
CITATIONS
Jian-Li Jiang,Hong-Yong Cu,...

Hypo-phosphorylated CD147 promotes migration and invasion of hepatocellular carcinoma cells and predicts a poor prognosis. Cellular oncology (Dordrecht), 42(4), 537–554.

WB

CO-IP

IHC

IF

Human hepatocellular carcinoma cell

Zhou, Yanqing et al.

Quantitative proteomics identifies myoferlin as a novel regulator of A Disintegrin and Metalloproteinase 12 in HeLa cells. | Journal of Proteomics [2016]

Guo, Chuansheng et al.

Cholesterol Homeostatic Regulator SCAP-SREBP2 Integrates NLRP3 Inflammasome Activation and Cholesterol Biosynthetic Signaling in Macrophages. | Immunity [2018]

Yang, Dahai et al.

The Edwardsiella piscicida thioredoxin-like protein inhibits ASK1-MAPKs signaling cascades to promote pathogenesis during infection. | PloS Pathogens [2019]

Wu, Y., Zhang, C., Liu, X.,...

ARIH1 signaling promotes anti-tumor immunity by targeting PD-L1 for proteasomal degradation. Nature communications, 12(1), 2346.

Yang, S., Yan, H., Wu, Y., ...

Deubiquitination and Stabilization of PD-L1 by USP21

You, Zhiyuan et al.

Requirement for p62 acetylation in the aggregation of ubiquitylated proteins under nutrient stress. | Nature Communications [2019]

Zhou, D., Yan, H., Yang, S....

SC75741, A Novel c-Abl Inhibitor, Promotes the Clearance of TDP25 Aggregates via ATG5-Dependent Autophagy Pathway

Cao, Huifang et al.

Edwardsiella piscicida Type III Secretion System Effector EseK Inhibits Mitogen-Activated Protein Kinase Phosphorylation and Promotes Bacterial Colonization in Zebrafish Larvae. | Infection and Immunity [2018]

Zhou, D., Yan, H., Yang, S....

SC75741, A Novel c-Abl Inhibitor, Promotes the Clearance of TDP25 Aggregates via ATG5-Dependent Autophagy Pathway

Hou, Mingyu et al.

Phosphothreonine Lyase Promotes p65 Degradation in a Mitogen-Activated Protein Kinase/Mitogen- and Stress-Activated Protein Kinase 1-Dependent Manner. | Infection and Immunity [2019]

Jie Wu ;Ayaz Najafov;Honggu...

Pharmacological targeting of MCL-1 promotes mitophagy and improves disease pathologies in an Alzheimer's disease mouse model

Qin, Q., Shou, J., Li, M., ...

Stk24 protects against obesity-associated metabolic disorders by disrupting the NLRP3 inflammasome. Cell reports, 35(8), 109161.

Guo, Chuansheng et al.

Bile Acids Control Inflammation and Metabolic Disorder through Inhibition of NLRP3 Inflammasome. | Immunity [2016]

You, Qiang et al.

Interaction of AIM with insulin-like growth factor-binding protein-4. | International Journal of Molecular Medicine [2015]

Fu-Liang Hu

Polyphenol-rich propolis extracts from China and Brazil exert anti-inflammatory effects by modulating ubiquitination of TRAF6 during the activation of NF-κB

You, Zhiyuan et al.

TP53INP2 contributes to autophagosome formation by promoting LC3-ATG7 interaction. | Autophagy [2019]