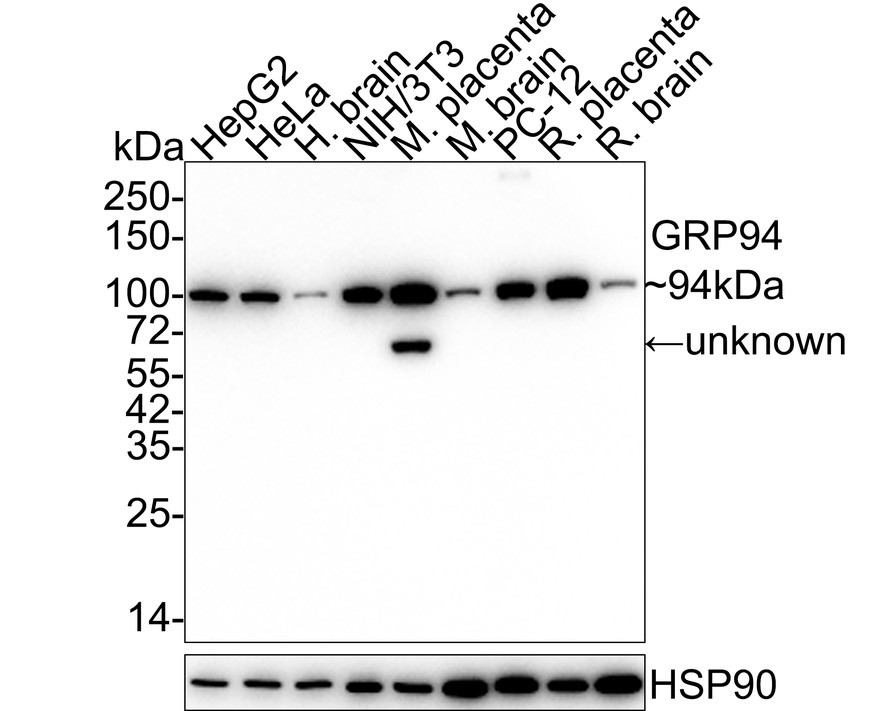 Western blot analysis of GRP94 on different cell lysate using anti-GRP94 antibody at 1/1,000 dilution.
Positive control:
Lane 1: HepG2
Lane 2: NIH-3T3
Lane 3: PC-12
SPECIFICATIONS
Product Type
Rabbit polyclonal primary
Product Name
GRP94 Rabbit Polyclonal Antibody (ER1511-5)
Immunogen
Synthetic peptide within human grp94 aa 194-247.
Positive Control
HepG2, NIH-3T3, PC-12, Hela, MCF-7, human liver tissue, human stomach cancer, human breast tissue, mouse stomach tissue.
PROPERTIES
Storage Condition
Store at +4C after thawing. Aliquot store at -20C or -80C. Avoid repeated freeze / thaw cycles.
Storage Buffer
1*PBS (pH7.4), 0.2% BSA, 50% Glycerol. Preservative: 0.05% Sodium Azide.
PURIFICATION
Peptide affinity purified
TARGET
SYNONYMS
94 kDa glucose regulated protein antibody; 94 kDa glucose-regulated protein antibody; ECGP antibody; Endoplasmin antibody; Endothelial cell (HBMEC) glycoprotein antibody; ENPL_HUMAN antibody; Glucose regulated protein 94kDa antibody; gp96 antibody; gp96 homolog antibody; GRP 94 antibody; GRP-94 antibody; Heat shock protein 90 kDa beta member 1 antibody; heat shock protein 90kDa beta (Grp94), member 1 antibody; Heat shock protein, 90 kDa, beta, 1 antibody; HSP90B1 antibody; Stress inducible tumor rejection antigen GP96 antibody; TRA1 antibody; tumor rejection antigen (gp96) 1 antibody; Tumor rejection antigen 1 antibody; Tumor rejection antigen gp96 antibody; Tumor rejection antigen-1 (gp96) antibody
SEQUENCE SIMILARITIES
Belongs to the heat shock protein 90 family.
SUBCELLULAR LOCATION
Endoplasmic reticulum lumen. Melanosome.
FUNCTION
Heat shock protein (HSP) molecular chaperones are environmental stress-inducible gene products. The human HSP 90 family includes 17 genes that fall into four classes: HSP90AA, HSP90AB, HSP90B and TRAP. HSP 90 family members guide the normal folding, intracellular disposition and proteolytic turnover of many key regulators of cell growth, differentiation and survival. HSP 90α, also designated HSP90A, HSP 86 and LPS-associated protein 2 (LAP2), is a cytosolic enhancer of inducible nitric-oxide synthase (iNOS), with chaperone activity that is important for the transcriptional activity of p53. HSP 90β, also designated HSP90B, HSP 84 and HSPC2, is a cytosolic protein that participates in signaling pathways with PKC e to protect cells from external damage, particularly in heat shock-mediated events. GRP 94, also known as tumor rejection antigen 1 (TRA1), ECGP and GP96, localizes to the ER, is highly expressed in BGC-823 human gastric carcinoma cells and is upregulated in human endothelial cells in response to hypoxia by HIF-1. TRAP1 (TNF receptor-associated protein 1), also designated HSP 75) is a mitochondrial matrix component that plays a role in the induction of apoptosis in response to reactive oxygen species.
CITATIONS
Cao, X., Shu, Y., Chen, Y.,...

Mettl14-Mediated m6A Modification Facilitates Liver Regeneration by Maintaining Endoplasmic Reticulum Homeostasis. Cellular and molecular gastroenterology and hepatology, S2352-345X(21)00072-2. Advance online publication.