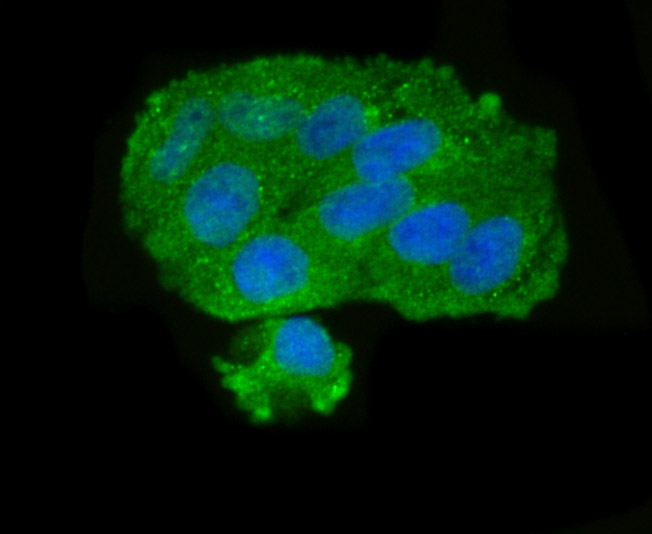 ICC staining GOLPH3 in Hela cells (green). The nuclear counter stain is DAPI (blue). Cells were fixed in paraformaldehyde, permeabilised with 0.25% Triton X100/PBS.
SPECIFICATIONS
Product Type
Rabbit polyclonal primary
Product Name
GOLPH3 Rabbit Polyclonal Antibody (ER1706-39)
Immunogen
Recombinant protein within c-terminal human golph3.
Positive Control
Hela, HepG2, SK-Br-3, rat epididymis tissue, human stomach cancer tissue, mouse stomach tissue.
PROPERTIES
Storage Condition
Store at +4C after thawing. Aliquot store at -20C or -80C. Avoid repeated freeze / thaw cycles.
Storage Buffer
1*PBS (pH7.4), 0.2% BSA, 50% Glycerol. Preservative: 0.05% Sodium Azide.
TARGET
SYNONYMS
Coat protein antibody; Coat protein GPP34 antibody; FLJ90675 antibody; Golgi associated protein antibody; Golgi peripheral membrane protein 1, 34 kDa antibody; Golgi phosphoprotein 3 (coat protein) antibody; Golgi phosphoprotein 3 antibody; Golgi protein antibody; GOLP3_HUMAN antibody; Golph3 antibody; GOPP1 antibody; GPP34 antibody; MIDAS antibody; Mitochondrial DNA absence factor antibody
SEQUENCE SIMILARITIES
Belongs to the GOLPH3/VPS74 family.
TISSUE SPECIFICITY
Detected in muscle fibers of patients with mitochondrial diseases; not detected in normal muscle fibers.
POST-TRANSLATIONAL MODIFICATION
SUBCELLULAR LOCATION
Cell membrane. Endosome. Cytoplasm.
FUNCTION
GOLPH3 (golgi phosphoprotein 3), also known as GOPP1, GPP34 or MIDAS, is a 298 amino acid protein that localizes to both the cytoplasm and the Golgi stack membrane where it is thought to play a regulatory role in protein trafficking within the Golgi. GOLPH3 is subject to post-translational phosphorylation and is encoded by a gene which maps to human chromosome 5. Chromosome 5 contains 181 million base pairs and comprises nearly 6% of the human genome. Chromosome 5 is associated with Cockayne syndrome through the ERCC8 gene and familial adenomatous polyposis through the adenomatous polyposis coli (APC) tumor suppressor gene. Treacher Collins syndrome is also chromosome 5-associated and is caused by insertions or deletions within the TCOF1 gene. Deletion of the p arm of chromosome 5 leads to Cri du chat syndrome, while deletion of the q arm or of chromosome 5 altogether is common in therapy-related acute myelogenous leukemias and myelodysplastic syndrome.