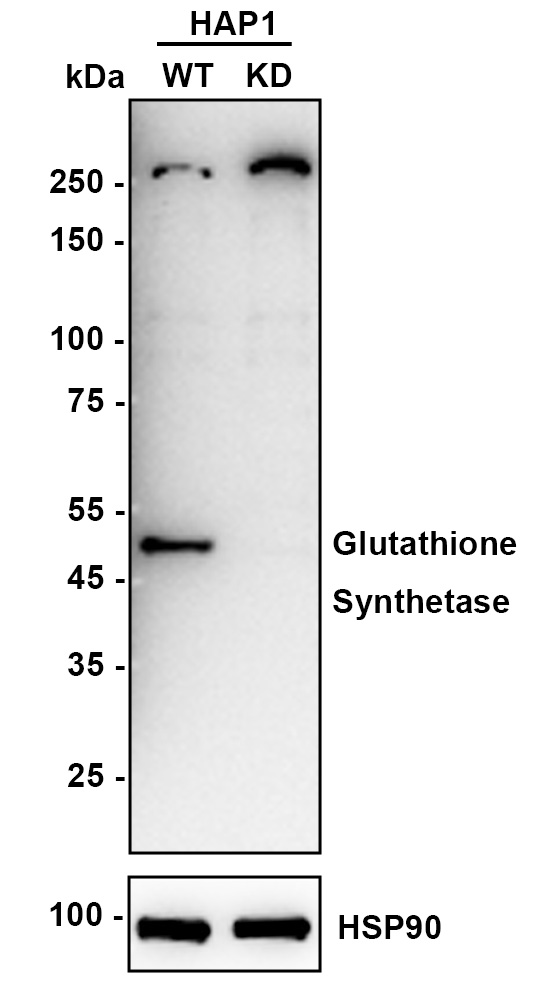 Western blot analysis of Glutathione Synthetase on different lysates using anti-Glutathione Synthetase antibody at 1/500 dilution.
Positive control:
Lane 1: SiHa
Lane 2: Mouse colon
Lane 3: Rat liver
SPECIFICATIONS
Product Type
Recombinant Rabbit monoclonal primary
Product Name
Glutathione Synthetase Recombinant Rabbit Monoclonal Antibody [JB95-33] (ET7107-62)
Positive Control
SiHa, mouse colon tissue, rat liver tissue lysate, rat epididymis tissue, human tonsil tissue, human colon cancer tissue, human kidney tissue, HepG2, LOVO.
PROPERTIES
Storage Condition
Store at +4C after thawing. Aliquot store at -20C or -80C. Avoid repeated freeze / thaw cycles.
Storage Buffer
1*TBS (pH7.4), 0.05% BSA, 40% Glycerol. Preservative: 0.05% Sodium Azide.
TARGET
SYNONYMS
epididymis secretory sperm binding protein Li 64p antibody; epididymis secretory sperm binding protein Li 88n antibody; Glutathione synthase antibody; Glutathione synthetase antibody; GSH S antibody; GSH synthetase antibody; GSH-S antibody; GSHB_HUMAN antibody; GSHS antibody; GSS antibody; HEL-S-64p antibody; HEL-S-88n antibody; MGC14098 antibody; OTTHUMP00000030711 antibody
SEQUENCE SIMILARITIES
Belongs to the eukaryotic GSH synthase family.
SUBCELLULAR LOCATION
Cytosol. Extracellular region or secreted.
FUNCTION
GSS (Glutathione synthetase) is a 474 amino acid protein encoded by the gene located at human chromosome 20q11.2. GSS consists of three loops projecting from an antiparallel β-sheet, a parallel β-sheet and a lid of anti-parallel sheets, which provide access to the ATP-binding site. Although Southern blot and gene analysis suggest that GSS may be the only member of a unique family, the crystal structure indicates that GSS belongs to the ATP-GRASP superfamily. GSS is expressed in hemocytes and nucleated cells, including the brain. GSS occurs as a homodimer. There are two steps in the production of Glutathione, begining with γ-GCS and ending with GSS. In an ATP-dependent reaction, GSS produces Glutathione from γ-glutamylcysteine and glycine precursors. Partial hepatectomy, diethyl maleate, buthionine sulfoximine, tert-butylhaydroquinone and thioacetamide increase the ex-pression of GSS, which causes an increase in Glutathione levels. An inherited autosomal recessive disorder, 5-oxoprolinuria (pyroglutamic aciduria), is caused by GSS deficiencies, which leads to central nervous system damage, hemolytic anemia, metabolic acidosis and urinary excretion of 5-oxoproline.