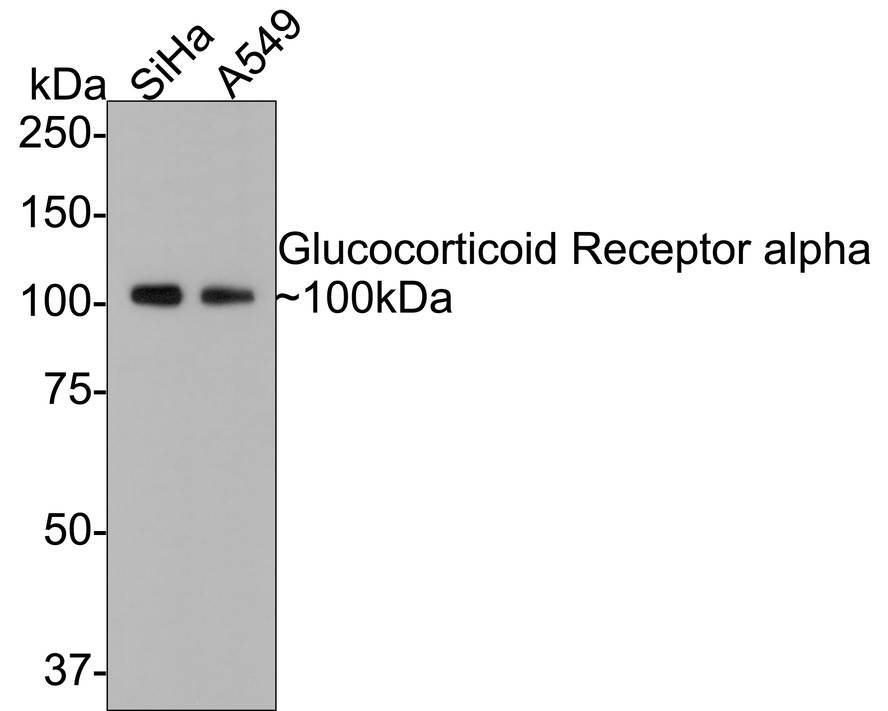 Western blot analysis of Glucocorticoid Receptor alpha on SiHa (1) and A549 (2) cell lysates using anti-Glucocorticoid Receptor alpha antibody at 1/5,000 dilution.
SPECIFICATIONS
Product Name
Glucocorticoid Receptor alpha Mouse Monoclonal Antibody [3F1] (EM1701-65)
Immunogen
Recombinant full length protein corresponding to human glucocorticoid receptor alpha.
Positive Control
Siha, A549, human spleen tissue, human breast cancer tissue.
PROPERTIES
Storage Condition
Store at +4C after thawing. Aliquot store at -20C. Avoid repeated freeze / thaw cycles.
Storage Buffer
1*PBS (pH7.4), 0.2% BSA, 50% Glycerol. Preservative: 0.05% Sodium Azide.
TARGET
PROTEIN NAME
Glucocorticoid Receptor alpha
SYNONYMS
GCCR antibody; GCR antibody; Glucocorticoid receptor alpha isoform antibody; Glucocorticoid receptor antibody; GR antibody; GRL antibody; NR3C1 antibody; Nuclear receptor subfamily 3 group C member 1 antibody
SEQUENCE SIMILARITIES
Belongs to the nuclear hormone receptor family. NR3 subfamily.
TISSUE SPECIFICITY
Widely expressed including bone, stomach, lung, liver, colon, breast, ovary, pancreas and kidney. In the heart, detected in left and right atria, left and right ventricles, aorta, apex, intraventricular septum, and atrioventricular node as well as whole adult and fetal heart. Isoform Beta: Widely expressed including brain, bone marrow, thymus, spleen, liver, kidney, pancreas, lung, fat, skeletal muscle, heart, placenta and blood leukocytes. Isoform Alpha-2: Expressed at low level.
POST-TRANSLATIONAL MODIFICATION
Acetylation by CLOCK reduces its binding to glucocorticoid response elements and its transcriptional activity.; Increased proteasome-mediated degradation in response to glucocorticoids. Isoform Alpha-B appears to be more susceptible to proteolytic degradation than isoform Alpha.; Phosphorylated in the absence of hormone; becomes hyperphosphorylated in the presence of glucocorticoid. The Ser-203, Ser-226 and Ser-404-phosphorylated forms are mainly cytoplasmic, and the Ser-211-phosphorylated form is nuclear. Phosphorylation at Ser-211 increases transcriptional activity. Phosphorylation at Ser-203, Ser-226 and Ser-404 decreases signaling capacity. Phosphorylation at Ser-404 may protect from glucocorticoid-induced apoptosis. Phosphorylation at Ser-203 and Ser-211 is not required in regulation of chromosome segregation. May be dephosphorylated by PPP5C, attenuates NR3C1 action (By similarity).; Sumoylation at Lys-277 and Lys-293 negatively regulates its transcriptional activity. Sumoylation at Lys-703 positively regulates its transcriptional activity in the presence of RWDD3 (By similarity). Sumoylation at Lys-277 and Lys-293 is dispensable whereas sumoylation at Lys-703 is critical for the stimulatory effect of RWDD3 on its transcriptional activity (By similarity). Heat shock increases sumoylation in a RWDD3-dependent manner (By similarity).; Ubiquitinated; restricts glucocorticoid-mediated transcriptional signaling.
SUBCELLULAR LOCATION
Nucleus. Cytoskeleton. Mitochondrion.
FUNCTION
The glucocorticoid receptor (GR) is a ubiquitously expressed transcription factor that mediates the effects of glucocorticoids. The most abundant isoform is GR α. GR induces or represses the expression of genes in response to glucocorticoids, mediating such processes as apoptosis, cell growth and differentiation. A significant class of genes suppressed by GR is controlled by the transcription factor AP-1. GR has also been shown to be the limiting factor in the induction of gene expression by glucocorticoids. It has been revealed that GR forms a complex with HSP 90, rendering the non-ligand bound receptor transcriptionally inactive. More importantly, mutant GRs lacking the signaling domain remain constitutively active.