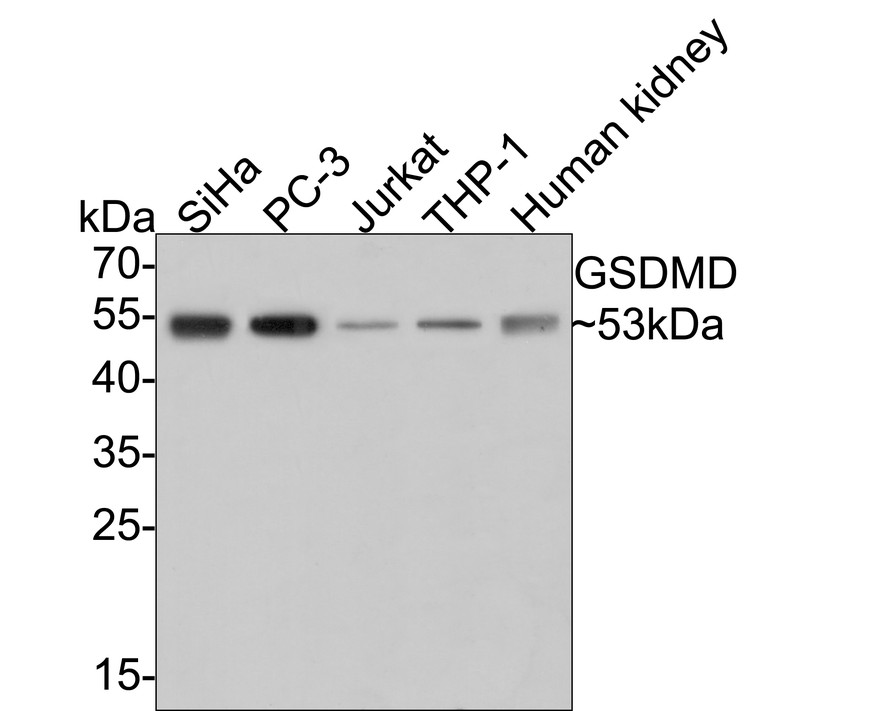 Western blot analysis of Gasdermin D (N terminal) on different lysates. Proteins were transferred to a PVDF membrane and blocked with 5% BSA in PBS for 1 hour at room temperature. The primary antibody (ER1901-37, 1/500) was used in 5% BSA at room temperature for 2 hours. Goat Anti-Rabbit IgG - HRP Secondary Antibody (HA1001) at 1:5,000 dilution was used for 1 hour at room temperature.
Positive control:
Lane 1: SiHa cell lysate
Lane 2: human kidney tissue lysate
SPECIFICATIONS
Product Type
Rabbit polyclonal primary
Product Name
Gasdermin D (N terminal) Rabbit Polyclonal Antibody (ER1901-37)
Immunogen
Recombinant protein within human gasdermin d aa 100-300.
Positive Control
SiHa cell lysates, human kidney tissue lysates, SiHa, rat stomach tissue, human tonsil tissue, human prostate carcinoma tissue, human esophagus tissue, Mouse colon tissue.
PROPERTIES
Storage Condition
Store at +4C after thawing. Aliquot store at -20C. Avoid repeated freeze / thaw cycles.
Storage Buffer
1*PBS (pH7.4), 0.2% BSA, 50% Glycerol. Preservative: 0.05% Sodium Azide.
PURIFICATION
Protein affinity purified.
TARGET
SYNONYMS
1810036L03Rik antibody; DF 5L antibody; DF5L antibody; DFNA 5L antibody; DFNA5L antibody; FKSG 10 antibody; FKSG10 antibody; FLJ12150 antibody; Gasdermin antibody; Gasdermin D antibody; Gasdermin domain containing 1 antibody; Gasdermin domain containing protein 1 antibody; Gasdermin domain-containing protein 1 antibody; Gasdermin-D antibody; GasderminD antibody; GSDMD antibody; GSDMD_HUMAN antibody; GSDMDC 1 antibody; GSDMDC1 antibody
SEQUENCE SIMILARITIES
Belongs to the gasdermin family.
TISSUE SPECIFICITY
Expressed in the suprabasal cells of esophagus, as well as in the isthmus/neck, pit, and gland of the stomach, suggesting preferential expression in differentiating cells.
POST-TRANSLATIONAL MODIFICATION
Cleavage at Asp-275 by CASP1 (mature and uncleaved precursor forms) or CASP4 relieves autoinhibition and is sufficient to initiate pyroptosis. Cleavage at Asp-87 by CASP3.
SUBCELLULAR LOCATION
Cytosol. Secreted. Plasma membrane.
FUNCTION
Gasdermin-D, N-terminal: Promotes pyroptosis in response to microbial infection and danger signals. Produced by the cleavage of gasdermin-D by inflammatory caspases CASP1 or CASP4 in response to canonical, as well as non-canonical (such as cytosolic LPS) inflammasome activators. After cleavage, moves to the plasma membrane where it strongly binds to inner leaflet lipids, including monophosphorylated phosphatidylinositols, such as phosphatidylinositol 4-phosphate, bisphosphorylated phosphatidylinositols, such as phosphatidylinositol (4,5)-bisphosphate, as well as phosphatidylinositol (3,4,5)-bisphosphate, and more weakly to phosphatidic acid and phosphatidylserine. Homooligomerizes within the membrane and forms pores of 10 - 15 nanometers (nm) of inner diameter, possibly allowing the release of mature IL1B and triggering pyroptosis . Exhibits bactericidal activity. Gasdermin-D, N-terminal released from pyroptotic cells into the extracellular milieu rapidly binds to and kills both Gram-negative and Gram-positive bacteria, without harming neighboring mammalian cells, as it does not disrupt the plasma membrane from the outside due to lipid-binding specificity.