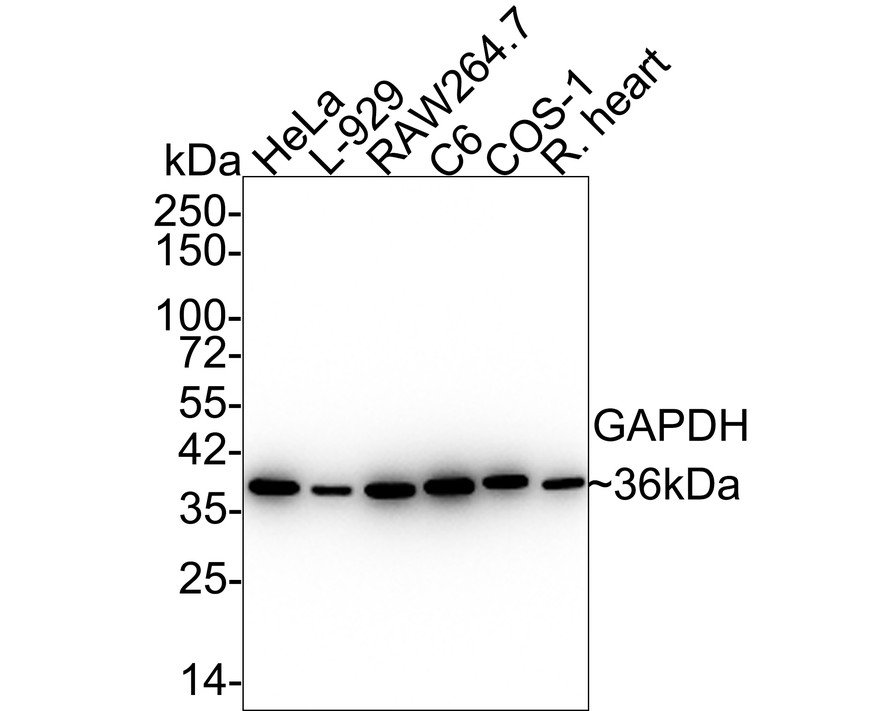 Western blot analysis of GAPDH(HRP conjugated) on different lysates. Proteins were transferred to a PVDF membrane and blocked with 5% BSA in PBS for 1 hour at room temperature. The primary antibody (ET1702-66, 1/500) was used in 5% BSA at room temperature for 2 hours.
Positive control:
Lane 1: PC-12 cell lysate
Lane 2: Hela cell lysate
Lane 3: NIH/3T3 cell lysate
REACTIVITY
Human

Mouse

Rat

Monkey

Chicken

Fish
SPECIFICATIONS
Product Type
Recombinant Rabbit monoclonal primary
Product Name
HRP Conjugated GAPDH Recombinant Rabbit Monoclonal Antibody [JF81-04] (ET1702-66)
Immunogen
Recombinant full length protein of human gapdh aa 1-335 / 335.
Positive Control
PC-12 cell lysate, Hela cell lysate, NIH/3T3 cell lysate.
PROPERTIES
Storage Condition
Store at +4C after thawing. Aliquot store at -20C or -80C. Avoid repeated freeze / thaw cycles.
Storage Buffer
1*TBS (pH7.4), 0.05% BSA, 40% Glycerol.
PURIFICATION
Protein A affinity purified.
TARGET
SYNONYMS
38 kDa BFA-dependent ADP-ribosylation substrate antibody; aging associated gene 9 protein antibody; Aging-associated gene 9 protein antibody; BARS-38 antibody; cb609 antibody; EC 1.2.1.12 antibody; Epididymis secretory sperm binding protein Li 162eP antibody; G3P_HUMAN antibody; G3PD antibody; G3PDH antibody; GAPD antibody; GAPDH antibody; Glyceraldehyde 3 phosphate dehydrogenase antibody; Glyceraldehyde-3-phosphate dehydrogenase antibody; HEL-S-162eP antibody; KNC-NDS6 antibody; MGC102544 antibody; MGC102546 antibody; MGC103190 antibody; MGC103191 antibody; MGC105239 antibody; MGC127711 antibody; MGC88685 antibody; OCAS, p38 component antibody; OCT1 coactivator in S phase, 38-KD component antibody; peptidyl cysteine S nitrosylase GAPDH antibody; Peptidyl-cysteine S-nitrosylase GAPDH antibody; wu:fb33a10 antibody
SEQUENCE SIMILARITIES
Belongs to the glyceraldehyde-3-phosphate dehydrogenase family.
POST-TRANSLATIONAL MODIFICATION
S-nitrosylation of Cys-152 leads to interaction with SIAH1, followed by translocation to the nucleus (By similarity). S-nitrosylation of Cys-247 is induced by interferon-gamma and LDL(ox) implicating the iNOS-S100A8/9 transnitrosylase complex and seems to prevent interaction with phosphorylated RPL13A and to interfere with GAIT complex activity.; ISGylated.; Sulfhydration at Cys-152 increases catalytic activity.; Oxidative stress can promote the formation of high molecular weight disulfide-linked GAPDH aggregates, through a process called nucleocytoplasmic coagulation. Such aggregates can be observed in vivo in the affected tissues of patients with Alzheimer disease or alcoholic liver cirrhosis, or in cell cultures during necrosis. Oxidation at Met-46 may play a pivotal role in the formation of these insoluble structures. This modification has been detected in vitro following treatment with free radical donor (+/-)-(E)-4-ethyl-2-[(E)-hydroxyimino]-5-nitro-3-hexenamide. It has been proposed to destabilize nearby residues, increasing the likelihood of secondary oxidative damages, including oxidation of Tyr-45 and Met-105. This cascade of oxidations may augment GAPDH misfolding, leading to intermolecular disulfide cross-linking and aggregation.; Succination of Cys-152 and Cys-247 by the Krebs cycle intermediate fumarate, which leads to S-(2-succinyl)cysteine residues, inhibits glyceraldehyde-3-phosphate dehydrogenase activity. Fumarate concentration as well as succination of cysteine residues in GAPDH is significantly increased in muscle of diabetic mammals. It was proposed that the S-(2-succinyl)cysteine chemical modification may be a useful biomarker of mitochondrial and oxidative stress in diabetes and that succination of GAPDH and other thiol proteins by fumarate may contribute to the metabolic changes underlying the development of diabetes complications.
SUBCELLULAR LOCATION
Cytoplasm, Nucleus, Membrane.
FUNCTION
Glyceraldehyde-3-phosphate dehydrogenase (GAPDH), also called uracil DNA glycosylase, catalyzes the reversible oxidative phosphorylation of glyceraldehyde-3-phosphate in the presence of inorganic phosphate and nicotinamide adenine dinucleotide (NAD), an important energy-yielding step in carbohydrate metabolism. While GAPDH has long been recognized as playing an integral role in glycolysis, additional functions of GAPDH include acting as a uricil DNA glycosylase, activating transcription, binding RNA and involvement in nuclear RNA export, DNA replication and DNA repair. Expression of GAPDH is upregulated in liver, lung and prostate cancers. GAPDH translocates to the nucleus during apoptosis. GAPDH complexes with neuronal proteins implicated in human neuro-degenerative disorders including the β-Amyloid precursor, Huntingtin and other triplet repeat neuronal disorder proteins.
CITATIONS
Jun-ming Huang;Zhi-yong Ruan

Urolithin a attenuates IL-1β-induced inflammatory responses and cartilage degradation via inhibiting the MAPK/NF-κB signaling pathways in rat articular chondrocytes

Yang, X., Wei, W., Tan, S.,...

Identification and verification of HCAR3 and INSL5 as new potential therapeutic targets of colorectal cancer

Ping Wang

miR-124-3p Regulates FGF2–EGFR Pathway to Overcome Pemetrexed Resistance in Lung Adenocarcinoma Cells by Targeting MGAT5

Li, Zhengzheng et al.

Lipofectamine 2000/siRNA complexes cause endoplasmic reticulum unfolded protein response in human endothelial cells. | Journal of Cellular Physiology [2019]

WB

IF

Human coronary artery endothelial cells (HCAECs)

Lin, Yinuo et al.

Exosomes derived from HeLa cells break down vascular integrity by triggering endoplasmic reticulum stress in endothelial cells. | Journal of Extracellular Vesicles [2020]

Yunlan Xu;Hong Jiang;Xiaoqi...

A Novel Nonsense GLI3 Variant Is Associated With Polydactyly and Syndactyly in a Family by Blocking the Sonic Hedgehog Signaling Pathway. Frontiers in genetics, 11, 542004.