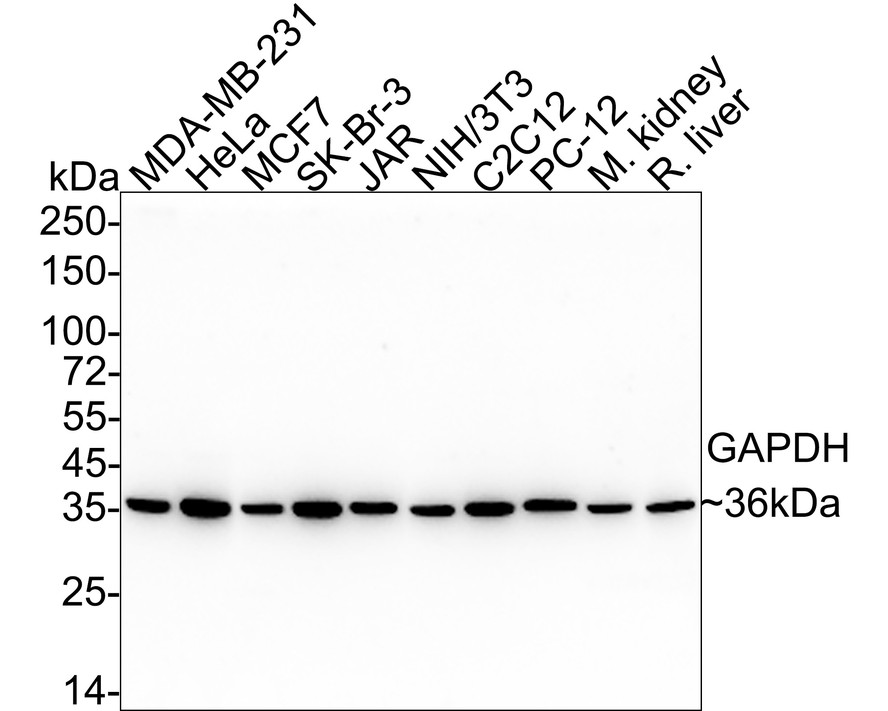 Western blot analysis of GAPDH on different cell lysates using anti-GAPDH antibody at 1/5000 dilution.
Positive control:
Lane 1: HepG2
Lane 2: Hela
Lane 3: PC12
Lane 4: NIH/3T3
Lane 5: MCF-7
Lane 6: Rabbit liver
Lane 7: Zebrafish
REACTIVITY
Human

Mouse

Rat

Zebrafish

Rabbit
SPECIFICATIONS
Product Name
GAPDH Mouse Monoclonal Antibody [5-E10] (EM1101)
Immunogen
Synthetic peptide within human gapdh aa 10-50.
Positive Control
HepG2, Hela, PC12, NIH/3T3, MCF-7, Rabbit liver, zebrafish, F9
PROPERTIES
Storage Condition
Store at +4C after thawing. Aliquot store at -20C or -80C. Avoid repeated freeze / thaw cycles.
Storage Buffer
1*PBS (pH7.4), 0.2% BSA, 40% Glycerol. Preservative: 0.05% Sodium Azide.
PURIFICATION
Protein L affinity purified.
TARGET
SYNONYMS
38 kDa BFA-dependent ADP-ribosylation substrate antibody; aging associated gene 9 protein antibody; Aging-associated gene 9 protein antibody; BARS-38 antibody; cb609 antibody; EC 1.2.1.12 antibody; Epididymis secretory sperm binding protein Li 162eP antibody; G3P_HUMAN antibody; G3PD antibody; G3PDH antibody; GAPD antibody; GAPDH antibody; Glyceraldehyde 3 phosphate dehydrogenase antibody; Glyceraldehyde-3-phosphate dehydrogenase antibody; HEL-S-162eP antibody; KNC-NDS6 antibody; MGC102544 antibody; MGC102546 antibody; MGC103190 antibody; MGC103191 antibody; MGC105239 antibody; MGC127711 antibody; MGC88685 antibody; OCAS, p38 component antibody; OCT1 coactivator in S phase, 38-KD component antibody; peptidyl cysteine S nitrosylase GAPDH antibody; Peptidyl-cysteine S-nitrosylase GAPDH antibody; wu:fb33a10 antibody
SEQUENCE SIMILARITIES
Belongs to the glyceraldehyde-3-phosphate dehydrogenase family.
POST-TRANSLATIONAL MODIFICATION
S-nitrosylation of Cys-152 leads to interaction with SIAH1, followed by translocation to the nucleus (By similarity). S-nitrosylation of Cys-247 is induced by interferon-gamma and LDL(ox) implicating the iNOS-S100A8/9 transnitrosylase complex and seems to prevent interaction with phosphorylated RPL13A and to interfere with GAIT complex activity.; ISGylated.; Sulfhydration at Cys-152 increases catalytic activity.; Oxidative stress can promote the formation of high molecular weight disulfide-linked GAPDH aggregates, through a process called nucleocytoplasmic coagulation. Such aggregates can be observed in vivo in the affected tissues of patients with Alzheimer disease or alcoholic liver cirrhosis, or in cell cultures during necrosis. Oxidation at Met-46 may play a pivotal role in the formation of these insoluble structures. This modification has been detected in vitro following treatment with free radical donor (+/-)-(E)-4-ethyl-2-[(E)-hydroxyimino]-5-nitro-3-hexenamide. It has been proposed to destabilize nearby residues, increasing the likelihood of secondary oxidative damages, including oxidation of Tyr-45 and Met-105. This cascade of oxidations may augment GAPDH misfolding, leading to intermolecular disulfide cross-linking and aggregation.; Succination of Cys-152 and Cys-247 by the Krebs cycle intermediate fumarate, which leads to S-(2-succinyl)cysteine residues, inhibits glyceraldehyde-3-phosphate dehydrogenase activity. Fumarate concentration as well as succination of cysteine residues in GAPDH is significantly increased in muscle of diabetic mammals. It was proposed that the S-(2-succinyl)cysteine chemical modification may be a useful biomarker of mitochondrial and oxidative stress in diabetes and that succination of GAPDH and other thiol proteins by fumarate may contribute to the metabolic changes underlying the development of diabetes complications.
FUNCTION
GAPDH (Glyceraldehyde-3-phosphate dehydrogenase) has both glyceraldehyde-3-phosphate dehydrogenase and nitrosylase activities, thereby playing a role in glycolysis and nuclear functions, respectively. It participates in nuclear events including transcription, RNA transport, DNA replication and apoptosis. GAPDH is a key enzyme in glycolysis that catalyzes the first step of the pathway by converting D-glyceraldehyde 3-phosphate (G3P) into 3-phospho-D-glyceroyl phosphate.
CITATIONS
Zheng, Yueying et al.

miR��?9a ameliorates ischemic injury of astrocytes in vitro by targeting the water channel protein aquaporin 4. | Oncology Reports [2019]

Wang, Huan et al.

Stage-specific functional relationships between Tub1 and Tub2 beta-tubulins in the wheat scab fungus Fusarium graminearum. | Fungal Genetics and Biology : Fg & B [2019]

Min Liao

Rabies virus phosphoprotein P5 binding to BECN1 regulates self-replication by BECN1-mediated autophagy signaling pathway. Cell communication and signaling : CCS, 18(1), 153.

Liu, Na et al.

The b-ZIP transcription factor FgTfmI is required for the fungicide phenamacril tolerance and pathogenecity in Fusarium graminearum. | Pest Management Science [2019]

Gu, Qin et al.

Bacillomycin D Produced by Bacillus amyloliquefaciens Is Involved in the Antagonistic Interaction with the Plant-Pathogenic Fungus Fusarium graminearum. | Applied and Environmental Microbiology [2017]

WB

Bacterial and fungal strains

Zhang, Ying et al.

Characterization of the Expression and Functions of Two Odorant-Binding Proteins of Sitophilus zeamais Motschulsky (Coleoptera: Curculionoidea). | Insects [2019]

WB

Sitophilus zeamais Motschulsky

Liu, Yaobin et al.

Transcription factor IKZF1 is degraded during the apoptosis of multiple myeloma cells induced by kinase inhibition. | Febs Letters [2015]

Liu, H., Lou, J., Liu, Y., ...

Intestinal epithelial cell autophagy deficiency suppresses inflammation-associated colon tumorigenesis

Xia, Caixia et al.

0404 inhibits hepatocellular carcinoma through a p53/miR-34a/SIRT1 positive feedback loop. | Scientific Reports [2017]

Hu, Minjie et al.

Liver-Enriched Gene 1, a Glycosylated Secretory Protein, Binds to FGFR and Mediates an Anti-stress Pathway to Protect Liver Development in Zebrafish. | PloS Genetics [2016]

Zheng, Min et al.

Protective effect of cultured bear bile powder against dimethylnitrosamine-induced hepatic fibrosis in rats. | Biomedicine & Pharmacotherapy = Biomedecine & Pharmacotherapie [2019]

Liu, Jiang et al.

A critical role of DDRGK1 in endoplasmic reticulumhomoeostasis via regulation of IRE1a stability. | Nature Communications [2017]

Min Liao

Heat Shock Protein Member 8 Is an Attachment Factor for Infectious Bronchitis Virus

Zhuo, J., Lu, D., Lin, Z., ...

The distinct responsiveness of cytokeratin 19-positive hepatocellular carcinoma to regorafenib

Wu, Huansheng et al.

Ubiquitination Is Essential for Avibirnavirus Replication by Supporting VP1 Polymerase Activity. | Journal of Virology [2019]

Igbe, Ighodaro et al.

Dietary quercetin potentiates the antiproliferative effect of interferon-� in hepatocellular carcinoma cells through activation of JAK/STAT pathway signaling by inhibition of SHP2 phosphatase. | Oncotarget [2017]

Wang, X., Lin, L., Yu, Y., ...

The N-terminal residual arginine19 of influenza A virus NS1 protein is required for its nuclear localization and RNA binding. Veterinary microbiology, 251, 108895.

Xing, Wen Min et al.

Proteomic identification of mitochondrial targets involved in andrographolide sodium bisulfite-induced nephrotoxicity in a rat model. | Environmental Toxicology and Pharmacology [2015]

Professor Mingjun Xie

Prognostic and predictive value of monocarboxylate transporter 4 in patients with breast cancer

Yuanxiao Yang;Changyu Li

The Protective Effect of Shen Qi Wan on Adenine-Induced Podocyte Injury

Ren, Weichao et al.

The Autophagy Gene BcATG8 Regulates the Vegetative Differentiation and Pathogenicity of Botrytis cinerea. | Applied and Environmental Microbiology [2018]

Wang, X., Li, M., Zhang, X....

CYP11A1 Upregulation Leads to Trophoblast Oxidative Stress and Fetal Neurodevelopmental Toxicity That can be Rescued by Vitamin D. Frontiers in molecular biosciences, 7, 608447.

Yao, J., Lin, C., Jiang, J....

lncRNA-HEIM Facilitated Liver Fibrosis by Up-Regulating TGF-β Expression in Long-Term Outcome of Chronic Hepatitis B. Frontiers in immunology, 12, 666370.

Changchun Kang

High expression of APAF-1 elevates erythroid apoptosis in iron overload myelodysplastic syndrome

Ming-hua Ge

Pim-1 acts as an oncogene in human salivary gland adenoid cystic carcinoma

Zhu, Xin et al.

Expression of PIM-1 in salivary gland adenoid cystic carcinoma: Association with tumor progression and patients' prognosis. | Oncology Letters [2018]

Bin, Gu et al.

Aire promotes the self-renewal of embryonic stem cells through Lin28. | Stem Cells and Development [2012]

Boli Hu;Jiyong Zhou

Influenza A Virus Induces Autophagy by Its Hemagglutinin Binding to Cell Surface Heat Shock Protein 90AA1

Yanning Liu

Direct targeting sperm-associated antigen 9 by miR-141 influences hepatocellular carcinoma cell growth and metastasis via JNK pathway

Liu, Zunyong et al.

A phosphorylated transcription factor regulates sterol biosynthesis in Fusarium graminearum. | Nature Communications [2019]

CO-IP

Fusarium graminearum

Tang, Guangfei et al.

Capping proteins regulate fungal development, DON-toxisome formation and virulence in Fusarium graminearum. | Molecular Plant Pathology [2020]

He, X., Xie, J., Zhang, J.,...

Acid‐Responsive Dual‐Targeted Nanoparticles Encapsulated Aspirin Rescue the Immune Activation and Phenotype in Autism Spectrum Disorder

Huijun Wu,Xuewen Gao

Involvement of FvSet1 in Fumonisin B1 Biosynthesis,Vegetative Growth,Fungal Virulence,and Environmental Stress Responses in Fusarium verticillioides

Lu, X. X., Jiang, Y. Y., Wu...

Semi-Synthesis, Cytotoxic Evaluation, and Structure—Activity Relationships of Brefeldin A Derivatives with Antileukemia Activity

Tizhong Shan

GADD45α drives brown adipose tissue formation through upregulating PPARγ in mice

Gu, Qin et al.

FvSet2 regulates fungal growth, pathogenicity, and secondary metabolism in Fusarium verticillioides. | Fungal Genetics and Biology : Fg & B [2017]

WB

Fusarium verticillioides

Hou, Xiuxiu et al.

Biochemical changes of salivary gland adenoid cystic carcinoma cells induced by SGI-1776. | Experimental Cell Research [2017]

Hu, X., Xiao, G., He, L., N...

Sustained ErbB Activation Causes Demyelination and Hypomyelination by Driving Necroptosis of Mature Oligodendrocytes and Apoptosis of Oligodendrocyte Precursor Cells

Cheng, Yang et al.

LMO3 promotes hepatocellular carcinoma invasion, metastasis and anoikis inhibition by directly interacting with LATS1 and suppressing Hippo signaling. | Journal of Experimental & Clinical Cancer Research : Cr [2018]

Li, L., Tao, S., Guo, F., L...

Genetic and pharmacological inhibition of fatty acid-binding protein 4 alleviated inflammation and early fibrosis after toxin induced kidney injury. International immunopharmacology, 96, 107760. Advance online publication.

Fu, Guotong et al.

Suppression of Th17 cell differentiation by misshapen/NIK-related kinase MINK1. | The Journal of Experimental Medicine [2017]

Yu, Linyuan et al.

Radix Polygoni Multiflori and Its Main Component Emodin Attenuate Non-Alcoholic Fatty Liver Disease in Zebrafish by Regulation of AMPK Signaling Pathway. | Drug Design, Development and Therapy [2020]

Chengwei Liang

Defective autophagy leads to the suppression of stem-like features of CD271+osteosarcoma cells

Xu, Ziye et al.

Cold-induced lipid dynamics and transcriptional programs in white adipose tissue. | Bmc Biology [2019]

Li, T., Wang, H., Xia, K., ...

Long noncoding RNA expression profiles in intermittent parathyroid hormone induced cementogenesis. Genomics, 113(1 Pt 1), 217–228.

Zhao, Yu et al.

Analysis of microRNA Expression Profiles Induced by Yiqifumai Injection in Rats with Chronic Heart Failure. | Frontiers in Physiology [2018]

Tang, Guangfei et al.

The fungal myosin I is essential for Fusarium toxisome formation. | PloS Pathogens [2018]

Xu, Luona et al.

The endocytic cargo adaptor complex is required for cell-wall integrity via interacting with the sensor FgWsc2B in Fusarium graminearum. | Current Genetics [2019]

CO-IP

Fusarium graminearum strain

Ren, Q., Tao, S., Guo, F., ...

Natural flavonol fisetin attenuated hyperuricemic nephropathy via inhibiting IL-6/JAK2/STAT3 and TGF-β/SMAD3 signaling. Phytomedicine : international journal of phytotherapy and phytopharmacology, 87, 153552.

Zhi Chen

Hepatitis B Virus Middle Protein Enhances IL-6 Production via p38 MAPK/NF-κB Pathways in an ER Stress-Dependent Manner

Tang, Lin et al.

Mitochondrial FgEch1 is responsible for conidiation and full virulence in Fusarium graminearum. | Current Genetics [2020]

Tao Xu;Aizhong Wang

Spinal TLR4/P2X7 Receptor-Dependent NLRP3 Inflammasome Activation Contributes to the Development of Tolerance to Morphine-Induced Antinociception

Li, Jun et al.

Autocrine CTHRC1 activates hepatic stellate cells and promotes liver fibrosis by activating TGF-�_ signaling. | EbioMedicine [2019]

Yu, Haizhong et al.

iTRAQ-based quantitative proteomics analysis of molecular mechanisms associated with Bombyx mori (Lepidoptera) larval midgut response to BmNPV in susceptible and near-isogenic strains. | Journal of Proteomics [2017]

Xiaojian Wang

Protein Kinase Serine/Threonine Kinase 24 Positively Regulates Interleukin 17-Induced Inflammation by Promoting IKK Complex Activation

Liu, Q., Guo, L., Qi, H., L...

A MYBL2 complex for RRM2 transactivation and the synthetic effect of MYBL2 knockdown with WEE1 inhibition against colorectal cancer. Cell death & disease, 12(7), 683.

Zhang, Li et al.

FgPEX4 is involved in development, pathogenicity, and cell wall integrity in Fusarium graminearum. | Current Genetics [2019]

Wang, Xujie et al.

Curcumin pretreatment protects against hypoxia/reoxgenation injury via improvement of mitochondrial function, destabilization of HIF-1� and activation of Epac1-Akt pathway in rat bone marrow mesenchymal stem cells. | Biomedicine & Pharmacotherapy = Biomedecine & Pharmacotherapie [2019]

Wang, Zhihui et al.

A fungal ABC transporter FgAtm1 regulates iron homeostasis via the transcription factor cascade FgAreA-HapX. | PloS Pathogens [2019]

WB

CO-IP

F. graminearum wild-type strain PH-1

Wang, M., Ma, T., Wang, H.,...

The RNA binding protein FgRbp1 regulates specific pre-mRNA splicing via interacting with U2AF23 in Fusarium. Nature communications, 12(1), 2661.

Wu, H., Yang, H., Ji, G., Z...

SUMO1 Modification Facilitates Avibirnavirus Replication by Stabilizing Polymerase VP1. Journal of virology, 93(10), e02227-18.

Hu Chen; Zhi-Xiong Jim Xiao

Hotspot mutant p53-R273H inhibits KLF6 expression to promote cell migration and tumor metastasis

Qiu, Qiang et al.

Targeting glutaminase1 and synergizing with clinical drugs achieved more promising antitumor activity on multiple myeloma. | Oncotarget [2019]

Yuancun Liang

Endocytic FgEde1 regulates virulence and autophagy in Fusarium graminearum

H Chen

Induction and inhibition of the pan-nuclear gamma-H2AX response in resting human peripheral blood lymphocytes after X-ray irradiation

Jiang, Lizhu et al.

Down-regulation of FoxM1 by thiostrepton or small interfering RNA inhibits proliferation, transformation ability and angiogenesis, and induces apoptosis of nasopharyngeal carcinoma cells. | International Journal of Clinical and Experimental Pathology [2014]

Liu, Yaobin et al.

A novel effect of thalidomide and its analogs: suppression of cereblon ubiquitination enhances ubiquitin ligase function. | Faseb Journal : Official Publication of the Federation of American Societies for Experimental Biology [2015]