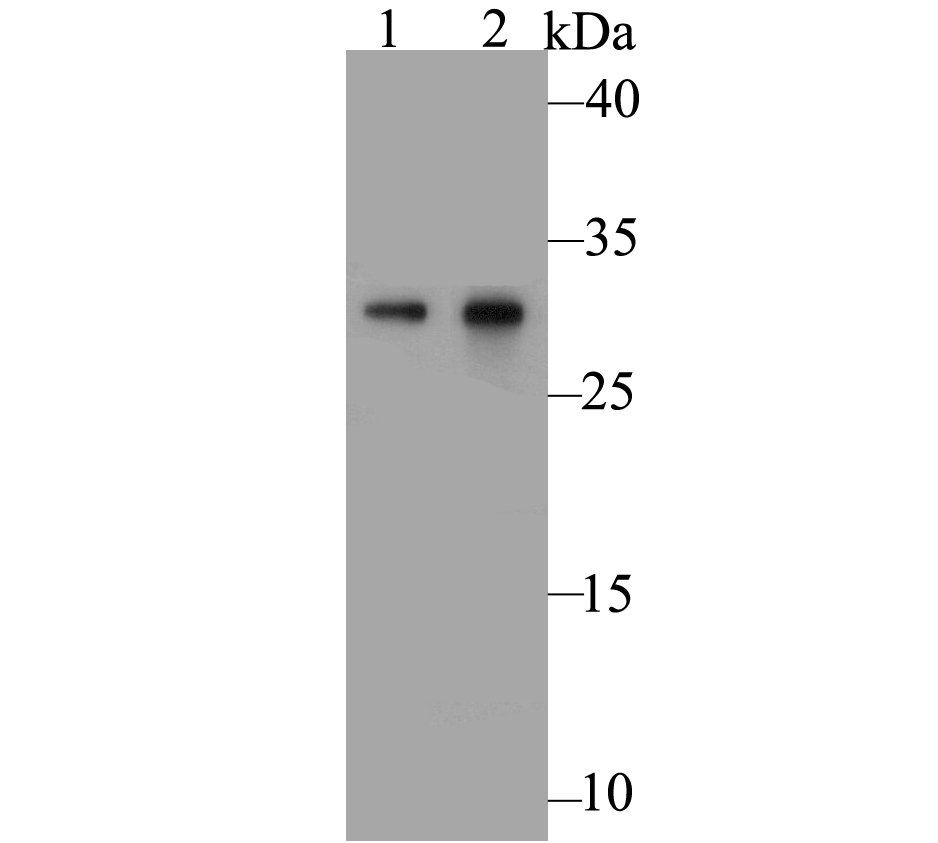 Western blot analysis of Galectin 3 on different lysates. Proteins were transferred to a PVDF membrane and blocked with 5% BSA in PBS for 1 hour at room temperature. The primary antibody was used at a 1:500 dilution in 5% BSA at room temperature for 2 hours. Goat Anti-Rabbit IgG - HRP Secondary Antibody (HA1001) at 1:5,000 dilution was used for 1 hour at room temperature.
Positive control:
Lane 1: SiHa cell lysate
Lane 2: Mouse colon tissue lysate
SPECIFICATIONS
Product Type
Rabbit polyclonal primary
Product Name
Galectin 3 Rabbit Polyclonal Antibody (ER1803-82)
Immunogen
Recombinant protein within human galectin 3 aa 1-180.
Positive Control
SiHa, mouse colon tissue, A431, LOVO, rat lung tissue, human colon cancer tissue, mouse testis tissue.
PROPERTIES
Storage Condition
Store at +4C after thawing. Aliquot store at -20C. Avoid repeated freeze / thaw cycles.
Storage Buffer
1*PBS (pH7.4), 0.2% BSA, 50% Glycerol. Preservative: 0.05% Sodium Azide.
PURIFICATION
Protein affinity purified.
TARGET
SYNONYMS
35 kDa lectin antibody; Carbohydrate binding protein 35 antibody; Carbohydrate-binding protein 35 antibody; CBP 35 antibody; CBP35 antibody; Gal-3 antibody; GAL3 antibody; Galactose-specific lectin 3 antibody; Galactoside-binding protein antibody; GALBP antibody; Galectin 3 internal gene,included antibody; Galectin-3 antibody; Galectin3 antibody; GALIG antibody; GBP antibody; IgE binding protein antibody; IgE-binding protein antibody; L 31 antibody; L 34 antibody; L-31 antibody; L-34 galactoside-binding lectin antibody; L31 antibody; Laminin-binding protein antibody; Lectin L-29 antibody; Lectin, galactose binding, soluble 3 antibody; LEG3_HUMAN antibody; LGALS2 antibody; LGALS3 antibody; MAC 2 antigen antibody; Mac-2 antibody; Mac-2 antigen antibody; MAC2 antibody; Macrophage galactose-specific lectin antibody; MGC105387 antibody
TISSUE SPECIFICITY
A major expression is found in the colonic epithelium. It is also abundant in the activated macrophages. Expressed in fetal membranes.
SUBCELLULAR LOCATION
Cytoplasm, Nucleus, Secreted.
FUNCTION
Galectins are a family of soluble b-galactoside-binding animal lectins that modulate cell-to-cell adhesion and cell-to-extracellular matrix (ECM) inter- actions and play a role in tumor progression, pre-mRNA splicing and apop-tosis. The galectin-3 protein, also known as Mac-2, hMac-2, GALBP, CBP35 or LGALS3, contains a single carbohydrate binding domain, which binds galactose-containing glycoconjugates. Galectin-3 is expressed in colonic and intestinal epithelium, inflammatory macrophages, papillary and follicular carcinomas, neoplastic astrocytes and some B and T lymphocytes. Upregulated expression of galectin-3 is involved in cancer progression and metastasis. Galectin-3 mediates the endocytosis of β1 Integrins in a lactose-dependent manner and is associated with thyroid malignancy and Crohn's disease. It may also be used as a marker for diagnosing cases involving Hurthle cell adenomas and carcinomas.
CITATIONS
Li, J., Mao, Y. S., Chen, F...

Palmitic acid up regulates Gal-3 and induces insulin resistance in macrophages by mediating the balance between KLF4 and NF-κB