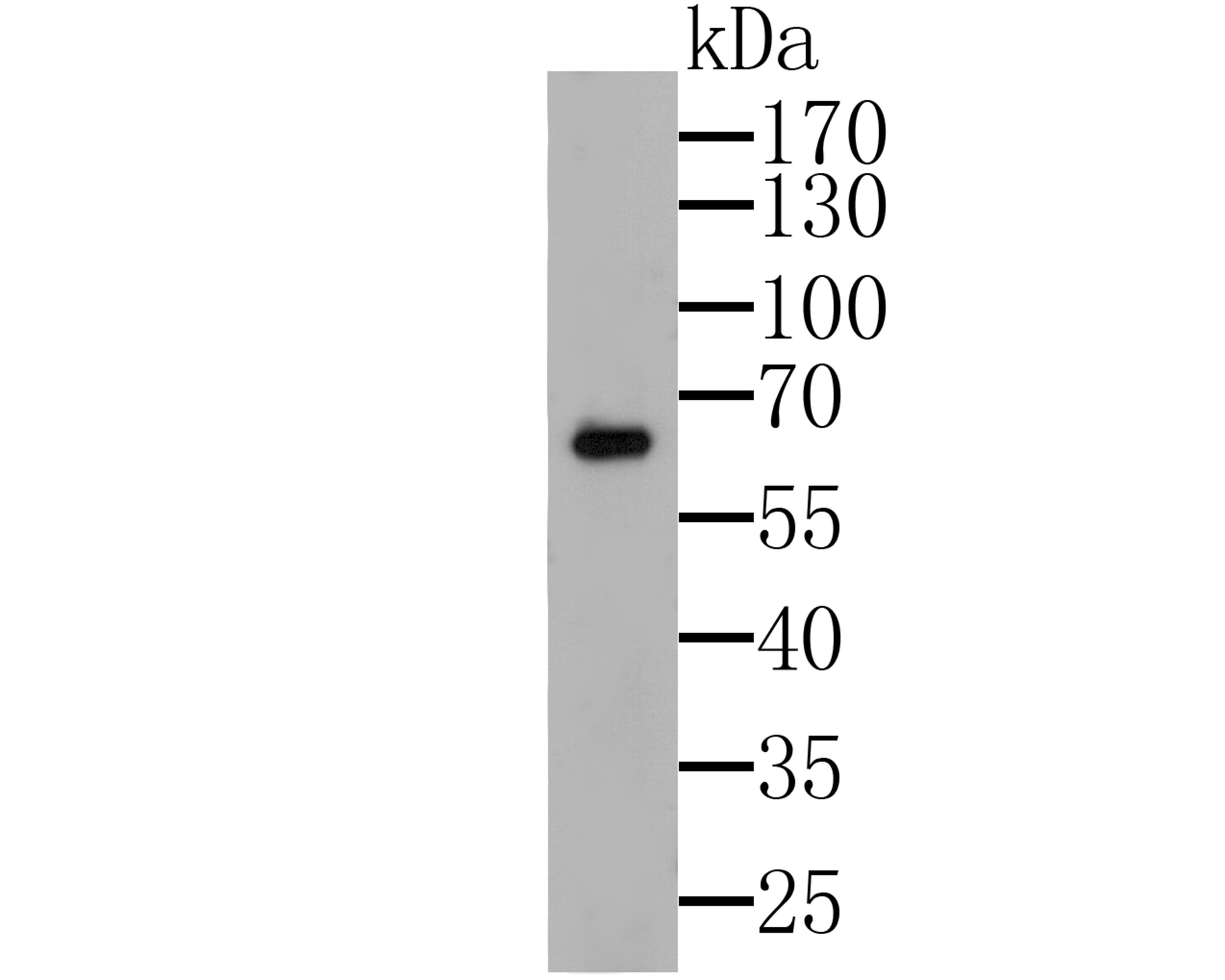 Western blot analysis of G-protein coupled receptor 30 on Lovo cell lysate. Proteins were transferred to a PVDF membrane and blocked with 5% BSA in PBS for 1 hour at room temperature. The primary antibody was used at a 1:500 dilution in 5% BSA at room temperature for 2 hours. Goat Anti-Rabbit IgG - HRP Secondary Antibody (HA1001) at 1:5,000 dilution was used for 1 hour at room temperature.
SPECIFICATIONS
Product Type
Rabbit polyclonal primary
Product Name
G-protein coupled receptor 30 Rabbit Polyclonal Antibody (ER1803-90)
Immunogen
Recombinant protein within human g-protein coupled receptor 30 aa 236-375 / 375.
Positive Control
Lovo, HepG2, MG-63, SH-SY-5Y, rat uterus tissue, human liver cancer tissue, human appendix tissue, human placenta tissue, mouse kidney tissue.
PROPERTIES
Storage Condition
Store at +4C after thawing. Aliquot store at -20C. Avoid repeated freeze / thaw cycles.
Storage Buffer
1*PBS (pH7.4), 0.2% BSA, 50% Glycerol. Preservative: 0.05% Sodium Azide.
PURIFICATION
Protein affinity purified.
MOLECULAR WEIGHT
Predicted band size: 42 kDa
TARGET
PROTEIN NAME
G-protein coupled receptor 30
SYNONYMS
CEPR antibody; Chemoattractant receptor-like 2 antibody; Chemokine receptor-like 2 antibody; CMKRL2 antibody; Constitutively expressed peptide like receptor antibody; DRY12 antibody; FEG 1 antibody; FEG-1 antibody; Flow-induced endothelial G protein-coupled receptor antibody; Flow-induced endothelial G-protein coupled receptor 1 antibody; G protein-coupled receptor 30 antibody; G-protein coupled estrogen receptor 1 antibody; G-protein coupled receptor 30 antibody; GPCR-BR antibody; Gper antibody; GPER_HUMAN antibody; GPER1 antibody; GPR30 antibody; IL8-related receptor DRY12 antibody; Lergu antibody; LERGU2 antibody; leucine rich protein in GPR30 3'UTR antibody; LYGPR antibody; Lymphocyte-derived G-protein coupled receptor antibody; Membrane estrogen receptor antibody; mER antibody; MGC99678 antibody
SEQUENCE SIMILARITIES
Belongs to the G-protein coupled receptor 1 family.
TISSUE SPECIFICITY
Expressed in placenta, endothelial and epithelial cells, non laboring and laboring term myometrium, fibroblasts and cancer-associated fibroblasts (CAF), prostate cancer cells and invasive adenocarcinoma (at protein level). Ubiquitously expressed, but is most abundant in placenta. In brain regions, expressed as a 2.8 kb transcript in basal forebrain, frontal cortex, thalamus, hippocampus, caudate and putamen.
POST-TRANSLATIONAL MODIFICATION
Ubiquitinated; ubiquitination occurs at the plasma membrane and leads to proteasome-mediated degradation.; Glycosylated.
SUBCELLULAR LOCATION
Mitochondrion,Nucleus,Endosome,Golgi apparatus,Endoplasmic reticulum,Cytoskeleton.
FUNCTION
G-protein coupled estrogen receptor that binds to 17-beta-estradiol (E2) with high affinity, leading to rapid and transient activation of numerous intracellular signaling pathways. Stimulates cAMP production, calcium mobilization and tyrosine kinase Src inducing the release of heparin-bound epidermal growth factor (HB-EGF) and subsequent transactivation of the epidermal growth factor receptor (EGFR), activating downstream signaling pathways such as PI3K/Akt and ERK/MAPK. Mediates pleiotropic functions among others in the cardiovascular, endocrine, reproductive, immune and central nervous systems. Triggers mitochondrial apoptosis during pachytene spermatocyte differentiation. Stimulates uterine epithelial cell proliferation. Enhances uterine contractility in response to oxytocin. Contributes to thymic atrophy by inducing apoptosis. Increases firing activity and intracellular calcium oscillations in luteinizing hormone-releasing hormone (LHRH) neurons. Inhibits early osteoblast proliferation at growth plate during skeletal development. Inhibits mature adipocyte differentiation and lipid accumulation. Stimulates cancer-associated fibroblast (CAF) proliferation by a rapid genomic response through the EGFR/ERK transduction pathway. Associated with EGFR, may act as a transcription factor activating growth regulatory genes (c-fos, cyclin D1). Promotes integrin alpha-5/beta-1 and fibronectin (FN) matrix assembly in breast cancer cells.