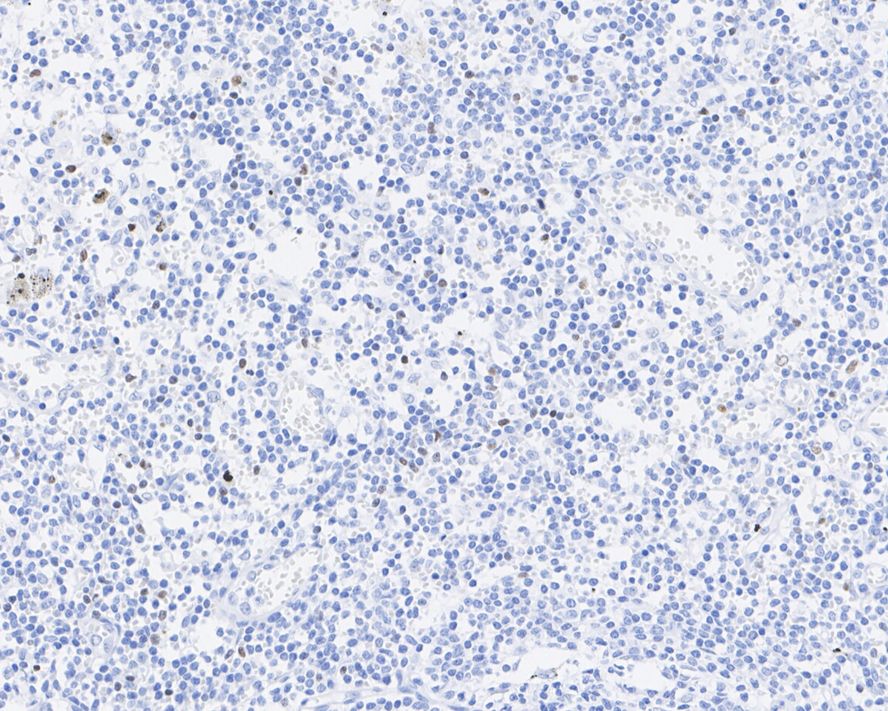 Flow cytometric analysis of Raji cells with FOXP3 antibody at 1/50 dilution (red) compared with an unlabelled control (cells without incubation with primary antibody; black). Alexa Fluor 488-conjugated goat anti rabbit IgG was used as the secondary antibody.
SPECIFICATIONS
Product Type
Recombinant Rabbit monoclonal primary
Product Name
FOXP3 Recombinant Rabbit Monoclonal Antibody [JF0926] (ET1702-16)
PROPERTIES
Storage Condition
Store at +4C after thawing. Aliquot store at -20C or -80C. Avoid repeated freeze / thaw cycles.
Storage Buffer
1*TBS (pH7.4), 0.05% BSA, 40% Glycerol. Preservative: 0.05% Sodium Azide.
TARGET
SYNONYMS
AIID antibody; DIETER antibody; Forkhead box P3 antibody; Forkhead box protein P3 antibody; FOXP3 antibody; FOXP3_HUMAN antibody; FOXP3delta7 antibody; Immune dysregulation polyendocrinopathy enteropathy X linked antibody; Immunodeficiency polyendocrinopathy enteropathy X linked antibody; IPEX antibody; JM2 antibody; MGC141961 antibody; MGC141963 antibody; OTTHUMP00000025832 antibody; OTTHUMP00000025833 antibody; OTTHUMP00000226737 antibody; PIDX antibody; Scurfin antibody; XPID antibody
POST-TRANSLATIONAL MODIFICATION
Polyubiquitinated, leading to its proteasomal degradation in regulatory T-cells (Treg) which is mediated by STUB1 in a HSPA1A/B-dependent manner. Deubiquitinated by USP7 leading to increase in protein stability.; Phosphorylation at Ser-418 regulates its transcriptional repressor activity and consequently, regulatory T-cells (Treg) suppressive function. Dephosphorylated at Ser-418 by protein phosphatase 1 (PP1) in Treg cells derived from patients with rheumatoid arthritis. Phosphorylation by CDK2 negatively regulates its transcriptional activity and protein stability (By similarity).; Acetylation on lysine residues stabilizes FOXP3 and promotes differentiation of T-cells into induced regulatory T-cells (iTregs) associated with suppressive functions. Deacetylated by SIRT1.; Undergoes proteolytic cleavage in activated regulatory T-cells (Treg), and can be cleaved at either the N- or C-terminal site, or at both sites.
FUNCTION
The FOX family of transcription factors is a large group of proteins that share a common DNA binding domain termed a winged-helix or forkhead domain. During early development, FOXP1 and FOXP2 are expressed abundantly in the lung, with lower levels of expression in neural, intestinal and cardiovascular tissues, where they act as transcription repressors. FOXP1 is widely expressed in adult tissues, while neoplastic cells often exhibit a dramatic change in expression level or localization of FOXP1. The gene encoding human FOXP1 maps to chromosome 3p14.1, and the gene encoding human FOXP2 maps to chromosome 7q31. The gene encoding FOXP3, a third member of this family, maps to chromosome Xp11.23. Mutations in this gene cause IPEX, a fatal, X-linked inherited disorder characterized by immune dysregulation. The FOXP3 protein, also known as scurfin, is essential for normal immune homeostasis. Specifically, FOXP3 represses transcription through a DNA binding forkhead domain, thereby regulating T cell activation.