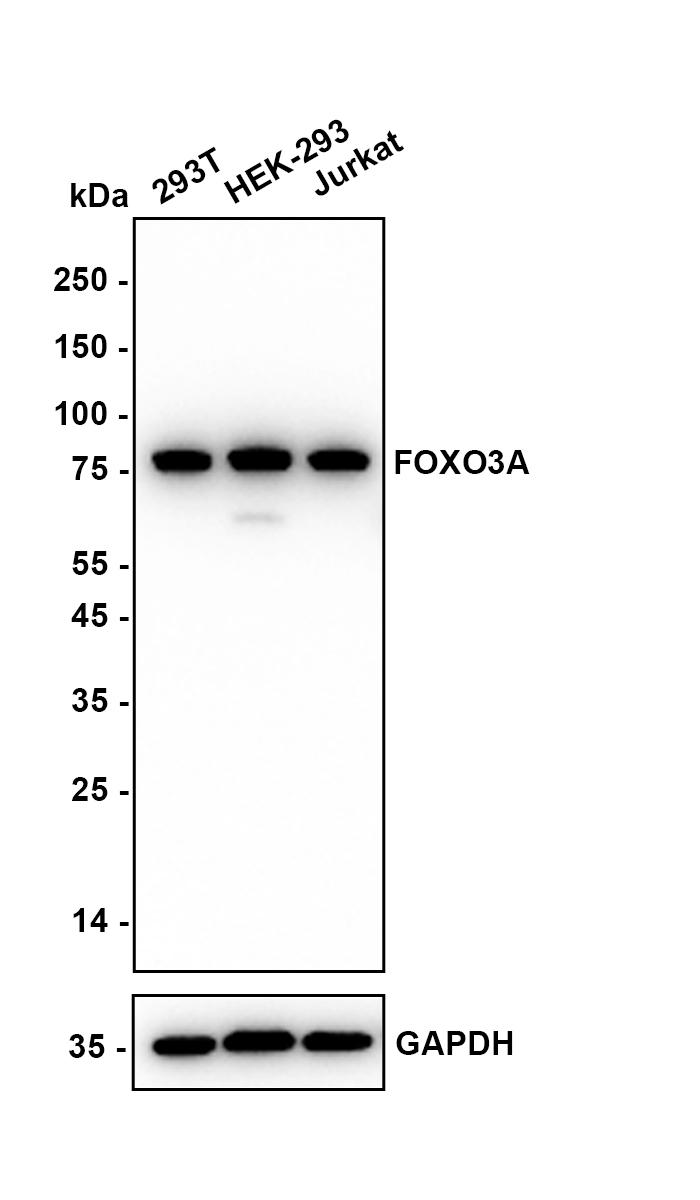 Western blot analysis of FOXO3A on different lysates using anti- FOXO3A antibody at 1/1,000 dilution.
Positive control:
Lane 1: NIH/3T3
Lane 2: PC-12
Lane 3: MCF-7
SPECIFICATIONS
Product Type
Recombinant Rabbit monoclonal primary
Product Name
FOXO3A Recombinant Rabbit Monoclonal Antibody [SP0054] (ET1604-11)
Positive Control
NIH/3T3, MCF-7, Hela, PC-12, SW480.
PROPERTIES
Storage Condition
Store at +4C after thawing. Aliquot store at -20C or -80C. Avoid repeated freeze / thaw cycles.
Storage Buffer
1*TBS (pH7.4), 0.05% BSA, 40% Glycerol. Preservative: 0.05% Sodium Azide.
TARGET
SYNONYMS
AF6q21 antibody; AF6q21 protein antibody; DKFZp781A0677 antibody; FKHR2 antibody; FKHRL 1 antibody; FKHRL1 antibody; FKHRL1P2 antibody; Forkhead (Drosophila) homolog (rhabdomyosarcoma) like 1 antibody; Forkhead box O3 antibody; Forkhead box O3A antibody; Forkhead box protein O3 antibody; Forkhead box protein O3A antibody; Forkhead Drosophila homolog of in rhabdomyosarcoma like 1 antibody; Forkhead homolog (rhabdomyosarcoma) like 1 antibody; Forkhead in rhabdomyosarcoma like 1 antibody; Forkhead in rhabdomyosarcoma-like 1 antibody; FOX O3A antibody; FOXO2 antibody; foxo3 antibody; FOXO3_HUMAN antibody; FOXO3A antibody; MGC12739 antibody; MGC31925 antibody
POST-TRANSLATIONAL MODIFICATION
In the presence of survival factors such as IGF-1, phosphorylated on Thr-32 and Ser-253 by AKT1/PKB. This phosphorylated form then interacts with 14-3-3 proteins and is retained in the cytoplasm. Survival factor withdrawal induces dephosphorylation and promotes translocation to the nucleus where the dephosphorylated protein induces transcription of target genes and triggers apoptosis. Although AKT1/PKB doesn't appear to phosphorylate Ser-315 directly, it may activate other kinases that trigger phosphorylation at this residue. Phosphorylated by STK4/MST1 on Ser-209 upon oxidative stress, which leads to dissociation from YWHAB/14-3-3-beta and nuclear translocation. Phosphorylated by PIM1. Phosphorylation by AMPK leads to the activation of transcriptional activity without affecting subcellular localization. In response to metabolic stress, phosphorylated by AMPK on Ser-30 which mediates FOXO3 mitochondrial translocation. Phosphorylation by MAPKAPK5 promotes nuclear localization and DNA-binding, leading to induction of miR-34b and miR-34c expression, 2 post-transcriptional regulators of MYC that bind to the 3'UTR of MYC transcript and prevent its translation. Phosphorylated by CHUK/IKKA and IKBKB/IKKB. TNF-induced inactivation of FOXO3 requires its phosphorylation at Ser-644 by IKBKB/IKKB which promotes FOXO3 retention in the cytoplasm, polyubiquitination and ubiquitin-mediated proteasomal degradation. May be dephosphorylated by calcineurin A on Ser-299 which abolishes FOXO3 transcriptional activity (By similarity). In cancer cells, ERK mediated-phosphorylation of Ser-12 is required for mitochondrial translocation of FOXO3 in response to metabolic stress or chemotherapeutic agents.; Deacetylation by SIRT1 or SIRT2 stimulates interaction of FOXO3 with SKP2 and facilitates SCF(SKP2)-mediated FOXO3 ubiquitination and proteasomal degradation. Deacetylation by SIRT2 stimulates FOXO3-mediated transcriptional activity in response to oxidative stress (By similarity). Deacetylated by SIRT3. Deacetylation by SIRT3 stimulates FOXO3-mediated mtDNA transcriptional activity in response to metabolic stress.; Heavily methylated by SET9 which decreases stability, while moderately increasing transcriptional activity. The main methylation site is Lys-271. Methylation doesn't affect subcellular location.; Polyubiquitinated. Ubiquitinated by a SCF complex containing SKP2, leading to proteasomal degradation.; The N-terminus is cleaved following import into the mitochondrion.
FUNCTION
FKHRL1 (forkhead in rhabdomyosarcoma-like 1), also known as FOXO3 (forkheadbox O3) or FOXO3A, is a 673 amino acid transcriptional activator thatbelongs to the FKHR subfamily of forkhead transcription factors. Transcriptional activation of FKHR proteins is regulated by the serine/threonine kinase Akt1, which phosphorylates FKHRL1 at Threonine 32 and Serine 253. Phosphorylation by Akt1 negatively regulates FKHRL1 by promoting its export from the nucleus. Phosphorylated FKHRL1 associates with 14-3-3 proteins and this complex is retained in the cytoplasm. Growth factor withdrawal stimulates FKHRL1 dephosphorylation and nuclear translocation, leading to FKHR-induced gene-specific transcriptional activation. Within the nucleus, dephosphorylated FKHRL1 triggers apoptosis by inducing the expression of genes that are critical for cell death.
CITATIONS
Li, Fanni et al.

Regulation of Akt/FoxO3a/Skp2 Axis Is Critically Involved in Berberine-Induced Cell Cycle Arrest in Hepatocellular Carcinoma Cells. | International Journal of Molecular Sciences [2018]