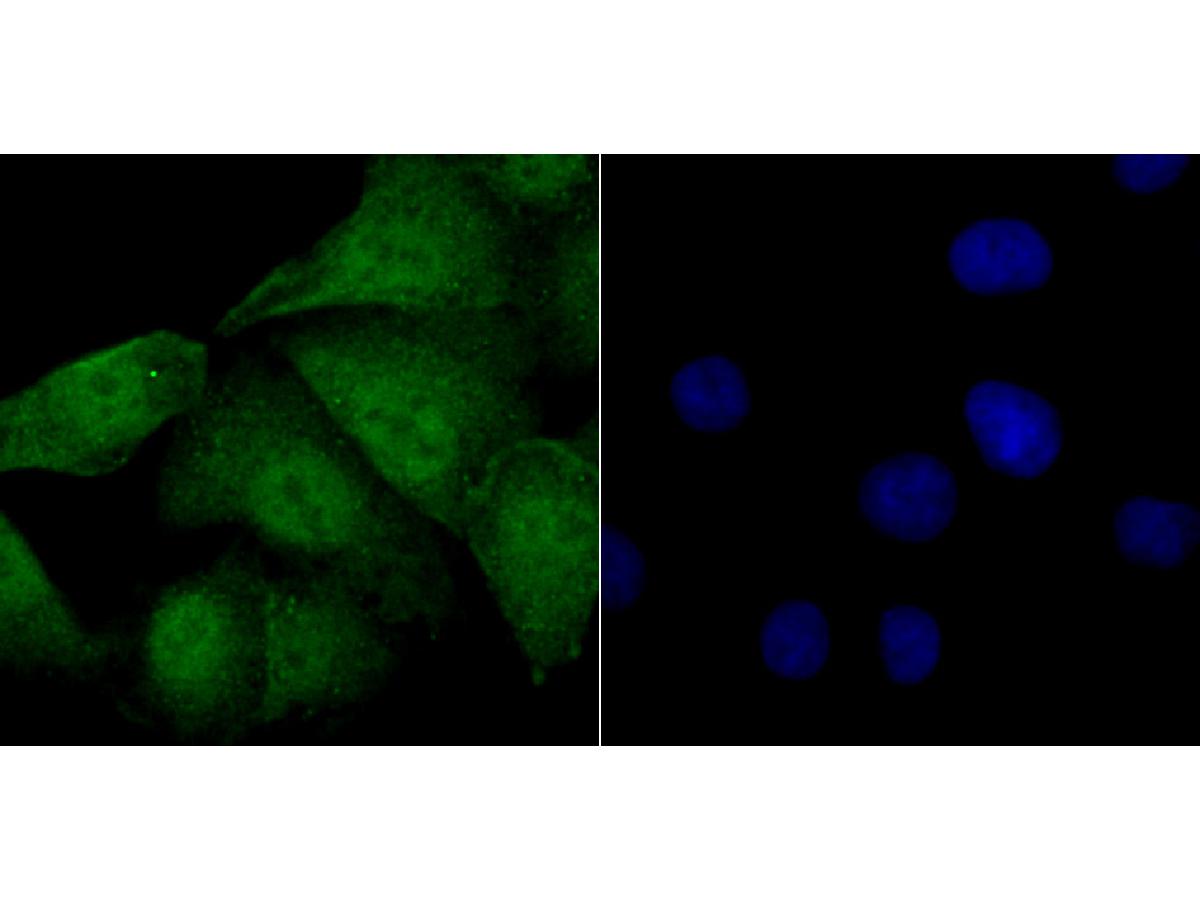 ICC staining FOXM1 in A549 cells (green). The nuclear counter stain is DAPI (blue). Cells were fixed in paraformaldehyde, permeabilised with 0.25% Triton X100/PBS.
SPECIFICATIONS
Product Type
Rabbit polyclonal primary
Product Name
FOXM1 Rabbit Polyclonal Antibody (ER1706-62)
Immunogen
Recombinant protein within human foxm1 aa 102-340.
PROPERTIES
Storage Condition
Store at +4C after thawing. Aliquot store at -20C or -80C. Avoid repeated freeze / thaw cycles.
Storage Buffer
1*PBS (pH7.4), 0.2% BSA, 50% Glycerol. Preservative: 0.05% Sodium Azide.
PURIFICATION
Immunogen affinity purified.
TARGET
SYNONYMS
FKHL16 antibody;Forkhead box M1 antibody;Forkhead box protein M1 antibody;forkhead like 16 antibody;Forkhead-related protein FKHL16 antibody;FOX M1 antibody;Foxm1 antibody;FOXM1_HUMAN antibody;FOXM1B antibody;Hepatocyte nuclear factor 3 forkhead homolog 11 antibody;HFH-11 antibody;HFH11 antibody;HNF-3/fork-head homolog 11 antibody;HNF3 antibody;INS1 antibody;M phase phosphoprotein 2 antibody;M-phase phosphoprotein 2 antibody;MPHOSPH2 antibody;MPM-2 reactive phosphoprotein 2 antibody;MPP2 antibody;PIG29 antibody;TGT3 antibody;Transcription factor Trident antibody;Trident antibody;WIN antibody;Winged-helix factor from INS-1 cells antibody;Winged-helix factor from INS1 cells antibody
TISSUE SPECIFICITY
Expressed in thymus, testis, small intestine, colon followed by ovary. Appears to be expressed only in adult organs containing proliferating/cycling cells or in response to growth factors. Also expressed in epithelial cell lines derived from tumors. Not expressed in resting cells. Isoform 2 is highly expressed in testis.
DEVELOPMENTAL STAGE
Embryonic expression pattern: liver, lung, intestine, kidney, urinary tract; adult expression pattern: intestine, colon, testis and thymus.
POST-TRANSLATIONAL MODIFICATION
Phosphorylated in M (mitotic) phase. Phosphorylation by the checkpoint kinase CHEK2 in response to DNA damage increases the FOXM1 protein stability probably stimulating the transcription of genes involved in DNA repair. Phosphorylated by CDK1 in late S and G2 phases, creating docking sites for the POLO box domains of PLK1. Subsequently, PLK1 binds and phosphorylates FOXM1, leading to activation of transcriptional activity and subsequent enhanced expression of key mitotic regulators.
FUNCTION
The Fox family of transcription factors is a large group of proteins that share a common DNA binding domain termed a winged-helix or forkhead domain. FOXM1, also known as FKHL16, MPP2 or Trident, is primarily expressed in proliferating cells. The gene encoding human FOXM1 maps to chromosome 12p13. The transcription element that restricts FOXM1 expression to proliferating cells is located 300 bp upstream of the start codon. FOXM1 is most abundant in thymus, testis, small intestine and colon. Alternative splicing generates FOXM1A and FOXM1B isoforms that contain PEST regions involved in rapid protein degradation. A decrease in FOXM1 expression is associated with age-related defects in cellular proliferation. Conversely, an increase in FOXM1B expression in the livers of older transgenic mice restore hepatocyte DNA replication rates to the higher rate present in young livers. FOXM1B activates the transcription of cyclin B1, cyclin D1 and Cdc25B.
CITATIONS
Cao, X., Shu, Y., Chen, Y.,...

Mettl14-Mediated m6A Modification Facilitates Liver Regeneration by Maintaining Endoplasmic Reticulum Homeostasis. Cellular and molecular gastroenterology and hepatology, S2352-345X(21)00072-2. Advance online publication.