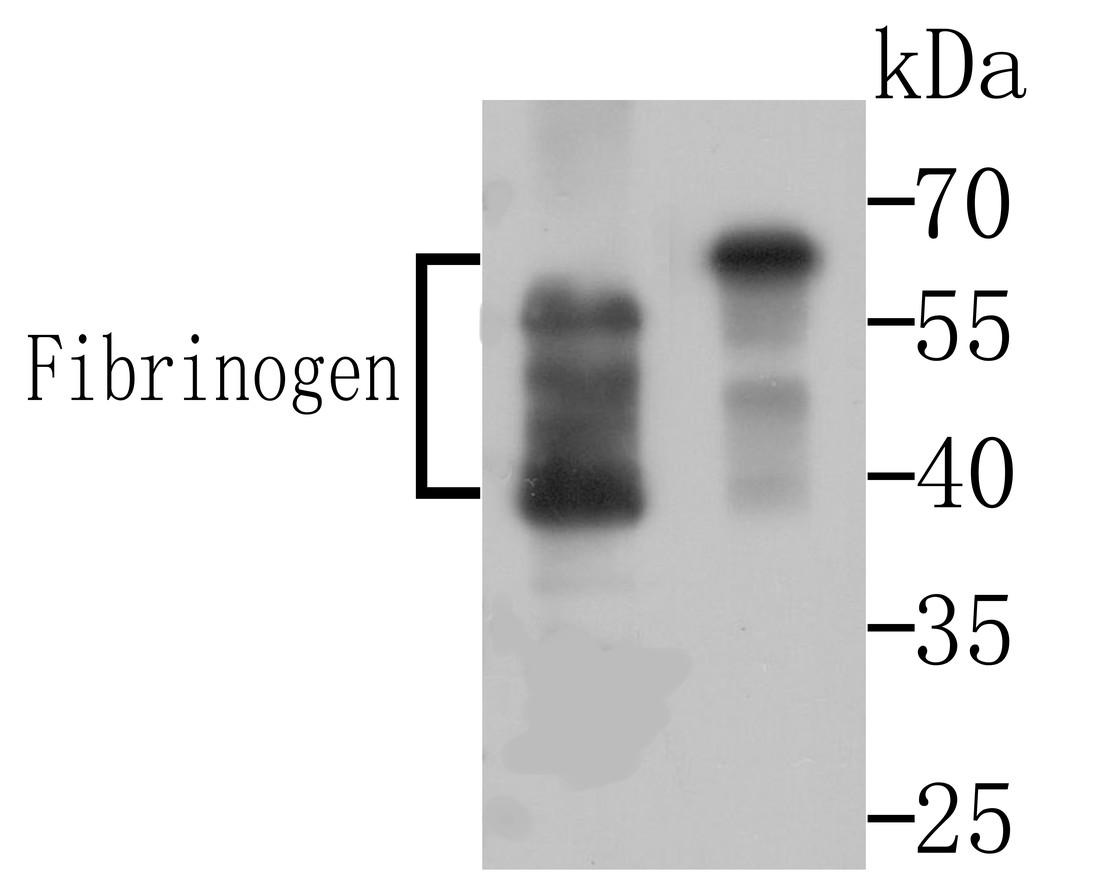 Western blot analysis of Fibrinogen on mouse bone marrow and human kidney tissue lysates using anti-Fibrinogen antibody at 1/500 dilution.
SPECIFICATIONS
Product Type
Rabbit polyclonal primary
Product Name
Fibrinogen Rabbit Polyclonal Antibody (ER1802-26)
Positive Control
Mouse bone marrow and human kidney tissue lysates, A549, NIH-3T3.
PROPERTIES
Storage Condition
Store at +4C after thawing. Aliquot store at -20C or -80C. Avoid repeated freeze / thaw cycles.
Storage Buffer
1*PBS (pH7.4), 0.2% BSA, 50% Glycerol. Preservative: 0.05% Sodium Azide.
TARGET
SYNONYMS
FGA antibody; Fib2 antibody; FIBA_HUMAN antibody; Fibrinogen A alpha polypeptide antibody; Fibrinogen alpha chain antibody; Fibrinogen B alpha polypeptide antibody; Fibrinogen beta chain antibody; Fibrinogen G alpha polypeptide antibody; Fibrinogen gamma chain antibody; fibrinogen, B beta polypeptide antibody; fibrinogen, G gamma polypeptide antibody; fibrinogen, gamma polypeptide antibody; Fibrinogen--alpha -polypeptide chain antibody; Fibrinogen--beta -polypeptide chain antibody; Fibrinogen--gamma-polypeptide chain antibody
TISSUE SPECIFICITY
Detected in blood plasma (at protein level).
POST-TRANSLATIONAL MODIFICATION
The alpha chain is normally not N-glycosylated. It is well known that heterologous expression of isolated domains can lead to adventitious protein modifications. Besides, glycosylation at Asn-686 is supported by large-scale glycoproteomics studies (PubMed:16335952 and PubMed:19159218), but the evidence is still quite tenuous. Most likely, Asn-686 is not glycosylated in the healthy human body, or only with low efficiency.; O-glycosylated.; Forms F13A-mediated cross-links between a glutamine and the epsilon-amino group of a lysine residue, forming fibronectin-fibrinogen heteropolymers.; About one-third of the alpha chains in the molecules in blood were found to be phosphorylated.; Conversion of fibrinogen to fibrin is triggered by thrombin, which cleaves fibrinopeptides A and B from alpha and beta chains, and thus exposes the N-terminal polymerization sites responsible for the formation of the soft clot. The soft clot is converted into the hard clot by factor XIIIA which catalyzes the epsilon-(gamma-glutamyl)lysine cross-linking between gamma chains (stronger) and between alpha chains (weaker) of different monomers.; Phosphorylated by FAM20C in the extracellular medium.
FUNCTION
The plasma glycoprotein Fibrinogen is synthesized in the liver and comprises three structurally different subunits: a, b and g. Fibrinogen is important in platelet aggregation, the final step of the coagulation cascade (i.e. the formation of Fibrin) and determination of plasma viscosity and erythrocyte aggregation. It is both constitutively expressed and inducible during an acute phase reaction. Hemostasis following tissue injury deploys essential plasma procoagulants (Prothrombin and Factors X, IX, V and VIII), which are involved in a blood coagulation cascade leading to the formation of insoluble Fibrin clots and the promotion of platelet aggregation. Following vascular injury, Fibrinogen is cleaved by Thrombin to form Fibrin, which is the most abundant component of blood clots. The cleavage products of Fibrinogen regulate cell adhesion and spreading, display vasoconstrictor and chemotactic activities, and are mitogens for several cell types.