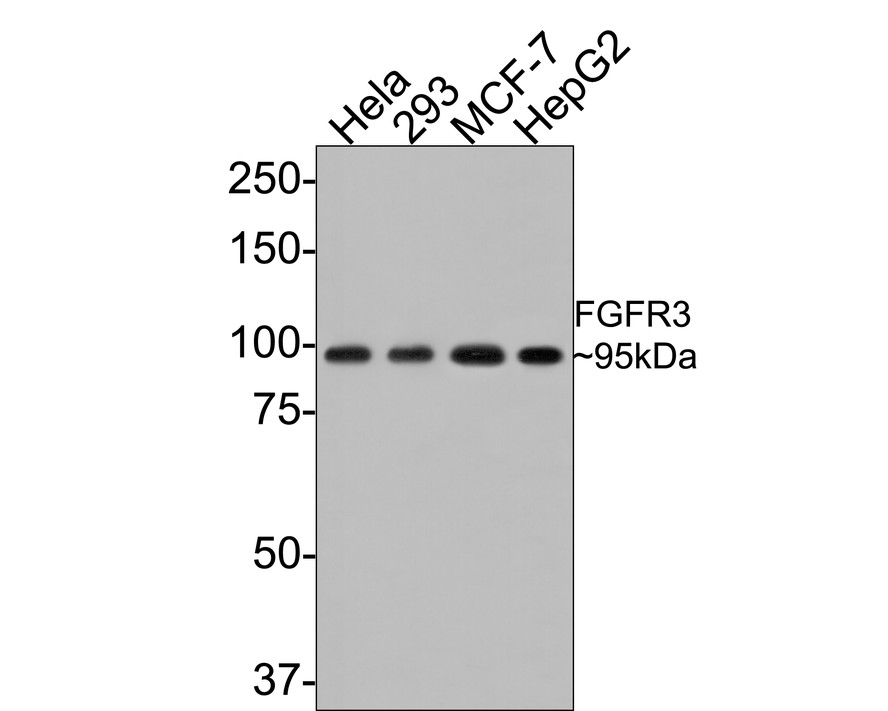 Western blot analysis of FGFR3 on different lysates. Proteins were transferred to a PVDF membrane and blocked with 5% BSA in PBS for 1 hour at room temperature. The primary antibody (ET1703-65, 1/500) was used in 5% BSA at room temperature for 2 hours. Goat Anti-Rabbit IgG - HRP Secondary Antibody (HA1001) at 1:5,000 dilution was used for 1 hour at room temperature.
Positive control:
Lane 1: Hela cell lysate
Lane 2: HepG2 cell lysate
Lane 3: 293 cell lysate
Lane 4: MCF-7 cell lysate
SPECIFICATIONS
Product Type
Recombinant Rabbit monoclonal primary
Product Name
FGFR3 Recombinant Rabbit Monoclonal Antibody [JM110-33] (ET1703-65)
Immunogen
Synthetic peptide within human fgfr3 aa 30-70.
Positive Control
Hela cell lysate, HepG2 cell lysate, 293 cell lysate, MCF-7 cell lysate, MCF-7, HepG2, SH-SY5Y, human kidney tissue, mouse testis tissue, mouse kidney tissue, mouse brain tissue, A549.
PROPERTIES
Storage Condition
Store at +4C after thawing. Aliquot store at -20C or -80C. Avoid repeated freeze / thaw cycles.
Storage Buffer
1*TBS (pH7.4), 0.05% BSA, 40% Glycerol. Preservative: 0.05% Sodium Azide.
PURIFICATION
Protein A affinity purified.
TARGET
SYNONYMS
ACH antibody; CD 333 antibody; CD333 antibody; CD333 antigen antibody; CEK 2 antibody; CEK2 antibody; FGFR 3 antibody; FGFR-3 antibody; FGFR3 antibody; FGFR3_HUMAN antibody; Fibroblast growth factor receptor 3 (achondroplasia thanatophoric dwarfism) antibody; Fibroblast growth factor receptor 3 antibody; Heparin binding growth factor receptor antibody; HSFGFR3EX antibody; Hydroxyaryl protein kinase antibody; JTK 4 antibody; JTK4 antibody; MFR 3 antibody; SAM 3 antibody; Tyrosine kinase JTK 4 antibody; Tyrosine kinase JTK4 antibody; Z FGFR 3 antibody
SEQUENCE SIMILARITIES
Belongs to the protein kinase superfamily. Tyr protein kinase family. Fibroblast growth factor receptor subfamily.
TISSUE SPECIFICITY
Expressed in brain, kidney and testis. Very low or no expression in spleen, heart, and muscle. In 20- to 22-week old fetuses it is expressed at high level in kidney, lung, small intestine and brain, and to a lower degree in spleen, liver, and muscle. Isoform 2 is detected in epithelial cells. Isoform 1 is not detected in epithelial cells. Isoform 1 and isoform 2 are detected in fibroblastic cells.
POST-TRANSLATIONAL MODIFICATION
Autophosphorylated. Binding of FGF family members together with heparan sulfate proteoglycan or heparin promotes receptor dimerization and autophosphorylation on tyrosine residues. Autophosphorylation occurs in trans between the two FGFR molecules present in the dimer. Phosphorylation at Tyr-724 is essential for stimulation of cell proliferation and activation of PIK3R1, STAT1 and MAP kinase signaling. Phosphorylation at Tyr-760 is required for interaction with PIK3R1 and PLCG1.; Ubiquitinated. Is rapidly ubiquitinated after ligand binding and autophosphorylation, leading to receptor internalization and degradation. Subject to both proteasomal and lysosomal degradation.; N-glycosylated in the endoplasmic reticulum. The N-glycan chains undergo further maturation to an Endo H-resistant form in the Golgi apparatus.
SUBCELLULAR LOCATION
Cell membrane, Endoplasmic reticulum, Cytoplasmic vesicle, Secreted.
FUNCTION
Acidic and basic fibroblast growth factors (FGFs) are members of a family of multifunctional polypeptide growth factors that stimulate proliferation of cells of mesenchymal, epithelial and neuroectodermal origin. Like other growth factors, FGFs act by binding and activating specific cell surface receptors. These include the Flg receptor or FGFR-1, the Bek receptor or FGFR-2, FGFR-3, FGFR-4, FGFR-5 and FGFR-6. These receptors usually contain an extracellular ligand-binding region containing three immunoglobulin-like domains, a transmembrane domain and a cytoplasmic tyrosine kinase domain. The gene encoding human FGFR-3 maps to chromosome 4p16 and is alternatively spliced to produce three isoforms that are expressed in brain, kidney and testis. Defects in FGFR-3 are associated with several diseases, including Crouzon syndrome, achondroplasia, thanatophoric dysplasia, craniosynostosis adelaide type and hypochondroplasia (7-10). Mutations in FGFR-3 are also a cause of some bladder and cervical cancers (11).