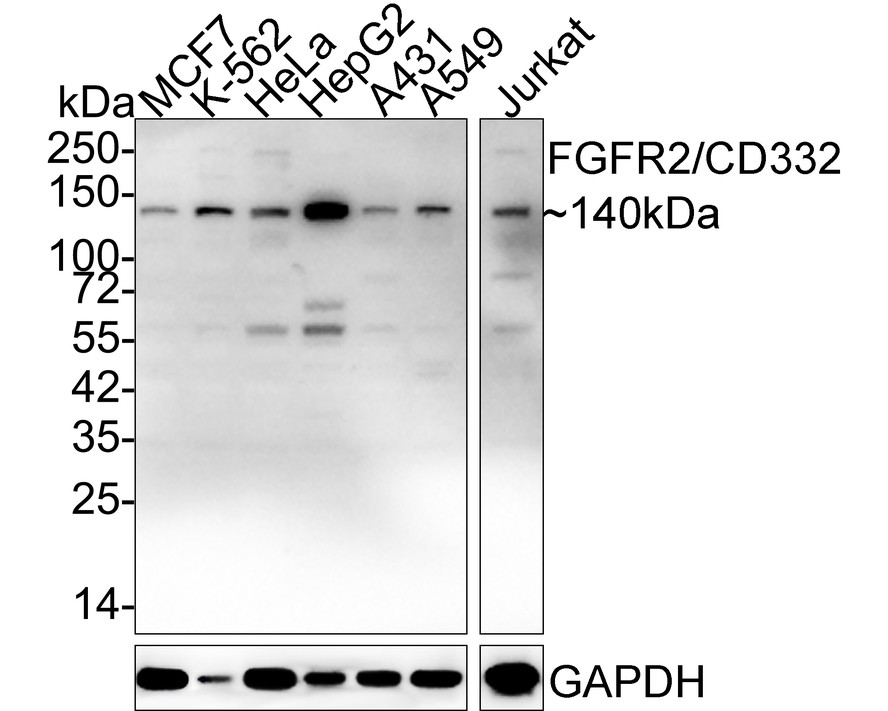 Western blot analysis of FGFR2 on different cell lysates using anti-FGFR2 antibody at 1/500 dilution.
Positive control:
Lane 1: MCF-7
Lane 2: K562
Lane 3: Hela
Lane 4: HepG2
Lane 5: A431
Lane 6: A549
Lane 7: NIH/3T3
Lane 8: Jurkat
Lane 9: Mouse brain
SPECIFICATIONS
Product Name
FGFR2/CD332 Mouse Monoclonal Antibody [A5-E10-G7] (EM50103)
Immunogen
Recombinant protein within human fgfr2 / cd332 aa 601-723 / 821.
Positive Control
MCF-7, K562, Hela, HepG2, A431, A549, NIH/3T3, Jurkat, Ags, mouse brain tissue,human gastric carcinoma tissue,human breast carcinoma tissue,human kidney tissue.
PROPERTIES
Storage Condition
Store at +4C after thawing. Aliquot store at -20C or -80C. Avoid repeated freeze / thaw cycles.
Storage Buffer
1*PBS (pH7.4), 0.2% BSA, 40% Glycerol. Preservative: 0.05% Sodium Azide.
TARGET
SYNONYMS
bacteria-expressed kinase antibody; BBDS antibody; BEK antibody; BEK fibroblast growth factor receptor antibody; BFR1 antibody; CD332 antibody; CD332 antigen antibody; CEK3 antibody; CFD1 antibody; Craniofacial dysostosis 1 antibody; ECT1 antibody; FGF receptor antibody; FGFR 2 antibody; FGFR-2 antibody; Fgfr2 antibody; FGFR2_HUMAN antibody; Fibroblast growth factor receptor 2 antibody; Hydroxyaryl protein kinase antibody; Jackson Weiss syndrome antibody; JWS antibody; K SAM antibody; K-sam antibody; Keratinocyte growth factor receptor 2 antibody; Keratinocyte growth factor receptor antibody; KGFR antibody; KSAM antibody; protein tyrosine kinase, receptor like 14 antibody; soluble FGFR4 variant 4 antibody; TK14 antibody; TK25 antibody
SEQUENCE SIMILARITIES
Belongs to the protein kinase superfamily. Tyr protein kinase family. Fibroblast growth factor receptor subfamily.
POST-TRANSLATIONAL MODIFICATION
Autophosphorylated. Binding of FGF family members together with heparan sulfate proteoglycan or heparin promotes receptor dimerization and autophosphorylation on several tyrosine residues. Autophosphorylation occurs in trans between the two FGFR molecules present in the dimer. Phosphorylation at Tyr-769 is essential for interaction with PLCG1.; N-glycosylated in the endoplasmic reticulum. The N-glycan chains undergo further maturation to an Endo H-resistant form in the Golgi apparatus.; Ubiquitinated. FGFR2 is rapidly ubiquitinated after autophosphorylation, leading to internalization and degradation. Subject to degradation both in lysosomes and by the proteasome.
FUNCTION
Fibroblast growth factor receptor 2 (FGFR2) also known as CD332 has two naturally occurring isoforms FGFR2IIIb and FGFR2IIIc, created by splicing of the third immunoglobulin-like domain. FGFR2IIIb is predominantly found in ectoderm derived tissues and endothelial organ lining, i.e. skin and internal organs. FGFR2 has important roles in embryonic development and tissue repair, especially bone and blood vessels. Like the other members of the Fibroblast growth factor receptor family, these receptors signal by binding to their ligand and dimerisation (pairing of receptors), which causes the tyrosine kinase domains to initiate a cascade of intracellular signals. As mentioned, FGFR2 mutations are associated with craniosynostosis syndromes, which are skull malformations caused by premature fusion of cranial sutures and other disease features according to the mutation itself.
CITATIONS
Jing Zhang;Jin-Shui Zhu

Network pharmacology-based identification of the antitumor effects of taraxasterol in gastric cancer