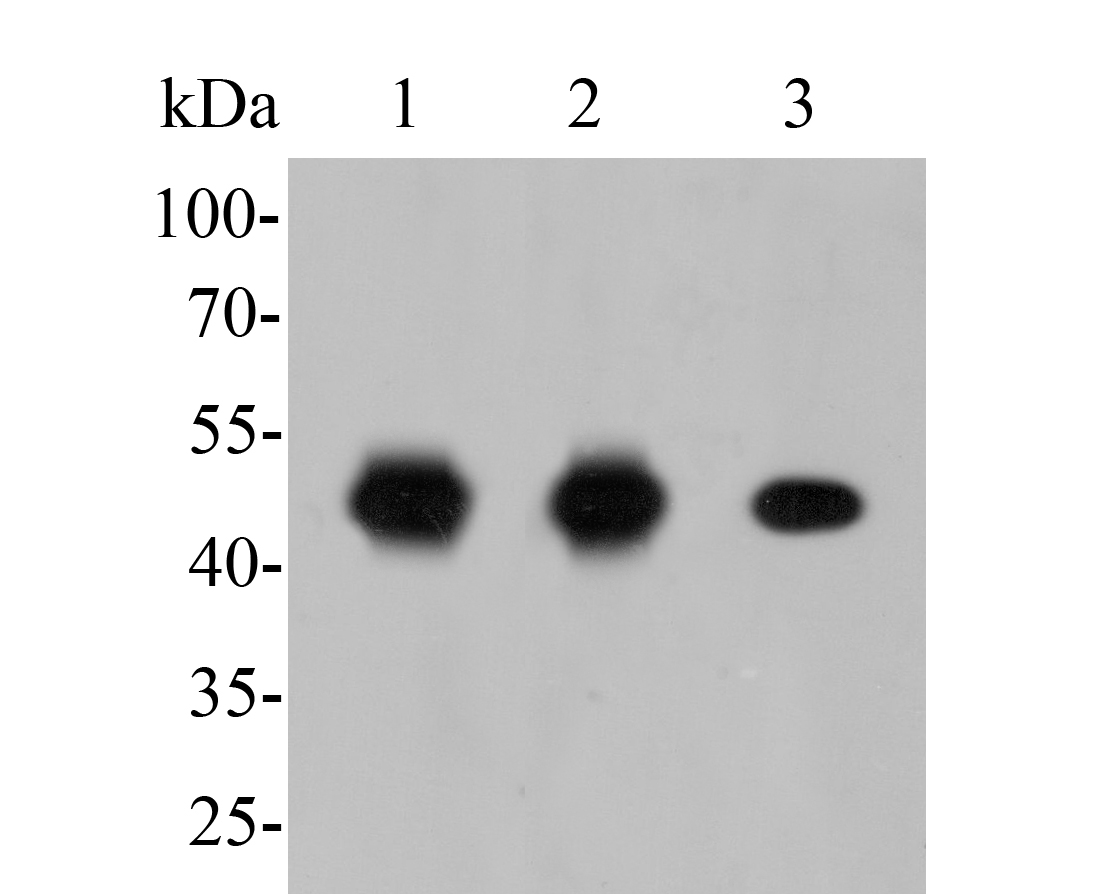 Western blot analysis of FEN1 on different lysates. Proteins were transferred to a PVDF membrane and blocked with 5% BSA in PBS for 1 hour at room temperature. The primary antibody (ER1902-64, 1/500) was used in 5% BSA at room temperature for 2 hours. Goat Anti-Rabbit IgG - HRP Secondary Antibody (HA1001) at 1:5,000 dilution was used for 1 hour at room temperature.
Positive control:
Lane 1: K562 cell lysate
Lane 2: Daudi cell lysate
Lane 2: SHSY5Y cell lysate
SPECIFICATIONS
Product Type
Rabbit polyclonal primary
Product Name
FEN1 Rabbit Polyclonal Antibody (ER1902-64)
Immunogen
Recombinant protein corresponding to c-terminal human fen1.
Positive Control
WB: K562 cell lysate, Daudi cell lysate, SHSY5Y cell lysate. ICC: MCF-7 cell, SHSY5Y cell. IHC: Human tonsil tissue, human lung cancer tissue, human colon tissue, mouse testis tissue. FC: MG-63 cell.
PROPERTIES
Storage Condition
Store at +4C after thawing. Aliquot store at -20C. Avoid repeated freeze / thaw cycles.
Storage Buffer
1*PBS (pH7.4), 0.2% BSA, 50% Glycerol. Preservative: 0.05% Sodium Azide.
PURIFICATION
Protein affinity purified
TARGET
SYNONYMS
DNase IV antibody; FEN-1 antibody; FEN1 antibody; FEN1_HUMAN antibody; Flap endonuclease 1 antibody; Flap structure specific endonuclease 1 antibody; Flap structure-specific endonuclease 1 antibody; hFEN-1 antibody; hFEN1 antibody; Maturation factor 1 antibody; MF1 antibody; Rad2 antibody
SEQUENCE SIMILARITIES
Belongs to the XPG/RAD2 endonuclease family. FEN1 subfamily.
POST-TRANSLATIONAL MODIFICATION
Acetylated by EP300. Acetylation inhibits both endonuclease and exonuclease activity. Acetylation also reduces DNA-binding activity but does not affect interaction with PCNA or EP300.; Phosphorylation upon DNA damage induces relocalization to the nuclear plasma. Phosphorylation at Ser-187 by CDK2 occurs during late S-phase and results in dissociation from PCNA.; Methylation at Arg-192 by PRMT5 impedes Ser-187 phosphorylation and increases interaction with PCNA.
FUNCTION
Structure-specific nuclease with 5'-flap endonuclease and 5'-3' exonuclease activities involved in DNA replication and repair. During DNA replication, cleaves the 5'-overhanging flap structure that is generated by displacement synthesis when DNA polymerase encounters the 5'-end of a downstream Okazaki fragment. It enters the flap from the 5'-end and then tracks to cleave the flap base, leaving a nick for ligation. Also involved in the long patch base excision repair (LP-BER) pathway, by cleaving within the apurinic/apyrimidinic (AP) site-terminated flap. Acts as a genome stabilization factor that prevents flaps from equilibrating into structurs that lead to duplications and deletions. Also possesses 5'-3' exonuclease activity on nicked or gapped double-stranded DNA, and exhibits RNase H activity. Also involved in replication and repair of rDNA and in repairing mitochondrial DNA.