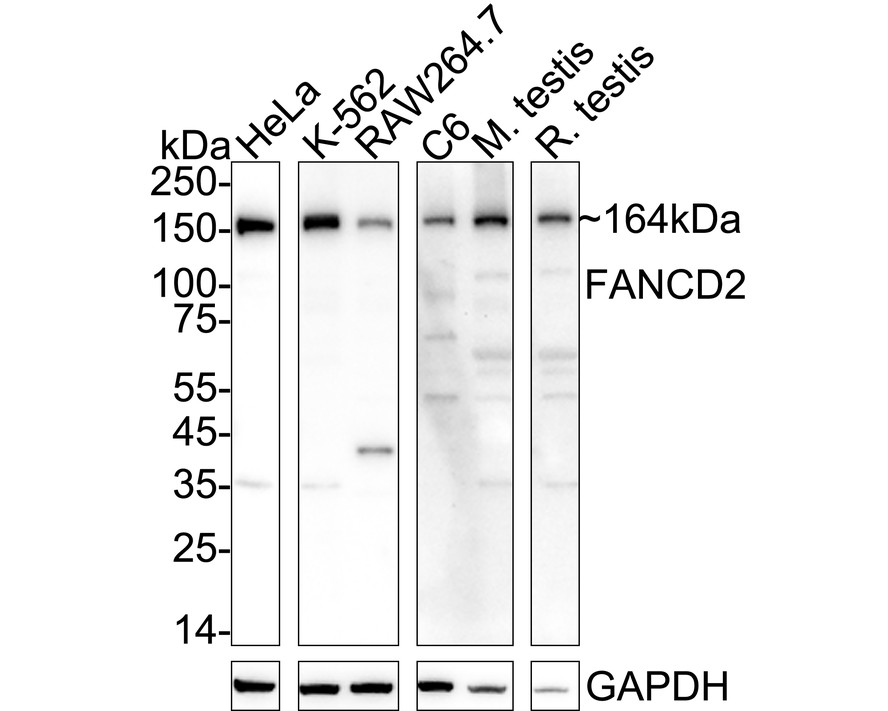 Western blot analysis of FANCD2 on Daudi cell lysates. Proteins were transferred to a PVDF membrane and blocked with 5% BSA in PBS for 1 hour at room temperature. The primary antibody (ET1611-67, 1/500) was used in 5% BSA at room temperature for 2 hours. Goat Anti-Rabbit IgG - HRP Secondary Antibody (HA1001) at 1:5,000 dilution was used for 1 hour at room temperature.
SPECIFICATIONS
Product Type
Recombinant Rabbit monoclonal primary
Product Name
FANCD2 Recombinant Rabbit Monoclonal Antibody [SN73-08] (ET1611-67)
Positive Control
Daudi cell lysates, SW480, Hela, MCF-7, mouse testis tissue, rat stomach tissue, rat testis tissue, mouse stomach tissue.
PROPERTIES
Storage Condition
Store at +4C after thawing. Aliquot store at -20C or -80C. Avoid repeated freeze / thaw cycles.
Storage Buffer
1*TBS (pH7.4), 0.05% BSA, 40% Glycerol. Preservative: 0.05% Sodium Azide.
TARGET
SYNONYMS
DKFZp762A223 antibody; FA 4 antibody; FA D2 antibody; FA4 antibody; FAC D2 antibody; FACD 2 antibody; FACD antibody; FACD2 antibody; FACD2_HUMAN antibody; FAD antibody; FAD2 antibody; FANC D2 antibody; FANCD 2 antibody; FANCD antibody; FANCD2 antibody; FANCONI ANEMIA COMPLEMENTATION GROUP D antibody; Fanconi anemia complementation group D2 antibody; Fanconi anemia group D2 protein antibody; FANCONI PANCYTOPENIA TYPE 4 antibody; FLJ23826 antibody; OTTHUMP00000158853 antibody; OTTHUMP00000207925 antibody; Protein FACD2 antibody; Type 4 Fanconi pancytopenia antibody
TISSUE SPECIFICITY
Highly expressed in germinal center cells of the spleen, tonsil, and reactive lymph nodes, and in the proliferating basal layer of squamous epithelium of tonsil, esophagus, oropharynx, larynx and cervix. Expressed in cytotrophoblastic cells of the placenta and exocrine cells of the pancreas (at protein level). Highly expressed in testis, where expression is restricted to maturing spermatocytes.
DEVELOPMENTAL STAGE
Highly expressed in fetal oocytes, and in hematopoietic cells of the fetal liver and bone marrow (at protein level).
POST-TRANSLATIONAL MODIFICATION
Monoubiquitinated on Lys-561 during S phase and upon genotoxic stress by FANCL in complex with E2 ligases UBE2T or UBE2W (isoform 1 and isoform 2). Deubiquitinated by USP1 as cells enter G2/M, or once DNA repair is completed. Monoubiquitination requires the joint intervention of the FANC core complex, including FANCA, FANCB, FANCC, FANCE, FANCF, FANCG, and FANCM, and proteins involved in cell cycle checkpoints and DNA repair, including RPA1, ATR, CHEK1 and BRCA1, and is mediated by FANCL/PHF9. Ubiquitination is required for binding to chromatin, interaction with BRCA1, BRCA2 and MTMR15/FAN1, DNA repair, and normal cell cycle progression, but not for phosphorylation on Ser-222 or interaction with MEN1.; Phosphorylated in response to various genotoxic stresses by ATM and/or ATR. Upon ionizing radiation, phosphorylated by ATM on Ser-222 and Ser-1404. Phosphorylation on Ser-222 is required for S-phase checkpoint activation, but not for ubiquitination, foci formation, or DNA repair. In contrast, phosphorylation by ATR on other sites may be required for ubiquitination and foci formation.
FUNCTION
Fanconi anemia (FA) is an autosomal recessive disorder character-ized by bone marrow failure, birth defects and chromosomal instability. At the cellular level, FA is characterized by spontaneous chromosomal breakage and a unique hypersensitivity to DNA cross-linking agents. At least 8 complementation groups (A-G) have been identified and 6 FA genes (for subtypes A, C, D2, E, F and G) have been cloned. The FA proteins lack sequence homologies or motifs that could point to a molecular function. Phosphorylation of FANC (Fanconi anemia complementation group) proteins are thought to be important for the function of the FA pathway. Several FA proteins, including FANCA, FANCC, FANCF, and FANCG, interact in a nuclear complex, and this complex is required for the activation (monoubiquitination) of the downstream FANCD2 protein. When monoubiquitinated, the FANCD2 protein co-localizes with the breast cancer susceptibility protein BRCA1 in DNA damage induced foci. In male meiosis, FANCD2 also co-localizes with BRCA1 at synaptonemal complexes. The human FANCD2 gene maps to chromosome 3p25.3, contains 44 exons and encodes a 1,451-amino acid nuclear protein that exists as 2 protein isoforms.