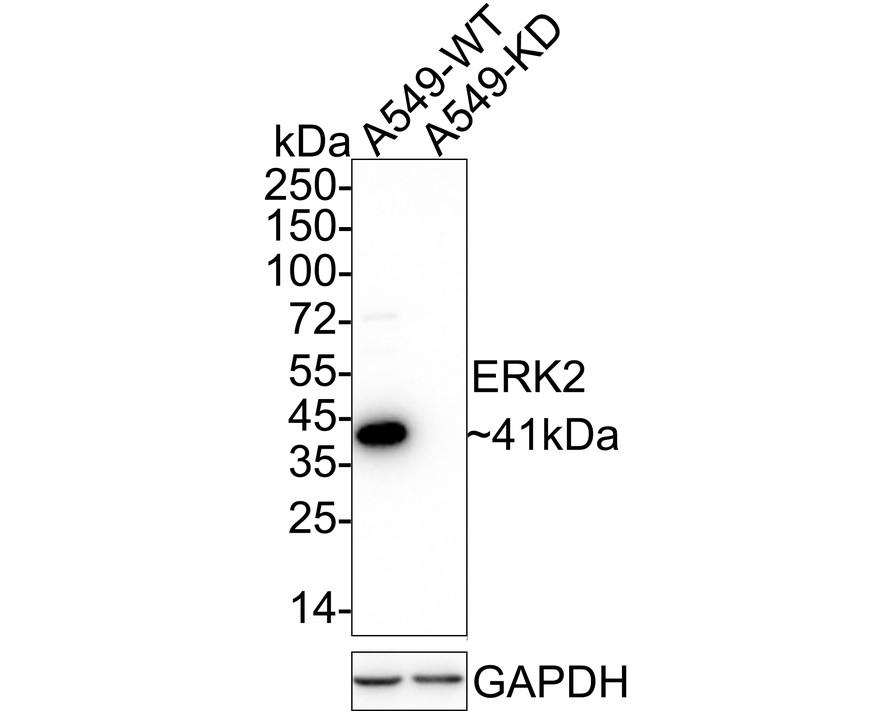 Western blot analysis of ERK2 on different lysates. Proteins were transferred to a PVDF membrane and blocked with 5% BSA in PBS for 1 hour at room temperature. The primary antibody was used at a 1:2,000 dilution in 5% BSA at room temperature for 2 hours. Goat Anti-Rabbit IgG - HRP Secondary Antibody (HA1001) at 1:5,000 dilution was used for 1 hour at room temperature.
Positive control:
Lane 1: Jurkat cell lysate, untreated
Lane 2: A431 cell lysate, untreated
Lane 3: PC-12 cell lysate, untreated
Lane 4: NIH/3T3 cell lysate, untreated
Lane 5: Hela cell lysate, untreated
Lane 6: HT-29 cell lysate, untreated
Lane 7: MCF-7 cell lysate, untreated
SPECIFICATIONS
Product Type
Rabbit polyclonal primary
Product Name
ERK2 Rabbit Polyclonal Antibody (ER131218)
Immunogen
Synthetic peptide within c-terminal human erk2.
Positive Control
Jurkat, A431, PC-12, NIH/3T3, Hela, HT-29, MCF-7, A549, human breast cancer tissue, human kidney tissue, mouse kidney tissue.
PROPERTIES
Storage Condition
Store at +4C after thawing. Aliquot store at -20C. Avoid repeated freeze / thaw cycles.
Storage Buffer
1*PBS (pH7.4), 0.2% BSA, 40% Glycerol. Preservative: 0.05% Sodium Azide.
PURIFICATION
Peptide affinity purified.
TARGET
SYNONYMS
ERK 1 antibody; ERK 2 antibody; ERK-2 antibody; ERK1 antibody; erk1/2 antibody; ERK2 antibody; ERT1 antibody; ERT2 antibody; Extracellular signal regulated kinase 1 antibody; Extracellular signal-regulated kinase 2 antibody; MAP kinase 1 antibody; MAP kinase 2 antibody; MAP kinase isoform p42 antibody; MAP kinase isoform p44 antibody; MAPK 1 antibody; MAPK 2 antibody; MAPK 3 antibody; Mapk1 antibody; MAPK2 antibody; MAPK3 antibody; Mitogen-activated protein kinase 1 antibody; Mitogen-activated protein kinase 2 antibody; MK01_HUMAN antibody; p38 antibody; p40 antibody; p41 antibody; p42-MAPK antibody; PRKM 2 antibody
SEQUENCE SIMILARITIES
Belongs to the protein kinase superfamily. CMGC Ser/Thr protein kinase family. MAP kinase subfamily.
POST-TRANSLATIONAL MODIFICATION
Phosphorylated upon KIT and FLT3 signaling (By similarity). Dually phosphorylated on Thr-185 and Tyr-187, which activates the enzyme. Undergoes regulatory phosphorylation on additional residues such as Ser-246 and Ser-248 in the kinase insert domain (KID) These phosphorylations, which are probably mediated by more than one kinase, are important for binding of MAPK1/ERK2 to importin-7 (IPO7) and its nuclear translocation. In addition, autophosphorylation of Thr-190 was shown to affect the subcellular localization of MAPK1/ERK2 as well. Ligand-activated ALK induces tyrosine phosphorylation. Dephosphorylated by PTPRJ at Tyr-187. Phosphorylation on Ser-29 by SGK1 results in its activation by enhancing its interaction with MAP2K1/MEK1 and MAP2K2/MEK2. DUSP3 and DUSP6 dephosphorylate specifically MAPK1/ERK2 and MAPK3/ERK1 whereas DUSP9 dephosphorylates a broader range of MAPKs. Dephosphorylated by DUSP1 at Thr-185 and Tyr-187.; ISGylated.
FUNCTION
Serine/threonine kinase which acts as an essential component of the MAP kinase signal transduction pathway. MAPK1/ERK2 and MAPK3/ERK1 are the 2 MAPKs which play an important role in the MAPK/ERK cascade. They participate also in a signaling cascade initiated by activated KIT and KITLG/SCF. Depending on the cellular context, the MAPK/ERK cascade mediates diverse biological functions such as cell growth, adhesion, survival and differentiation through the regulation of transcription, translation, cytoskeletal rearrangements. The MAPK/ERK cascade plays also a role in initiation and regulation of meiosis, mitosis, and postmitotic functions in differentiated cells by phosphorylating a number of transcription factors.
CITATIONS
Zhaolu Kong

ATM mediates DAB2IP-deficient bladder cancer cell resistance to ionizing radiation through the p38MAPK and NF-κB signaling pathway