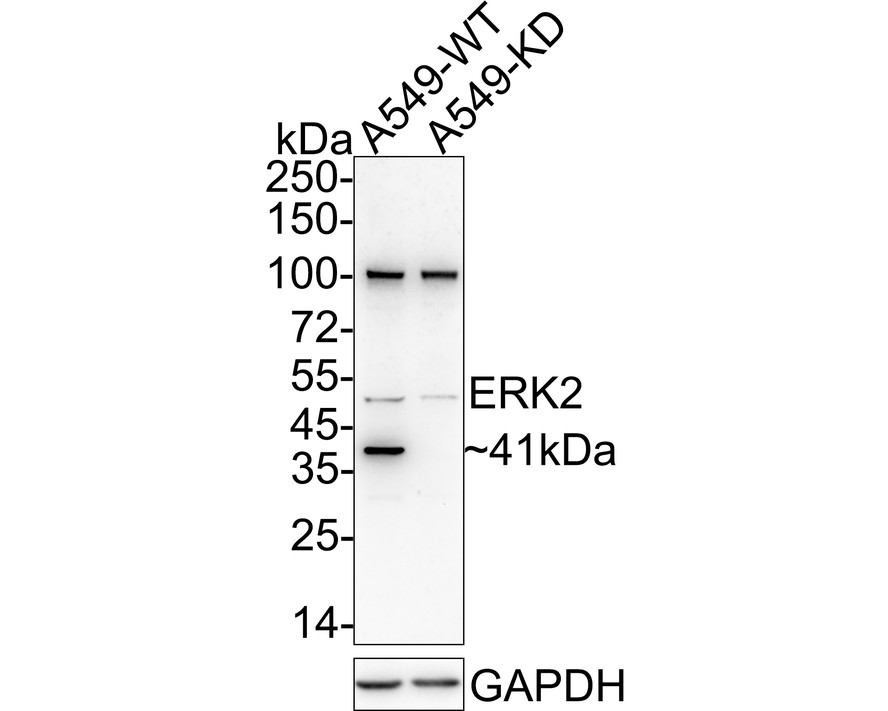 Western blot analysis of ERK2 on different lysates. Proteins were transferred to a PVDF membrane and blocked with 5% BSA in PBS for 1 hour at room temperature. The primary antibody (EM1901-53, 1/500) was used in 5% BSA at room temperature for 2 hours. Goat Anti-Mouse IgG - HRP Secondary Antibody (HA1006) at 1:5,000 dilution was used for 1 hour at room temperature.
Positive control:
Lane 1: Hela cell lysate
Lane 2: 293T cell lysate
Lane 1: NIH/3T3 cell lysate
Lane 2: K562 cell lysate
SPECIFICATIONS
Product Name
ERK2 Mouse Monoclonal Antibody [B10-8] (EM1901-53)
Immunogen
Recombinant protein within human erk2 aa 200-360.
Positive Control
Hela cell lysate, 293T cell lysate, NIH/3T3 cell lysate, K562 cell lysate, human thyroid tissue, human skin tissue, human breast carcinoma tissue, human pancreas tissue, mouse testis tissue, mouse colon tissue, mouse ovary tissue, K562.
PROPERTIES
Storage Condition
Store at +4C after thawing. Aliquot store at -20C. Avoid repeated freeze / thaw cycles.
Storage Buffer
1*PBS (pH7.4), 0.2% BSA, 50% Glycerol. Preservative: 0.05% Sodium Azide.
PURIFICATION
Protein A affinity purified.
TARGET
SYNONYMS
ERK 2 antibody; ERK-2 antibody; ERT1 antibody; Extracellular Signal Regulated Kinase 2 antibody; Extracellular signal-regulated kinase 2 antibody; MAP kinase 1 antibody; MAP kinase 2 antibody; MAP kinase isoform p42 antibody; MAPK 1 antibody; MAPK 2 antibody; Mapk1 antibody; MAPK2 antibody; Mitogen-activated protein kinase 1 antibody; Mitogen-activated protein kinase 2 antibody; MK01_HUMAN antibody; P38 antibody; P40 antibody; P41 antibody; p42-MAPK antibody; P42MAPK antibody; PRKM1 antibody; PRKM2 antibody; protein kinase, mitogen-activated, 1 antibody; protein kinase, mitogen-activated, 2 antibody; protein tyrosine kinase ERK2 antibody
SEQUENCE SIMILARITIES
Belongs to the protein kinase superfamily. CMGC Ser/Thr protein kinase family. MAP kinase subfamily.
POST-TRANSLATIONAL MODIFICATION
Phosphorylated upon KIT and FLT3 signaling (By similarity). Dually phosphorylated on Thr-185 and Tyr-187, which activates the enzyme. Undergoes regulatory phosphorylation on additional residues such as Ser-246 and Ser-248 in the kinase insert domain (KID) These phosphorylations, which are probably mediated by more than one kinase, are important for binding of MAPK1/ERK2 to importin-7 (IPO7) and its nuclear translocation. In addition, autophosphorylation of Thr-190 was shown to affect the subcellular localization of MAPK1/ERK2 as well. Ligand-activated ALK induces tyrosine phosphorylation. Dephosphorylated by PTPRJ at Tyr-187. Phosphorylation on Ser-29 by SGK1 results in its activation by enhancing its interaction with MAP2K1/MEK1 and MAP2K2/MEK2. DUSP3 and DUSP6 dephosphorylate specifically MAPK1/ERK2 and MAPK3/ERK1 whereas DUSP9 dephosphorylates a broader range of MAPKs. Dephosphorylated by DUSP1 at Thr-185 and Tyr-187.; ISGylated.
SUBCELLULAR LOCATION
Nucleus, spindle, centrosome, cytoplasm, caveola.
FUNCTION
Mitogen-activated protein kinase (MAPK) signaling pathways involve two closely related MAP kinases, known as extracellular-signal-related kinase 1 (ERK 1, p44) and 2 (ERK 2, p42). Growth factors, steroid hormones, G protein-coupled receptor ligands, and neurotransmitters can initiate MAPK signaling pathways. Activation of ERK1 and ERK2 requires phosphorylation by upstream kinases such as MAP kinase kinase (MEK), MEK kinase and Raf-1. ERK1 and ERK2 phosphorylation can occur at specific tyrosine and threonine sites mapping within consensus motifs that include the Threonine-Glutamate-Tyrosine motif. ERK activation leads to dimerization with other ERKs and subsequent localization to the nucleus. Active ERK dimers phosphorylate serine and threonine residues on nuclear proteins and influence a host of responses that include proliferation, differentiation, transcription regulation and development. The human ERK2 gene maps to chromosome 22q11.21 and encodes a 360-amino acid protein.