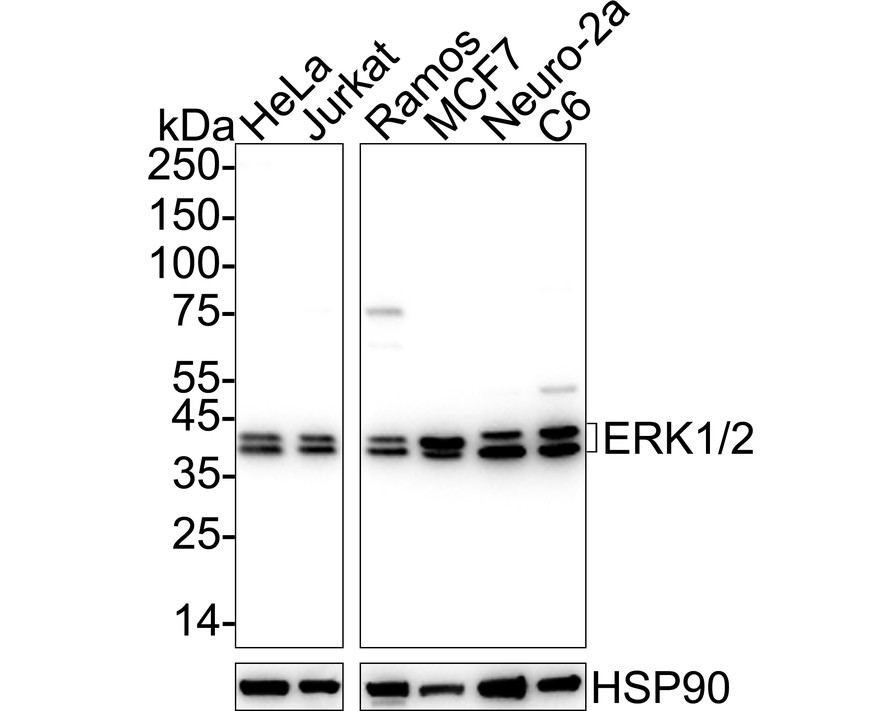 Western blot analysis of ERK1 on different cell lysates using anti- ERK1 antibody at 1/1000 dilution.
Positive control:
Lane 1: Hela
Lane 2: SW480
Lane 3: HCT116
Lane 4: HepG2
Lane 5: PC12
SPECIFICATIONS
Product Type
Rabbit polyclonal primary
Product Name
ERK1 Rabbit Polyclonal Antibody (ER131011)
Immunogen
Synthetic peptide within human erk1 aa 306-360.
Positive Control
Hela, SW480, HCT116, HepG2, PC12, LOVO, human colon carcinoma tissue, human breast carcinoma tissue, mouse large intestine tissue
PROPERTIES
Storage Condition
Store at +4C after thawing. Aliquot store at -20C or -80C. Avoid repeated freeze / thaw cycles.
Storage Buffer
1*PBS (pH7.4), 0.2% BSA, 40% Glycerol. Preservative: 0.05% Sodium Azide.
PURIFICATION
Peptide affinity purified
TARGET
SYNONYMS
ERK 1 antibody; ERK antibody; ERK-1 antibody; ERK1 antibody; ERT 2 antibody; ERT2 antibody; Extracellular Signal Regulated Kinase 1 antibody; Extracellular signal related kinase 1 antibody; Extracellular signal-regulated kinase 1 antibody; HGNC6877 antibody; HS44KDAP antibody; HUMKER1A antibody; Insulin Stimulated MAP2 Kinase antibody; Insulin-stimulated MAP2 kinase antibody; MAP kinase 1 antibody; MAP kinase 3 antibody; MAP Kinase antibody; MAP kinase isoform p44 antibody; MAPK 1 antibody; MAPK 3 antibody; MAPK antibody; MAPK1 antibody; Mapk3 antibody; MGC20180 antibody; Microtubule Associated Protein 2 Kinase antibody; Microtubule-associated protein 2 kinase antibody; Mitogen Activated Protein Kinase 3 antibody; Mitogen-activated protein kinase 1 antibody; Mitogen-activated protein kinase 3 antibody; MK03_HUMAN antibody; OTTHUMP00000174538 antibody; OTTHUMP00000174541 antibody; p44 ERK1 antibody; p44 MAPK antibody; p44-ERK1 antibody; p44-MAPK antibody; P44ERK1 antibody; P44MAPK antibody; PRKM 3 antibody; PRKM3 antibody; Protein Kinase Mitogen Activated 3 antibody
SEQUENCE SIMILARITIES
Belongs to the protein kinase superfamily. CMGC Ser/Thr protein kinase family. MAP kinase subfamily.
POST-TRANSLATIONAL MODIFICATION
Phosphorylated upon KIT and FLT3 signaling (By similarity). Dually phosphorylated on Thr-202 and Tyr-204, which activates the enzyme. Ligand-activated ALK induces tyrosine phosphorylation. Dephosphorylated by PTPRJ at Tyr-204.
FUNCTION
Mitogen-activated protein kinases (MAPKs) are a widely conserved family of serine/threonine protein kinases involved in many cellular programs, such as cell proliferation, differentiation, motility, and death. The p44/42 MAPK (Erk1/2) signaling pathway can be activated in response to a diverse range of extracellular stimuli including mitogens, growth factors, and cytokines , and research investigators consider it an important target in the diagnosis and treatment of cancer . Upon stimulation, a sequential three-part protein kinase cascade is initiated, consisting of a MAP kinase kinase kinase (MAPKKK or MAP3K), a MAP kinase kinase (MAPKK or MAP2K), and a MAP kinase (MAPK). Multiple p44/42 MAP3Ks have been identified, including members of the Raf family, as well as Mos and Tpl2/COT. MEK1 and MEK2 are the primary MAPKKs in this pathway.